Northeast: Striking A Balance
More Tourism, More Retirees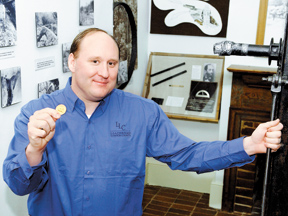 The economic picture in Northeast Georgia is as attractive as the region's mountains, valleys and whitewater rivers. The challenge now for county officials is how to encourage growth while preserving the natural beauty that attracts hundreds of thousands of retirees and tourists.
The increase in tourism in Lumpkin County has resulted in an expansion of the Smith House restaurant and overflow crowds for the three hotel chains and more than 50 bed and breakfast establishments in Dahlonega, says Dale G. Steenbergen, president of the Dahlonega-Lumpkin County Chamber of Commerce.
"Wineries are a huge draw for us. Probably 40 percent of the people who come here are interested in the five wineries in the county. And the Gold Museum had one of the best quarters in its history."
Things are going well on the industrial side, too. "We had an expansion from Timken last year and we're drawing a lot of retired folks who are interested in starting businesses. We have 800 retirement houses in the pipeline. Our biggest challenge is keeping a balance of businesses with the folks moving here. We have a great quality of life and, because of that, everybody wants a part of it."
The story is the same for many other counties in North-east Georgia. Tourism is booming in Hall County, says Kit Dunlap, president of the Greater Hall County Chamber of Commerce.
"We're looking forward to what [developer] Virgil Williams is going to do with the $300 million plan for renovating Lake Lanier Islands," she says. Meanwhile, the growth in retirement communities continues, along with the expansion of medical facilities. Lanier Village Estates has added more homes for residents over 55 and a Del Webb Community and the Villages of Beaton have opened with upscale amenities.
To meet the growing retiree population's medical needs, Northeast Georgia Medical Center and Health System is investing $250 million in improvements and has purchased land in south Hall for a new hospital campus.
"We're about to run out of first class industrial space," Dunlap says. "Wrigley Manufacturing did another $50 million expansion last year, and Kubota just finished a $20 million expansion."
White County continues to ride the tourism wave, says Tom O'Bryant, director of Community and Economic Development. The town of Helen is now the most popular destination in the Northeast Georgia mountains, and hotel and motel taxes have increased significantly. The new Folk Pottery Museum, which opened in the fall of 2006, and the ongoing restoration of a rustic slave cabin on the Sautee-Nacoochee Center's Heritage Site are expected to attract more visitors.
In Union County, homebuilding, especially for the retiree and second home market, continues to grow; and real estate values have gone up incredibly, says Thomas Murphy, executive director of the Union County Development Authority.
"We're looking forward to continuing to work on our project for Lake Nottely for a conference hotel and facilities to handle national meetings," he says. The Reynolds Plantation-type project by the Eagle Group would add 500 new jobs and would include a 350-room hotel, a clubhouse, marina and approximately 100 two-bedroom cottages.
Plans
Rabun County enjoyed modest growth in 2006 with substantial investments in Waterfall Country Club and Sky Valley Resort. On the downside, 930 jobs were lost when Rabun Apparel Manufacturing closed due to foreign competition.
"For 2007, our efforts are focused on promoting growth in tourism and the reuse of the Rabun Apparel facilities," says Emory Brock, executive director of the Development Authority of Rabun County.
In Fannin County, Kismet Products, Inc., had a 90,000-square-foot expansion and Blue Ridge Manu-facturing Co. located there.
"We're primarily a tourist destination," says Kristin Gunia, executive director of the Fannin County Development Authority, "and we expect the rapid growth of vacation and retirement homes to continue."
Towns County officials are anticipating a good year for both industrial development and tourism. "Our new carrier-grade fiber-optic backbone and our first-of-its-kind 81-acre dual state industrial park will help propel Towns County's economy forward," says Erik Brinke, director of Economic Development at Blue Ridge Mountain EMC.
Towns now has both the product and infrastructure available to attract high-quality jobs and investment from manufacturing concerns all the way to data centers and information technology companies, says Towns County Chamber of Commerce President Dale Rice. "All of this is being done while maintaining the county's pristine beauty, outstanding quality of life and thriving tourism industry."
Barron & Brothers Inter-national, a specialty farm equipment manufacturer, relocated from Hall County to Haber-sham. "Retail and commercial growth is up," says Ed Nichols, executive director of Haber-sham Chamber of Commerce, "and the streetscape program in Cornelia is continuing with new lights, brick sidewalks and underground utilities."
Dawson County continues to attract commercial growth, says Chamber President Linda Williams. "First Citizens Bank purchased property [for] a new location on Georgia 400 and the city of Dawsonville helped break ground for Appalachian Community Bank in 2006."
Banks County enjoyed an increase in new businesses, says Jerry Boling, ex-officio president of the chamber of commerce, but the county did not meet its goal of finding a full-time director for the development authority. "I think it's important that we fill that position," Boling says, "because we have the only undeveloped exit off of Interstate 85 and we need a full-time person working as an economic developer."
Elbert County's potential for economic development got a boost when it received the State of Georgia's Entrepreneur Friendly designation.
"This will help streamline the process for small businesses to open in the area," says Anna Grant Jones, economic developer for Elbert County, Elberton and Bowman. In downtown Elberton, businesses have the advantage of the city's broadband system, ElbertonNET.
The big news in Oglethorpe County is restoration of the historic 1848 Crawford Depot. "Our plans are to improve it as a community center that will be available for rentals and private parties," says Economic Development Director Cary Fordyce.
Jackson County experienced a slight economic slowdown, but still had a good year, says Pepe Cummings, president of the Jackson County Area Chamber of Commerce. "Some of our newer high-tech and manufacturing companies such as J.M. Huber, Caterpillar, Kubota and Louisiana Pacific expanded and added new jobs. Our big project was a $20 million expansion for Progressive Lighting."
In Greene County, a new Home Depot opened with 80 or more jobs and the Flying J. Service Plaza opened with a $7 million investment. "Residential growth is strong and we have two material distribution facilities in the works," says Phil Mellor, director of economic development.
The economy was a mixed bag for Hart, Franklin and Stephens counties. The closing of Springs Global in 2006 and the loss of 800 jobs had a negative impact, says Dwayne Dye, executive director of the Hart, Franklin and Stephens Joint Development Authority.
Despite the gloomy news, officials continue to be optimistic and proactive. "We have a lot of companies looking at Hart County, especially on I-85," Dye says, "and residential construction has been healthy."
In 2006 in Franklin County, Latexco, LLC, a Belgian latex mattress company, invested $10 million in a facility in the Gerrard Road Industrial Park, says Lyn Brumby Allen, director of economic development for the Franklin County Industrial Building Authority. The company will employ 40 workers by the end of 2007.
This year, Allen says, a second building in the industrial park was sold to Alliance Supply and Piping, a metal fabricating company that will employ 15 to 20 workers to start and up to 50 employees within five years. Earth Resources, Inc., a "green energy" company, will start construction of a $30 million power generating plant near Carnesville using chicken waste and wood by-products as base ingredients to provide electricity to more than 15,000 homes.
Madison County continues to experience substantial residential growth, says Marvin White, chamber of commerce president. Now the challenge is to keep a balance by bringing in more businesses. Last year saw some retail expansion, he says, and "Four new businesses, including an office products company and two machine shops, located in the county."
The February issue of Progressive Farmer magazine named Oconee County the second best county for rural living in America. "Oconee has been primarily a residential community," says Melvin Davis, who serves as county commission chairman. "Now it's branched out into a commercial, retail and office location. This year we are taking steps to get bio-pharmaceutical companies interested in locating along Highway 316."
Residential growth in both Athens and Clarke County is booming, says Cal Duvall, chairman of the Athens-Clarke County Economic Develop-ment Foundation. "We've also had significant growth in retail and industry expansion."
Plans for this year include developing a 938-acre site between Clarke and Oconee counties. Two major manufacturers are interested, Dye says. "We also are trying to decide what to do with the Navy Supply Corps School property on Prince Avenue since the base closed."