Metro Atlanta: Revving The Engines
New Companies, New Jobs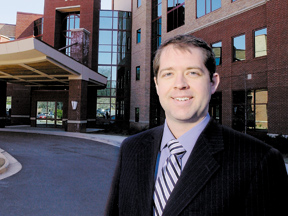 Metro Atlanta saw a lot of activity in 2006 on all fronts – and there's plenty more to come throughout 2007. Hartsfield-Jackson Atlanta International Airport opened a fifth runway; Delta Air Lines fought off a takeover attempt and expects to emerge from Chapter 11 this spring.
The Atlanta region, reports the Metro Atlanta Chamber of Com-merce, recruited a total of 47 new corporate operations that brought 3,500 jobs. The goal for this year is 50 companies and 3,900 jobs.
Atlanta sits primarily in Fulton County, where Bob Simmons of that county's development authority says capital investments in 2006 totaled more than $2 billion. Among those projects are data centers for: Quality Investment Property, $450 million; CheckFree, $150 million; Hewlett-Packard, $350 million, and ADP, $150 million.
The Atlanta Apparel Mart is getting a new tower, and Cousins Properties is moving its corporate headquarters from Cobb County to downtown Atlanta.
Hospitals figure into the growth plans for several Metro Atlanta area counties. The $40 million expansion of Piedmont Fayette Hospital, says Matt Forshee of the Fayette County Develop-ment Authority, "plays into our goals to use the hospital as an anchor."
On the opposite end of the metropolitan map, Pickens County's Piedmont Mountain-side Hospital began a $9 million expansion in December. On the eastern edge of Metro Atlanta, Walton Regional Medical Center purchased land in March 2006 to build a new hospital. Closer to Atlanta, the Henry Medical Center added a 200,000-square-foot wing.
As populations boom in Metro Atlanta counties, leaders want to be sure that both healthcare and education needs are met. "In any community," says Pam Carnes, president and CEO of the Cherokee County Chamber of Commerce, "workforce development is such a prominent issue." Carnes reports that Cherokee County's 2006 graduating class scored 30 points above the national average on the combined SAT on both critical reading and math – and 61 points above the state average.
In Walton County, Social Circle High School won the Governor's Cup trophy for showing significant three-year average gains in reading, math and SAT scores, notes Jamie Peterson of that city's Better Hometown program.
Larry Toney, Pickens County economic development director, puts the emphasis on healthcare and schools in perspective: With 31,000 residents today, Pickens is projected to be home to 165,000 in 2050. And so, he says, "It is incumbent on us to get ready for it. Residential comes first. Rooftops bring commerce. We're getting the infrastructure in place to support the population growth."
Last year, developers announced projects affecting 14,250 residential acres in Pickens County.
Metro Atlanta counties have been busily becoming certified Entrepreneur Friendly under a Georgia Department of Economic Development initiative. As part of this effort, Cherokee and Douglas counties developed business start-up kits, and Douglas is considering an incubator; Rockdale County founded an entrepreneurial academy; Newton County's Lisa Powell wrote a resource directory; and Henry County instituted a five-week program. DeKalb County is working toward its designation this year.
On the industrial side, Coweta County welcomed an 875,000-square-foot PetSmart Southeast Regional Distribution Center, says Bill Harrison, executive director of the Coweta County Development Authority. Coweta also will be home to a Kingwasong Enterprise plant making takeout food containers as well as soy sauce, cooking sherry and vinegar. Headquartered in Ningbo, China, Kingwasong will bring 200 jobs and a lot of attention, Harrison says.
The American Red Cross South-east Blood Processing Center and Regional/Divisional Headquarters is relocating from Atlanta to Douglas County, a $13 million investment that will bring 750 new jobs (400 of them relocations). Pepsico Distri-bution Center will bring Douglas County 100 new jobs in a $30 million investment. Douglas is getting a Staples Fulfillment Center, bringing 200 jobs in a $32 million investment, and Southwire is also building a $15 million distribution center that will employ 70.
Walton County, last year, welcomed the $25 million Solo Cup Distribution facility, a 1.3-million-square-foot plant that employs 150.
At the Covington-Newton County Chamber of Commerce, president John Boothby is doubly pleased about a $9 million Courtyard by Marriott that is coming to town. "What makes it so exciting," he says, "is that it's a public-private partnership that will create 100 jobs, and it's just off our square right in downtown Covington." This is important, Boothby says, because the county's first Home Depot opened in December along Interstate 20 and a Wal-Mart will open soon on the other side of the interstate. "While we appreciate the fact that the county will be receiving more sales tax from these stores, at the same time we want to be mindful of our need to keep the balance going."
The University of Georgia has had a presence in Griffin for 120 years, with a research operation, says David Luckie of the Griffin-Spalding Development Authority. This past year, UGA began offering a degree program there for the first time. And that could be the catalyst to move forward a project Griffin-Spalding has been working toward for years.
Luckie and others want to establish a University Food Technology Center – a program that would enable entrepreneurs to live at the center and work with scientists to develop their ideas and bring them to market. "If we're successful," he says, "it would be the only one in the Southeast."
James J. Maran, president and CEO of the Gwinnett County Cham-ber of Commerce, says Partnership Gwinnett "may be the most comprehensive visioning process ever put together in the Southeastern United States. We're in the process of raising about $10 million over a five-year period to develop a strategic roadmap of how we see Gwinnett developing."
Henry County is in the final stages of its comprehensive land-use and transportation plan. Chamber of Commerce President Kay Pippin and Development Authority Executive Director Bob White have worked on developing an overlay design district ordinance that will dictate the look and feel of Henry County's major corridor, the four-lane Georgia 20 that runs from Interstate 75 to Atlanta Motor Speedway.
In December, Carolyn Delamont left the top job at the Barrow County Chamber of Commerce to become president and CEO of the Paulding County Chamber. Paul-ding has broken ground on an airport, which will be complete in 2008, Delamont says. The county also passed a bond issue to create a wildlife preserve near Dallas.
Thomas R. Jennings is Delamont's successor in Barrow, where there is a new Home Depot, the county's first. A division of Boise Cascade is relocating to Auburn, Jennings says. And the Winder-Barrow Industrial Building Authority has purchased nearly 300 acres on Highway 316 for industrial use.
Clayton County Chamber of Commerce President and CEO Shane Short is chair of the Redevelopment Authority for Fort Gillem in Forest Park. "We have just finished Phase I of our three-phase process," Short says. The first phase was a visioning and economic analysis. Phase II will develop a master plan.
"Our goal is to create an integrated community where people can live, work, shop and play within walking distance," Short says.
Likewise in DeKalb County, Candler Road has been designated a redevelopment area for several years now, says Leonardo McClarty, president of the DeKalb Chamber of Commerce. He says to keep an eye on a potential Sembler Co. development along North Druid Hills Road near Briarcliff Road.
With eight company announcements yielding $238 million of capital investment and 2,305 jobs in 2006, Forsyth County had an "enormous amount of success last year," says James McCoy, president and CEO of the Cumming-Forsyth Chamber of Commerce. One of McCoy's goals is to increase tourism in the county by taking advantage of the "enormous amount of park space."
Carroll County has a new business incubator, the 24,400-square-foot Burson Center, and Carroll Tomorrow Operations President Daniel Jackson reports that the county stood out last year with its existing industry expansions. Temple-Inland is planning an 11,000-square-foot mixed-used community, all but 1,000 square feet of it in Carroll County.
Mike Lott of the Conyers-Rockdale Economic Development Council says much of that county's growth also was internally driven last year. From 2000 to 2006, Lott says, employment increased by nearly 2,000 people, bringing the unemployment rate down to 4.5 percent from 5.9 percent.
Historic structures at The Village at Indian Springs State Park in Butts County have undergone renovation. And, thanks to the county's successful effort to raise $540,000 in two months to match federal funds, the Butts County satellite campus of Griffin Technical College will be open soon. Vulcan Company is building a $19 million materials handling facility in the county.
Finally, Cobb County plans to rework some of its economic development zones. Last year, reports Bill Cooper of the Cobb County Chamber of Commerce, "The chamber was responsible for more than 1.8 million square feet of new construction worth more than $200 million that created 2,500 new jobs."