Marketing Georgia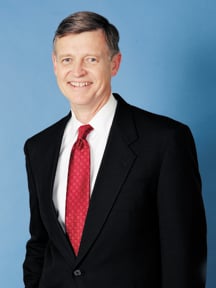 Ken Stewart became commissioner of the Georgia Department of Economic Development at the beginning of the year. As the state's chief marketer, he oversees efforts to recruit new business and to enhance tourism, international trade and the entertainment industry. Stewart, who has a background in private industry, was director of the Georgia Forestry Commission prior to taking over at the economic development agency from Craig Lesser, who resigned to take a position in the private sector.
Georgia Trend Editor Susan Percy talked to Stewart a few weeks into his new position. Following are highlights from the interview.
GT: Can you give us a status report on economic development in Georgia?
KS: We have an economic development machine that's very, very strong. It matches well with the fact that Georgia is the fourth-fastest-growing state in the country, and we're one of the fastest-growing regions in the country. We have a very healthy economy. We have very strong international trading partners that have been extended over time. Craig Lesser [former commissioner] and the governor and the team here did a great job of putting a vision together as related to marketing our state. I think now the opportunity is to go and execute it. To get it done.
GT: A lot of communities are looking to the Kia plant in West Georgia plant to boost their economies. Would you talk about the plant and its likely effects?
KS: A large investment like Kia – over $1.2 billion and 2,800 jobs directly – has a significant effect on any community. But it's the nature of the effect that's important. When you have a large investment like Kia, it ends up driving cashflow through the economy in such a robust way that it supports businesses large and small. It helps entrepreneurs, even startup businesses, fill a niche in the economy. I don't think we can concentrate on just a large investment, because once that investment is in place, it drives lots of small and medium sized companies, which creates multiplier effects.
GT: So Kia is likely to attract lot of suppliers and smaller parts manufacturers?
KS: There will be some suppliers that will be new that will locate with Kia, but there are niche suppliers and there's a service economy that goes with a facility like this that has to be there, has to be built in order to support a large investment.
GT: What's the timeline for the Kia plant?
KS: We're on track. We have the land clearing and the site prep that's under way now. It will be finished sometime this spring or early summer. Kia has about a dozen people hired and onsite now. They'll have about 40 to 50 more in July and August. The exact timeline is up to the company.
GT: Could you talk about manufacturing in the state in general? It's taken some hits, starting with textile mill closings and continuing through the closing of a cigarette plant in Macon and the Ford and GM plants in Metro Atlanta.
KS: I like to deal in facts, and one interesting fact is that there has been a larger amount of investment in manufacturing than in the service businesses since 2004. So manufacturing is alive and well. When we think of industries like the carpet industry for instance – all industries are going to ebb and flow in this global economy that we're in; but the key to success is adaptability to the global marketplace.
The carpet industry has in fact done a great job of diversifying into other flooring products. And it has become a lot more efficient in operations in just in the last few years. So not only are they competing from an efficiency standpoint, but they are diversifying.
We're also doing a good job from an innovation standpoint. We've started a series of centers of innovation around the state. We started one up in Hall County. It's called a manufacturing center of innovation.
GT: A lot of communities are putting lots of effort into working with existing companies to encourage expansions. Is that a good strategy?
KS: The market dictates that. But also having a healthy environment for growth is important. We have a favorable tax climate here in Georgia. Site Selection magazine cited us as number four [among states] in terms of our business environment. Combined with the fact that we're growing robustly, that creates opportunities. It is significant to note that our existing companies are the most important ones we have. We've got to foster their growth. If they are healthy and sustainable economically, then that's going to be the foundation for [a] continued healthy economy. We've got to help them grow.
GT: Let's talk about tourism. There seems to be a lot of interest around the state in specialized kinds of tourism like ecotourism or agritourism or cultural or heritage tourism. How do they relate to the big picture?
KS: We're ranked eighth in the country in terms of a tourism economy. By many industrial rankings, tourism is the second largest industry we have in the state. We have literally millions of people who drive in our state north to south and east to west. Part of our job is to provide an incentive for those people to stop and spend some time here and engage in our various activities.
We have an airport that brings a lot of people into our state, and they come into a city that hosted – and well-hosted – the 1996 Olympics and put itself on the world stage. Atlanta is known for many things other than the traditional Southern charm … it's known for Martin Luther King. And it's known for its progressiveness from a cultural perspective. The cultural and heritage tourists on the average spend more money – they stay longer and spend more. You mentioned ecotourism. It's probably the fastest-growing tourism sector we have in the country.
GT: How do you encourage these smaller sectors?
KS: We're marketing the Dream Pass – it looks like a credit card. It's something we'll put into people's hands before they come to the state or as they are coming into the state. It gives them a list of tourist things to do – everything from golf to ecotourism to the arts to Woodruff Arts Center to the zoo. We're developing this now, as part of our "Put Your Dreams Into Motion."
GT: Lots of Georgia communities are pinning their hopes on tourism. Is the pie big enough for everyone to have a slice?
KS: We've got to provide a portfolio of opportunities for tourists. We had 62 million visitors in Georgia last year – a 9 percent increase over the previous year. It's a growing industry and [visitors are] looking for more to do. It's not unrealistic to think that if you build a portfolio of assets that people [will] take the time to go from one to another, particularly if we lay out a schedule: Here's a one-day, three-day or five-day tour, and here are all the different destinations that you can go to and enjoy the tourist opportunities.
GT: So marketing efforts are important?
KS: Tourism expenditures were about $28 billion last year in our state – and that's up over 7 percent from the prior year. It's growing. Part of the vision that we need to have is not just catching people when they come through. We need to be front-of-mind internationally.
GT: Bioscience seems to be on a lot of people's minds. Where is Georgia in terms of developing a bioscience presence?
KS: We have a critical mass of research institutions, our universities, companies that have already invested here in the life sciences area, incubators, innovation centers, new and emerging companies and hospitals and care facilities. It's very significant compared to almost anywhere else in the U.S.
Many times people compare us to the [North Carolina] Research Tri-angle. We need to change their thought process. In terms of critical infrastructure in the life sciences and biosciences, we have more infrastructure in place in Georgia, principally around the Metro Atlanta area, than they do in the Research Triangle.
GT: Any promising prospects?
KS: We have a lot of companies, both national and international, interested. Of course we've got CDC. The federal government is searching for a location for their "CDC for animals" called NBAF [National Bio and Agro-Defense Facility]. It's going to end up being a $3.5- to $6-billion investment with about 500 employees. We're in the running to have that located here in our state.
We are also actively recruiting vaccine facilities, research facilities. We had a near miss recently with Novartis over in Oconee County, but we were very close. It is a key stated strategy for our state to grow the life sciences industry.
GT: There's a lot of competition from other states, isn't there?
KS: States are very aggressive in trying to recruit.
GT: Is there something Georgia needs to do to be more attractive?
KS: We're actually exploring the kinds of things we can do better. Georgia is ranked seventh [in biosciences]. We have the Georgia Life Sciences Facilities Fund, something that came out of the governor's leadership that provides loans to companies to get their startup money. A company called Altea Therapeutics was the first to get that loan, and we expect many more companies to take advantage.
GT: Could you talk about the growth of Georgia's ports and what that means to the economy?
KS: Georgia ports are the fastest growing in the country. The Georgia Ports Authority has done a great job. We are in the process of getting funding and approval to take our depth down to 48 feet, which will allow the ships that are coming through the Suez Canal, the larger ships, to use our ports.
We have a great port system, and it's an economic engine, the benefits of which we don't always realize. If you drive between here and the coast – like me – you see lots of piggyback trucks running up and down the road. They're bringing a lot of things into our state.
We've done a good job with the airport. The ports and the airport and the interstates and the rail lines are making us a logistics hub. We're located within a two-day train connection to 80 percent of the population of this county.
We expect a lot more growth down there. We still have the megasite there that's a great marketing tool for us in attracting a very significant manufacturing [operation]. They are going to be attracted to that part of the state because of our ports.
As a company worldwide thinks about Georgia, one of the things they've got to be comfortable with is that we've got the ability to move the product. We're truly a crossroads.
GT: What's happening with international trade?
KS: Globalism is alive and well. We're in a position of being a player. The governor's vision says we need to create relationships with other fast-growing economies in the world. Canada is our most significant trading partner now; Mexico is a significant trading partner. We have strong trading partners in Europe and in Asia.
We have 10 international offices in place now around Europe, Asia, Canada, Mexico and South America; and we're very actively pursuing trade opportunities on all of those continents. We expect to open up, in the first quarter, a new office in China; and we are exploring opening an office in India.
We're confident that our strategy is a sound one, both long-term and short-term. It is providing export markets for our existing companies and attracting investors to Georgia. We have 1,600 foreign-owned facilities in the state from 43 companies. Twenty-five percent of our investment in Georgia is foreign-sourced. It's a very robust, growing segment of the investment in our state.
We think long-term our strategy is sound because globalization is going to change over time. There will be winners and losers. I believe that we'll end up with some [countries] beginning to close their borders down a bit through some trade restrictions. As they do, we're going to be well-positioned because we have in-country people, an in-country presence, an in-country reputation that will allow our trade to continue to grow more robustly in those economies.
GT: What appealed to you about leading this department?
KS: This department is filled with such strong professionals, and we have such great support. Everybody loves jobs and investment. We've got an easy state to sell.
GT: Any final thoughts?
KS: It's important to me that we paint this picture of a global Georgia … and how significant it is both tactically and strategically that we have a mindshare of the companies and individuals throughout the world, that we are looked at as a world capital for finance, as a world capital for life sciences, as a world capital for logistics and transportation and as a world capital for cultural opportunities.