Man Of Art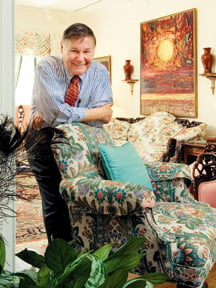 C.L. Morehead remembers a time when he wasn't on the guest list. It was decades ago when his friend Lamar Dodd, a noted artist and then head of the art department at the University of Georgia, called to say that the two of them should attend a banquet given by the president of the university that night.
"I said, 'Lamar, I'm not invited to the banquet,'" Morehead recalls. "He hung up, and about 30 minutes later the president's office called me and said, 'Mr. Morehead, we've overlooked your name for tonight.' So we went to the banquet and had a good time. You always had a good time with Lamar."
Dodd, a versatile artist whose fluid style ranged from realism to almost abstract images, died in 1996.
Being left off the guest list isn't a problem anymore for Morehead, 78, an entrepreneur known for his business success, philanthropy and extensive collection of art, including the largest private collection of Dodd's works. Morehead is now often the one hosting the banquets; he regularly opens his house to the current president of the University of Georgia, Michael Adams, along with any number of others wishing to entertain, and he's always willing to loan paintings from his collection to museums.
Though Morehead is still involved in business – he goes in every day to the company he founded in 1959, Flowers Inc., a wholesale, retail and greenhouse florist – art is his passion. It takes about three hours to tour his house because, he says, "every painting has a story." Take one of his favorites: Dodd's "Crucified Sun."
"We call it Jimmy Carter's painting," Morehead says of the striking image of a circular shape above a straight line, done in deep, intense colors that once hung behind Carter's desk at the Carter Center. After Morehead had begun collecting Dodd's works and acquired about 40 originals, Dodd told him "'You need that painting,'" Morehead says. "So Lamar called Carter and said, 'Son, we need that painting that's behind your desk, and we'll be there to get it.' He didn't want to give it up – he said it was one of his favorite paintings. But Lamar replaced it with another." Now it graces Morehead's living room.
Morehead's entire house is a museum of Dodd's works. Visitors will see 250 of some 645 (and counting) oils, drawings and watercolors in every room, including the kitchen and bathrooms. Morehead has expanded the house to 14,000 square feet just to display more art. An attic houses a 2,000-piece collection of African art from Cameroon that's destined for the Georgia Museum of Art, where Morehead is a major donor. And banquets at the house feature Morehead's sterling silver repoussé place settings.
Flourishing In Athens
When Morehead first made the trip from his family's farm outside Fitzgerald to the University of Georgia in the late 1940s, he thought he'd go to school, major in horticulture and be a farmer. But he'd always loved flowers, and an after-graduation job at Van Cleeves Flowers in downtown Athens brought two important influences into his life: He found he loved floral design and decided to open his own business. And he met Lamar Dodd.
Morehead worked at Van Cleeves for eight years before opening his own shop, Flowers, Inc. with "$5,000 and a lot of ambition." The early days were rough. "My accountant did the taxes every month for eight years, and every time he came down he'd say, 'C.L., I hope you're having a good time because you're not making any money,'" Morehead recalls with a chuckle. "At the end of eight years, he called me and said, 'We have a problem – now you're making too much money!'"
In the early days, Morehead taught horticulture at UGA and Athens Technical School to supplement his salary. "I found I liked to teach and show people how to make things beautiful," he says. It's a feeling he shared with Dodd, although he jokes that Dodd told him, "You stick with flowers and I'll create the artwork."
Morehead knew Dodd before he began collecting his works – he couldn't afford them, at first, and he says, "You almost had to have a pedigree to buy his works. I remember one day he asked me, 'Why don't you acquire some of my paintings?' I called him the next day to tell him I would like to buy some of his works. He said, 'Young man, you do not buy my works – you acquire them.' So I started acquiring his works."
As Flowers, Inc. grew, Morehead's relationship with Dodd deepened. "We talked about art, everything about art," he says. "He could see beauty everywhere. I remember walking with him one day and he said, 'Look at that beautiful tree.' And I said, 'Which one?' He could see things nobody else could see, and then paint them."
Morehead was also deepening his relationships in the community, working with garden clubs and the State Botanical Gardens and donating flowers for events. "I was in business, and I needed to know all these people," he says simply, crediting hard work for his success. "Everyone says you're lucky, but it's true that the harder you work, the luckier you are."
He expanded his business, co-founding Flowers, Inc. Balloons, which grew to be one of the world's leading balloon distributors. Morehead sold his interest in that company, now called Burton & Burton, when he "retired" at 65. Today, he says, his philosophy as a philanthropist is, "If you make so much money, you can either give it away or pay it in taxes. I would rather give it away."
Adding To His Collection
Although Morehead may have pulled back a bit from business, he's still moving full speed ahead as a collector, having just acquired 15 more works by Dodd. "They come out of the woodwork," says Morehead, now that he's known as a top collector. "I just bought a wonderful one on eBay from a museum. And I have everybody looking for works – all my friends."
Morehead is drawn to Dodd's work, he says, because of the artist's versatility. Dodd's style incorporated several major movements in American art, from the realism of his "Cotton Pickers" – the painting Morehead had just acquired on eBay – to the symbolic abstraction of "Crucified Sun."
Dodd worked in various media, including oils, watercolor and charcoal, and sometimes used silver and gold leaf in his oil paintings. Morehead's collection follows suit: Although he says he wasn't conscious of it, an inventory showed the collection comprises about one-third drawings, one-third watercolors and one-third oils. "You wouldn't know he was the same artist," Morehead says.
Although Dodd's works are the focus of Morehead's collecting, he just acquired a repoussé tea service. "It was on my wish list for three years," he says. "I can finally cross it off." And there's the African art collection he acquired from his friend Alma Henderson, who had amassed the collection over many years with her husband, George, when they were both missionaries in Cameroon.
After George's death, Alma asked Morehead to store the collection. He agreed, but offered to buy the collection. She initially refused, but he says, "I kept after her – she's 85 and I'm 78, and I kept asking, 'What will become of this collection if anything happens to us?'"
When Alma finally agreed to sell, Morehead's response was, "Call my secretary and ask her to bring my checkbook." He says the artworks are now "mine and hers" and often calls her to give tours; eventually he says, the entire collection will be housed in a special room being built at the Georgia Museum of Art.
Morehead is on the board of the museum and the botanical gardens, and is a member of the board of trustees of the University of Georgia Foundation. He enjoys his involvement in these groups, although the museum holds a special place in his heart. "They need me more, and I can do more," he says. Indeed, his collection of Lamar Dodd works will eventually find a permanent home at the museum.
And it's fitting that Morehead and Dodd are the names on two of the most prominent art institutions in Georgia – the Lamar Dodd School of Art at UGA and the C.L. Morehead Wing at the Georgia Museum of Art – since their friendship has had such profound effect on the state's artistic legacy. It's a legacy that has a deep meaning for Morehead, who treasured both the artistic creations and the relationship he shared with Dodd. "Lamar told me before he died that I was like a son to him," Morehead says. "I was very flattered." He's repaid the compliment many times over.