His Story And He's Sticking To It
Former Colt – and Falcon – Alex Hawkins has many colorful tales to tell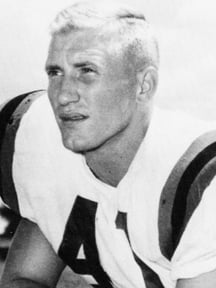 Alex Hawkins was the first student in his high school's history to letter in four sports. Not only was he selected to the West Virginia high school all-star football game, he served as captain for the North team and was named most valuable player.
Although he received 23 basketball scholarships and only five football offers, he chose a football grant to the University of South Carolina where he played end and halfback on offense and backed up the line and played safety on defense.
However, Hawkins was a virtual unknown when he played his first year for the Baltimore Colts. He wasn't a starter, he was captain of special teams. When he went to midfield to meet the game officials and the opposing team captains, they asked him, "You're Captain Who?"
When he stayed out all night (which he frequently did), his wife, sick with worry, looked everywhere. He walked in the house one morning at 8. Libby, his first wife, greeted him. "Alex," she screamed anxiously, "where have you been?"
Alex replied, "I have been out in the hammock all night. The moon was so beautiful I didn't want to leave it." His wife, fraught with worry, said frantically, "Do you expect me to believe that? We took the hammock down two weeks ago."
"Well," Alex replied, "that's my story and I'm sticking to it."
That refrain provided the title for his first book, My Story and I am Sticking To It a recounting of his life in the NFL. Hawkins' published works also include two cookbooks, and he is currently working on a third. He first demonstrated his way with words by providing color analysis for CBS' NFL telecasts in the 1970s.
Hawkins, who is now is retired and living in Denmark, SC – about 65 miles east of Augusta – with his wife Charlie, was born and raised in South Charleston, W.Va.
At South Carolina, he was named Player of The Year in the Atlantic Coast Conference, (1958). He has since been inducted into the USC Hall of Fame. With the Colts he was special teams captain under both Weeb Eubank and Don Shula and played linebacker, cornerback, safety and wide receiver.
When Hawkins, then a South Charleston high school senior, was being sought after by football and basketball college coaches, he chose football because it paid more money. "I was offered a farm to sign with the University of Kentucky but I was offered $1,500 a semester, a complete men's wardrobe and a new automobile to play football for coach Rex Enright at South Carolina.
"I never did get the clothes or the automobile and I only got the money for one semester. Then Warren Giese replaced Enright as head football coach and said no one was going to get anything but a scholarship."
In the introduction to Hawkins' memoir, sports writer Dan Jenkins wrote, "The first time I ever saw Alex was when he came down to Austin, Texas, in 1957 and tore the Longhorns' asses up in a game South Carolina won, 27-21. It was coach Darrell Royal's first season at Texas.
"It was the first time I ever heard of Alex Hawkins or a Gamecock. 'Who was that Hawkins?' I asked Darrell after the game. 'Hell, I don't know,' said Royal. 'We ain't tackled him enough times to find out.'"
Hawkins was claimed by the Atlanta Falcons in the 1966 expansion draft. It was a match not made in heaven. "I knew this was not going to work at one of our early team meetings," he recalls.
"Norb [Falcons' Head Coach Norb Hecker] threatened to take away my BB gun. He opened the team meeting with a question, 'Who shot out the big light in front of the dorm?' Since I was the only one with a Red Ryder all eyes turned on me. 'If I see any more lights shot out,' Norb said, looking directly at me, I am going to take that gun away from you.' "
Coach Hecker later said, "I don't care if he catches 40 passes a game he is not going to play for me." Hawkins was traded back to the Colts, finishing his career in 1967.
In summary, Hawkins says, "I would have played for nothing. And I would have paid the Colts for allowing me to play. I was the luckiest little boy in the entire world."