A Good Fit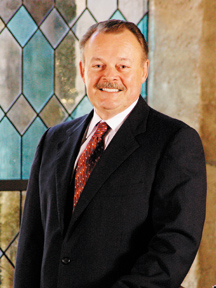 Jim Brown, the 57-year-old president and chief operating officer of Sea Island Resorts, had been trying to answer the ad-man's question: "Who is the company's competition?" when he finally came up with his answer, walking along Madison Avenue in New York City with Sea Island Company's chairman and chief executive officer, Bill Jones III.
"I said, 'I've figured it out. We're competing against the old Cloister!'" Describing the old Cloister as "fabulous," Brown says that after its three-year, $500-million rebuild and renovation, "People who have not been back to Sea Island in the last year or so will be very surprised. I've traveled all over the world and I can't come up with a competitor with the amenities and ambience of Sea Island."
Brown has the experience – personally and professionally – to back up his claim, having invested his entire career in the luxury and ultra-luxury hotel and resort business. A native of Ontario, Canada, Brown spent 23 years at every level of hotel management and leadership with Four Seasons Hotels in a number of management positions, learning the business at every level.
He moved to San Antonio in 1979, where he opened the first Four Seasons hotel in the United States, remaining at the property for three years before moving to Houston in 1982; the Four Seasons Inn on the Park gained five-star status during his tenure.
In 1983, Brown moved out of daily operations for a single hotel and into the role as regional vice president and general manager for Four Seasons properties located in Alberta, Calgary and Edmonton. He wrapped up his Four Seasons career as senior vice president for operations in 1996. He then moved to Rosewood Hotels, which owns such high end properties such as New York City's Carlyle, as special consultant to the board and finally as president and chief executive officer.
In 2004, Brown started his own consulting company, Brownstone Hotels and Resorts. He offered management services – along with the knowledge gained via years of experience in the luxury hotel market – to independent five-star hotel owners. And that's what Brown was doing when Bill Jones III, of Sea Island, came calling in December 2005. Brown consulted with Sea Island Company on last year's reopening of the Cloister. Jones hoped to hire Brown as a full time employee, but Brown resisted.
"I was happy with my consulting business and was busy with a client who was developing a property on an island, and another who was working on a major deal," Brown says. "But the good thing about consulting is that you only have to work with people you like. As I worked more and more with Bill and others, this seemed like a good fit."
Brown's wife, Kathy, pointed out that by working with Sea Island he'd be doing what he loved but doing it in one place. With Kathy and 10-year-old son, Max, sold on the change, Brown plunged in, officially taking on his new job last September. "Our whole family is excited about the move," he says. "We're in transition now. We've bought a house on St. Simon's Island, on the marsh, and Max is finishing school in Dallas, but they're both eager to get here full time."
Brown says the unique challenge in his new role with Sea Island is trying to maintain the resort's storied 78-year tradition while staying relevant in the hospitality business, and cultivating a new generation of guests and visitors. "Some [traditions] are appropriate in today's marketplace and some are not," he says. "It's a delicate balance."
Brown also oversees Sea Island's continued renovations and additions, including a 65,000-square-foot spa and a new beach club scheduled to be finished by May.
Brown is passionate about his work and thoughtful about how he goes about it. "My guiding principles have mostly to do with how I deal with people," he says. "Staff is a very important piece and it's important to give clear, consistent direction – emphasis on consistent. People need to know what is expected of them and they need to know it's not going to be changing every day. I believe in follow up. It's akin to an abdication of responsibility not to follow up."
Brown says his final mantra; "do the right thing," is easy at a place like the Sea Island Company, where his own values mesh easily with those of the corporation.