Net Gains
Hall of Famer Dominique Wilkins is a still a champion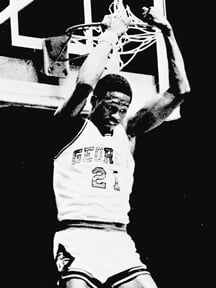 By now, the whole world knows of Dominique Wilkins' basketball achievements and that he's considered one of the greatest players ever to step on a college or professional basketball court.
But few people know that he once borrowed a line from the late Rodney Dangerfield: "I don't get no respect."
And few people know that he travels the United States speaking to children and adults to educate them about the prevention and management of diabetes.
Now age 46 and vice president of basketball for the Atlanta Hawks, "Nique" was diagnosed with Type II Diabetes six years ago. He has since committed his personal time to the Juvenile Diabetes Research Foundation and to Eat Well Be Well Foods as its national spokesperson.
Now about his basketball career. He played three years at the University of Georgia and was selected for the All-Southeastern Conference first team all three years. In two of those years (1981 and 1982), he was named All-American.
Even though Wilkins didn't play his senior season – he signed a professional contract with the Utah Jazz instead – he scored 1,688 points in his three years at Georgia, breaking the record of 1,679 set by Walter Daniels in four years.
Before Wilkins, Georgia had never won an SEC championship and the school had gone seven years without a winning season. With Nique leading the team, it posted back-to-back 19-win seasons, secured an SEC championship and built the impetus that carried the next year's team to the NCAA tournament final four.
Bulldogs coach Hugh Durham out-recruited the nation – from Florida to Maine to California – to lure this 6' 8", 200-pound phenom to Georgia from Washington (NC) High School. In his three years at Washington High, Nique led his team to an incredible 76-1 record.
Wilkins may be the only player ever to have his number (21) retired by his high school, college and professional team, the Atlanta Hawks.
"Wilkins was one of the greatest competitors I ever coached or I ever saw play," Coach Durham says.
The Utah Jazz traded Wilkins to the Atlanta Hawks, a move they eternally regretted. Nique did not play with another superstar while he was with the Hawks, but he carried the team to playoffs in eight of his 12 seasons.
"In all his days with us," says past Hawks president Stan Kasten, "he never let up. He never lost his enthusiasm and he never changed his effort. It was always 100 percent."
On his way to earning his nickname, "The Human Highlight Film," he registered 26,668 points, won two NBA slam-dunk contests and captured 7,169 rebounds in his NBA career. In the 12 seasons he was with the Hawks he was an NBA All-Star nine times.
He was the NBA scoring champion ('85-'86), made the NBA All-Rookie Team ('83), and All-NBA, first, second and third team eight times.
But life never was as rosy as it was when he was voted into the Naismith Memorial Basketball Hall of Fame last year. At the Hall of Fame induction ceremony, he said, "I never have felt better than I do tonight. This is my night."
It was not always Nique's night. He grew up in Baltimore where he was usually the last man picked for pickup games.
"No matter what I did, how well I scored or rebounded, the other kids on the opposition said, 'You will never make it.' Even when we moved to Washington, North Carolina, where I went to high school all I heard was, 'You'll never make it.' I couldn't get any respect."
Wilkins was born in France. His parents divorced shortly after moving to Baltimore.
"In Baltimore, we lived on welfare. We had a city project home with two bedrooms. There were eight of us – four boys and four girls. The girls slept in one room and the boys in the other room. Mother did not work. We made it on her welfare check.
"At age 14, I was on my own. I chose pickup basketball over running with the gangs. Basketball kept me out of trouble. I worked summer jobs. When I was 18, I bought my mother a house. Now she has a bigger house, big enough for the whole family."
And Nique finally has the appreciation he deserves. "I think I have respect now that I have been inducted into the Hall of Fame."
Gene Asher is a veteran sportswriter and businessman.