Macon/Bibb County: On The Move
Retail To The North, Revitalization Downtown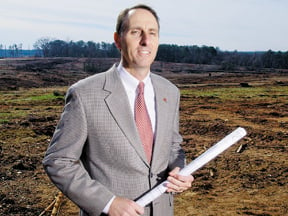 Forget about city boundaries and county lines, Macon is moving north. While you won't see any redrawing of the map, when it comes to where people live and shop and how developers decide on locations, Macon has become a region that encompasses several outlying, but growing, counties.
"Over the last 50 years the base of employment, the base of retail and the base of wealthy citizens have been moving out of downtown and like [in] most cities have been moving north," observes developer Roy Fickling.
Consider one of the latest sparks to local economic development. Just north of town, retail powerhouse Bass Pro Shops has opened a new store and distribution center. This sprawling complex at the end of a newly cut parkway off the aptly named Bass Road should draw 2 to 3 million customers from not just Bibb, but as far north as Henry County and deep into South Georgia.
While Macon and Bibb have experienced relatively little population growth, surrounding counties are booming, and many of those new residents are commuting here.
"Commercial development-wise, we are growing pretty fast," says Ed Walsh, a partner with The Summit Group real estate firm. "It is just the number of residents is not growing and that is because the people are going to Monroe or Jones County to escape the higher taxes on their homes."
Local boosters are also increasingly thinking in regional rather than local terms.
"First thing we have to get them to Georgia," says Steve Kruger, who chairs the economic development committee for the Greater Macon Chamber of Commerce. "Then we have to get them to Central Georgia and then wherever they fit best within Central Georgia. We work very closely with our counterpoints in Jones, Houston, Monroe and Peach Counties to try to make sure they come into this location within Georgia."
The northward population movement has spurred a boom in development along I-75. While locals have long talked about the need for retail here, the area remained a region of thick forests. That was until Bass Pro came along.
"It seems as if that was the catalyst that everybody was waiting on and then all of a sudden when that announcement was made hundreds of thousands – if not millions – of square feet of new retail projects were announced," says Fickling, who helped lure Bass Pro to Macon.
Just a short distance away on Riverside Drive, a new 750,000-square-foot lifestyle center called the Shoppes at River Crossing is under construction. Set to open late next year, the development will feature upscale specialty stores, restaurants and five mid-sized anchor stores, in addition to the two large anchor department stores.
This project and several others like it – in varying stages of development – reflect a renewed belief in North Bibb. They also show that Macon can attract shoppers, if not always residents.
"Bibb is a tiny county, but it's very easy to get out of the higher taxes [here], but still only have a 15-minute commute," says developer David Thompson, whose family owned the parcel where Shoppes is being developed.
While North Bibb has drawn most of the attention, the forests on the county's south side are also being cleared for new residential and commercial development. Moon Family Properties proposed a $490 million mixed-use development on 1,100 acres that will include 1,700 homes, a grocery store, restaurants, medical offices and a movie theater.
New Investment
Along with all this building, Bibb has capitalized on its central location and workforce to attract a bevy of new business and industry.
"We've had $280 million worth of new investment and 2,700 new jobs that we can directly track and another 300 from a recent expansion at GEICO Insurance," declares Chamber President Chip Cherry.
This year the county has landed 700 new jobs and announced 11 expansions or relocations among large and small companies alike. That's a pleasant trend after the shock of losing 3,000 jobs when Brown & Williamson Tobacco closed. That sad episode also seems to be behind Macon – the sprawling 1.4 million-square-foot plant was recently sold to a Wyoming based investment group. Locals expect the facility to soon be filled with new occupants.
"We've had many prospects look at the building that were users and even had one potential user that made an offer, but then decided to do something at their existing location," Pat Topping says. "So just from that experience I really think the best use for that facility is going to be multiple tenants out in the same building."
Meanwhile, the city is working hard to reverse the population decline and lure more businesses back to its once thriving downtown. While much work remains to be done, signs of a revival there are definitely visible.
"We added 285 new lofts in the last five years and they're running about 95 percent occupancy," reports NewTown Macon director Mike Ford.
In just the last 18 months, the agency made 19 business grants to help small businesses relocate there, he adds.
A number of new restaurants have opened, lured by the increase in downtown residents. As more of the city's impressive stock of historic buildings has been restored, a growing number of companies have opted to be a part of the urban ambience.
Nowhere is that revival more evident than on Poplar Street, where workers are racing to build out spaces for new occupants. Five businesses relocated here as part of a deal engineered by local architect Gene Dunwody, Jr. and contractor Tony Long.
"The Poplar Street project was a new endeavor for us because we had actually bought 14 buildings at one time," Dunwody says. "My model typically had been to renovate the buildings and lease them out. On this project we're trying to find people who want to own."
Among the newcomers is a media and events management firm headed by former Washington, DC, resident Terrell Sandefur.
"Most cities don't have anything like this," he explains, referring to the rows of brick storefronts dating to the [19th] century. "I walked into this building and said this is the place I have to be."
The structure once housed a Yellow Cab company alongside what was reportedly a "gentlemen's club." Once crews are finished, Sandefur will have 2,000 square feet on two levels and enough room to host press conferences and meetings – something he can't do now, working out of the sunroom of his Macon home.
To make living in the area easier, NewTown Macon plans to construct a parking deck across the street. The availability of parking is expected to spur development of the adjacent Dannenberg building, which owner Chris Sheridan wants to convert to loft apartments.
Heart Of The Matter
One of the prime engines of economic development in Macon continues to be the ever-dependable health-care sector. Rising up on the downtown skyline is a new $80-million heart center for the Medical Center of Central Georgia. The facility is the hospital's latest effort to consolidate its expanding programs within the confines of the city's historic district.
It also reflects just how important Macon has become as a health-care center. Central Georgia has long been one of the state's top four locales for heart surgery – the other three are all in Atlanta. When it acquired the smaller Middle Georgia Hospital a few years ago for a new children's hospital, Central became the state's second largest facility after Grady.
"I think our presence downtown and development downtown has had some very positive impacts," CEO Don Faulk says. "It's a very dense occupancy [downtown]. We bring probably more people into downtown in a day than visit the malls just because of the amount of volume that goes on here."
The hospital has also given a nod to historic preservation by renovating two aging structures for new uses. A former YMCA built in 1906 now houses a new health club along with Macon City Club on its top floor. The circa 1912 building that was once Sydney Lanier High School has become a physicians' office building.
While activity is picking up, local developers are quick to admit that much remains to be done. "Walking around here reminds me of how many empty storefronts we have and how much we have left to do," Dunwody says.
One of the most pressing needs is the addition of a new convention hotel. City officials have struggled for the past several years to reach agreement on a plan to build a major hotel close enough to the Macon Centreplex to allow the struggling convention facility to attract larger gatherings.
"A lot of communities are caught in situations where they can build a hotel but they don't have the funding to build the meeting space," Cherry says. "We're on the flip side of that. We have the meeting space but don't have the hotel attached to the property."
After years of political infighting over competing plans, the hotel may just be about to get off the ground. Last year the city reached an agreement with Noble Investment Group to build a hotel in the parking lot near the Centreplex Coliseum.
"We have already selected a developer and we are doing the master development agreement as we speak," Mayor C. Jack Ellis says. "I am in negotiation with that team, so hopefully within the next, if everything goes according to plan, 90 days we will be breaking ground."
The plan requires more votes by the city council, school board, county commission and board of tax assessors, as well as an estimated $9.3 million in city bonds. In addition, several members of the city council are pushing for the hotel to be located across Coliseum Drive. The mayor originally supported that location, too, as part of a plan by a rival developer. Today he maintains he's happy with the new plan.
Whether construction starts this year or not, there's enough going on in Macon and Bibb County to keep construction workers and developers happy for some time to come.
Read More About Macon/Bibb County:
Blue Skies Smiling