Columbia County: Luring Visitors
Disc Golfers And Bass Anglers Power A Tourism Initiative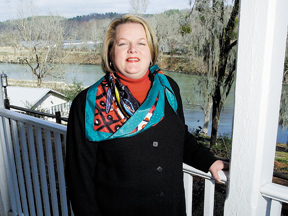 Zack Daffin of the Columbia County Development Authority might do well – when he is showing off the county to industrial prospects – to take them to the offices of his colleague Beda Johnson in addition to touring them through the county's newest industrial park.
It's entirely possible that Johnson, new executive director of the new Columbia County Convention & Visitors Bureau, has the best office of anybody anywhere. She goes to work every day at the Savannah Rapids Visitors Center, in the very structure that once was the cottage of the lockkeeper for the Augusta Canal.
Not only does the cottage itself ooze charm, it also overlooks both the Savannah River and the headgates of the canal. Standing on the porch just outside the back door of the cottage – also just off her office – Johnson explains that the breathtaking view just beyond the porch is the actual dividing line between Georgia's Piedmont and Coastal Plains.
Daffin, executive director of The Development Authority of Columbia County, laughs as he remembers offering Johnson office space in his building before he knew that she would be located in this picture-postcard spot. Now he teases Johnson about moving his office into the cottage, too. One room is set up with antique furniture to resemble what the lockkeeper's bedroom probably looked like when he and his family lived there. Jokes Daffin to Johnson as he tries to imagine moving his office: "You really don't need that old bed in there, do you?"
It is precisely that scene outside Johnson's office – and more like it – that is a primary reason the Columbia County Convention & Visitors Bureau was established and Johnson was hired last year.
"Natural resources are probably the biggest asset that we have," Johnson says. Besides the river and the canal, Columbia is one of five Georgia counties that share access to Clarks Hill Lake and its 1,200 miles of shoreline.
The largest U.S. Army Corps of Engineers project east of the Mississippi River, Clarks Hill Columbia County (known in neighboring South Carolina as J. Strom Thurmond Lake) is home to Wildwood Park – a huge draw for tourism in the county, which sits just off of Interstate 20 right next to Richmond County and the city of Augusta.
Wildwood Park in Columbia County's unincorporated town of Appling is the new home of the Professional Disc Golf Association (PDGA), which has moved its headquarters from Canada. The organization, which will have its Inaugural Hall of Fame Classic at Wildwood Park in April, is setting up its Hall of Fame, a pro shop and a clubhouse on the grounds at Wildwood Park, where there will be three 18-hole courses, too. Similar to traditional golf, in disc golf, players use a flying disc and elevated metal baskets instead of golf balls and holes. April's event will bring 100 or more professional disc golfers to the county, Johnson says.
In fact, she adds, "We have something big going on every weekend in April." On the same weekend as the PDGA tournament, Columbia County will be host to "The Pride Of Georgia," a Bassmaster Elite Series tournament. "It brings 250 anglers from all over the world to fish at Clarks Hill," Johnson says. "That's one where we get national exposure on ESPN."
The weekend before that, a local bow hunters club will bring in 800 hunters to shoot at targets of plastic animals set up throughout the woods. "Wildwood is fabulous," Johnson says. "It has loads of parking – more than 200 spots big enough for a truck and trailer with a boat on it, and it has easy access to the lake. We have six boat ramps in one spot. So, for a fishing tournament, there is no other place with this kind of facilities so well laid out."
Besides Appling, the county seat, Columbia County is home to the cities and unincorporated areas of Evans, Martinez, Grovetown and Harlem. The largest of these, Evans and Martinez, are unincorporated. "We're the reverse of most places in the state," says Columbia County Commission Chairman Ron Cross, "in that our population base is in the unincorporated area by roughly 90 percent."
A Separate Identity
Until the Columbia convention bureau was established, the Augusta Convention & Visitors Bureau and Columbia County employees handled visitor requests. Cross, among others, realized it was time for the county to have its own convention bureau. It was chartered in October 2005, Johnson says. Then the Columbia County Commission appointed a board of directors.
"They sat down and did the mission statement, the vision and the job description for the executive director and got the job announcement out right after the first of the year in 2006," Johnson recalls. "March 27 was my very first day."
Notes Cross, "We are proud that we started our own convention bureau. We were part of the Augusta system for several years, just like we were part of the Augusta Metro Chamber of Commerce." It was one of his platform issues when he ran for the chairmanship in 2002 that Columbia County should have its own chamber.
"We have had our own chairman since 1987," says former Chamber of Commerce Executive Director Gordon R. Renshaw, who resigned in early February. "We were known as the Columbia County Chamber of Commerce, but we were not incorporated. We did not have a separate identity." Renshaw was hired as the first executive director in June 2003. "We had 300 members and no programs," he says. But that has changed. Today, membership stands at 800, and programs are flourishing.
Just before Christmas last year, Renshaw was preparing for the chamber's annual legislative breakfast. "When I first started, the legislative breakfast was pretty much an expense item," he says. "We really only had 30 or 40 diehards who were coming." Now, he says, the event draws more than 200 chamber members. "It is a program that has gone from a small gathering to something that is a major event."
The same thing has happened with the chamber's "Not Just Coffee" program, a monthly morning event. It has grown from 30 to 35 people attending to nearly 200 every month, so big that Renshaw has had to change the location to accommodate everyone.
In Good Voice
One reason for the surge in membership is that the chamber has found its voice. The median turn lane on Columbia County's busy Washington Road is one example. Almost by accident, the chamber learned that the Georgia Department of Transport-ation (GDOT) was planning to put a concrete median down the corridor, a road Renshaw describes as "our pipeline of industry."
The chamber launched an education campaign to inform members of GDOT's plans, then opened a dialogue with the agency "both directly and indirectly through our legislative representatives," Renshaw says.
"And we ended up having the commissioner of transportation here in front of the chamber on a blustery cold day to make the announcement to our chamber members and to the business community that they were going to put in a center turn lane instead of a median," he says. "That was a very big moment. I would say we got somewhere between 60 and 70 new members as a result of that."
While the chamber doesn't take full credit for turning a concrete median into a turn lane, Renshaw says, "We did rally the business community, and we did the things that a chamber should be doing, and, ultimately, it proved to be very successful."
One person he credits with the turn lane success is Commission Chairman Cross, a mechanical engineer who became discouraged with the laborious county process while building the Columbia County Courthouse annex.
"I was just a little bit disillusioned," Cross says, "by the amount of consultants who seemed to be doing nothing – layers and layers of bureaucracy with construction managers and local architects, design architects. I thought I could offer something in capital projects."
He ran for office in 2002 during the first election for a countywide elected chairman. Prior to that, there had been five districts, and the chairman rotated within the commission. After that, it was a countywide elected chairman and four districts.
"I don't know if I've been real successful [at eliminating all the layers of bureaucracy]," Cross says, "but we don't use construction managers anymore. We hold the architects accountable for design work. Construction managers do have their place, but not in traditional building projects."
His major priority at the moment is implementation of a $43-million bond issue voters approved last November for four areas of capital improvement: storm water, transportation, recreation and public safety. In early December 2006, he was about to head to New York to get the county's bond rating set, and he hoped to have the money in hand to start work by mid-January.
The storm water improvements involve problems left over from pre-1984 construction, before the Soil Erosion Act passed. "When those requirements started coming in, they didn't really get enforced. The money was not there for enforcement until the mid- to late-1980s, so we have some storm water revamping that needs to be done," Cross says. "Our new development takes care of itself because, with the new rules, the developer pays for the storm-water system. We're playing catch-up on some of the older developments."
Traffic problems to be attacked with the bond issue money mostly involve intersection improvements. Money for recreation will go to new soccer fields – eight at Blanchard Woods Park, which will relieve congestion at Patriot's Park, the county's main recreation complex.
On the public safety side of things, Columbia County will buy two ladder trucks and a pumper truck to complement the four new fire stations and eight new fire engines recently added. "We changed to the county fire protection system about two years ago," Cross says, "from the voluntary system."
Columbia County is growing – 2.5 to 3 percent per year for the past 20 years, Cross says. "We add about 3,000 residents each year." And even with that growth, a study three years ago revealed that nearly 50 percent of the county's disposable income was going outside the county.
"We were not keeping the dollars in the county because we didn't have opportunities for people to shop and eat and be entertained," Cross says. "We worked on that, and in the last six months, our sales tax revenue is up almost 22 percent." That's thanks to a new Target-anchored center and other retail establishments.
As a result of this success, tops on Cross's wish list for the county – "and it's been on my wish list for the past four years" – is to be in the position to give the citizens a tax rollback. "I think this year [2007], we'll be able to do it," he says. "We're increasing almost $225,000 a month in our tax revenue, so we think we'll be able to do it."
New Library
Just a short walk from Cross's office sits Columbia County's brand new library and Jabez Sanford Hardin Performing Arts Center. "Our library is probably the only one in the Southeast that has a performing arts theater incorporated with it," Cross says.
Walking through the front door of the library, a visitor passes the entrance to the performing arts center and a coffee shop – and then does a double take to be sure she is actually in a county library; the space more closely resembles a Barnes & Noble, with its comfy reading areas and sprawling square footage.
Downstairs (yes, it is two-story), not only are there 30 computers for adult use (in addition to the 12 upstairs for children), there's also a stunning view of a park and amphitheater on the library grounds.
And, not too far away, is Daffin's office at the development authority, where two employees of a new company in town have set up shop while their building is under construction. Uniparts, an Indian supplier of linkage parts to the tractor industry, is building a distribution/light assembly plant in Columbia County's newest industrial park, Horizon North, at I-20's Exit 190. It was set to be operational in January.
The Uniparts deal came about, Daffin says, via a partnership with John Deere, which builds its 4000 and 5000 Series tractors in Columbia County. John Deere's two Columbia County plants are located across I-20 from Horizon North, in Horizon South.
Also under construction in Horizon North is a building for Metrac, marketer of heavy construction machinery and forestry equipment. A 50,000-square-foot speculative office building in Horizon South is on track to be completed in the second quarter of 2007.
"The Development Authority contributed some 40 percent of the cost of the spec building, and we partnered with a private developer who contributed the balance," Daffin says. "We did our part with a $450,000 federal grant and $140,000 state grant. So we were able to do this without going to our local taxpayers and asking for help."
On tap for Daffin and other leaders this year is a plan to become certified in the Georgia Department of Economic Development's Entrepreneur Friendly initiative. "We're going to take that program very seriously," Daffin says, as he prepares to head to a meeting to discuss it.
One other goal about to be met is the creation of a Columbia County campus of Augusta State University. "The Development Authority, Columbia County and the state of Georgia are partnering to make this feasible," Daffin says, speculating that construction could begin this spring.
Read More About Columbia County:
Another Fine Festival