Blue Skies Smiling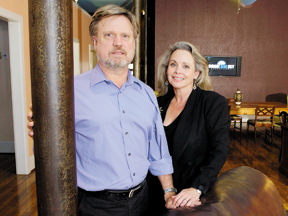 Elliott Dunwody isn't entirely certain about the history of this 1920s era building on Poplar Street in downtown Macon. Once part of the city's proud retail tradition, it fell on hard times and was replaced by a strip club and other less notable businesses.
Now as workers strip away the metal façade to reveal the old brick underneath, Dunwody sees a bright future emerging from Macon's past.
It begins with businesses such as Dunwody's Bright Blue Sky Productions reclaiming and renovating buildings on long neglected Poplar Street. Where once the block was filled with crumbling, empty storefronts, new life is emerging. A $4 million street renovation has spruced up the area and developers are busy moving in new occupants.
Dunwody's company, which produces documentaries and high-end corporate videos, has joined a printer, a theatrical backdrops company and other creative types to form what one owner calls "the graphics arts strip."
The retired sheriff's deputy formed Bright Blue Sky with his wife Beth, a former management consultant, in 1998 at their North Macon home. Since then they've spent days and nights shooting intricate surgical procedures in hospital operating rooms along with promotional videos for major corporations statewide.
Their most recent offering is a feature documentary on The Allman Brothers Band, entitled Please Call Home. The film documents the legendary Southern rockers' years living in the locally famous "Big House," a Tudor mansion in Macon's historic Vineland neighborhood.
"We were contracted to do about an eight to 10 minute informational piece on the Big House," Dunwody says. "We started doing some interviews with Gregg Allman and Butch Trucks and some other folks and we've got hours and hours of interviews, and archives of photographs and music and video."
Rock legends are just a small part of the company's work here in downtown. Using high definition cameras, they've filmed open heart surgery at the Medical Center of Central Georgia. In fact, they'll be doing a live feed of a procedure for a convention of surgeons meeting at the local Centreplex.
Dunwody considered buying on Poplar Street here two years ago when the thoroughfare was just beginning to emerge from its doldrums. Then there were few businesses around and none of the creative sort. "We were just a little concerned at that particular time because we were like going to be the only folks down there in that area," he recalls.
All that changed when local architect Gene Dunwody [Elliott's first cousin] joined with contractor Tony Long to purchase much of the 500 block of the street, including the historic Park Hotel.
The pair helped businesses such as Bright Blue arrange financing and even build-out of their spaces. In essence, the pair became a one-stop shop for business owners who wanted to become building owners.
"We really believe that the downtown will improve when people become stakeholders and they really become stakeholders when they can own their own property," Gene Dunwody says. "If you have a lot of people with a lot of voices [downtown] they'll support a lot of the other projects that we're trying to achieve down here."
In addition to the main building, Elliott Dunwody also acquired an older structure directly behind his facility. At first it seemed to be a dump crying out for the wrecking ball, but upon closer inspection he came to a different conclusion.
"We were just going to go ahead and tear down the building behind us and put in some parking but then when we found that it was built in the late 1800s and it was a livery stable," he says.
The structure's historic value quelled any plans for parking; eventually it will be renovated.
Dunwody's concerns from two years ago have been put to rest by the new businesses and hundreds of new loft apartments emerging in the area. He considers it the perfect location for his company.
While most of its clients are from Atlanta, Bright Blue Sky has the Macon market – rather like its corner of downtown – all to itself.
"We have a niche and it is a good one," Dunwody says.