Barrow County: Looking Ahead
Infrastructure And A Healthy Economic Mix Are Vital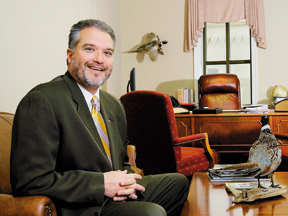 Two and a half years ago, Barrow County business and governmental leaders looked into the future – and saw pavement.
That was the somewhat scary vision that came out of the Barrow Summit, a gathering of community leaders who came together to look for ways to deal with the growth roaring their way from Atlanta and neighboring giant Gwinnett County.
"The summit helped us realize that when it comes to growth, there was a bull's-eye on Barrow County, and, if we didn't plan for it, we were going to be paved over," says Tommy Jennings, president of the Barrow County Chamber of Commerce.
Indeed, Barrow is in the path of growth – from almost every direction. Located north of Atlanta, Barrow reaps the benefits – and the problems – of such neighbors as Gwinnett, on the fast track to becoming Georgia's most populous county; and bustling Athens-Clarke County, home of the University of Georgia.
Speeding up growth are two major highway corridors. Interstate 85 traverses Barrow's northwest border and state Highway 316 (also known as University Parkway) cuts through the county's southern end. Highway 316 is the main road between Atlanta and Athens and a growing area expected to explode when road improvement plans are finalized.
Barrow officials realize they are in a location envied by many other areas, but also admit concern about the challenges impending growth will bring.
That concern is what led the chamber to host the summit in August 2004. Participants heard guest speakers tell them what the future would bring, then set up study groups to determine what should be done to prepare.
Today, ideas that developed as a result of the summit are well on the way to becoming accomplishments. For example, voters have approved two sales tax issues, progress has been made on improving infrastructure and a major road project has taken a big step forward. An Economic Development Council has been formed, land has been acquired for a major development and more than $500,000 has been raised to begin an economic development program and hire Barrow's first full-time economic development director.
"The idea behind the summit was to get a broad cross section of the community together to brainstorm on where we were and what we wanted the county to look like in the future," says Chris Maddox, who chaired the summit.
Maddox says the summit's keynote speaker got everyone's attention when he told them, "Unless something is done, Barrow is headed to become just a bedroom community for Gwinnett."
"The summit was a revelation for us," says Maddox, a third generation Barrow banker who is president/CEO of The Peoples Bank. "The bottom line was, growth was coming and we'd better get ready." Maddox now chairs the Barrow County Economic Development Council, created as a result of studies following the summit.
Education, community development and economic development – the three main topics discussed – were then explored by smaller study groups. Later, a study by agencies from Georgia Tech and the University of Georgia helped pin down specifics. Of the needs discussed, two affected all others – increasing and diversifying the tax base and developing a countywide infrastructure for water, sewer and roads to stimulate development.
The emphasis on these two areas is clear when you look into the county's past, when one industry dominated the local economy, and into the future, when tremendous residential growth is guaranteed.
"We once were a big textiles community," Maddox says. "But we had all our eggs in one basket, and when the textile plants began closing, it really hurt the county. We don't want that again … that's why we are looking for a more healthy mix."
Jennings, named president of the Barrow Chamber this past December, knows the textile industry's woes firsthand. He was president of Barrow Manufacturing Co., a clothing company founded by his grandfather in 1931; it once had four plants and more than 600 employees. The company survived many of the bad times, but finally closed the doors last March. It was the last textile plant in Winder, Barrow's county seat, once known as the "work clothing capital of the world."
More Growth Coming
Doug Garrison, chairman of the Barrow County Board of Commissioners, has seen a lot of changes and growth since coming to Barrow 32 years ago. He also knows much more is on the way, with Barrow's population on a soaring upward path. From 2000 to 2005, the county's population increased 30 percent, a jump that made it the 24th fastest growing county in the nation.
Garrison says when he moved to the county in 1975, the population hovered between 16,000 and 17,000. Barrow is expected to add more people than that in just the next three years, growing from 60,000 to an estimated 80,000 in 2010, according to the Northeast Georgia Regional Development Center.
And the tide of new residents isn't likely to slow. The population is expected to grow to 125,000 by 2020 and nearly 175,000 by 2030, almost triple what it is today.
But more people and more houses don't bring in the money necessary to pay for all the services government must provide. That's why, in his state-of-the-county report last year, Garrison said, "Commercial, retail and industrial growth must be a priority to prevent us from becoming a bedroom community where high property taxes would be necessary to provide essential services."
Garrison's priority is shared by others. Many local government and business leaders are using what they learned from the summit to plan an ambitious economic development program that's already bearing results.
"The summit was a catalyst for more cooperation between the county and cities and between government and business," Garrison says. In addition to Winder, cities in Barrow include Auburn, Bethlehem, Carl and Statham. A portion of Braselton is also in Barrow.
"Fortunately, we have room to grow and we are working to get our infrastructure in place for more retail and commercial," Garrison says. Although the county is small – eighth smallest in the state with just over 162 square miles – more than 75 percent is undeveloped.
"We are a small county, but still have a ton of undeveloped land," Maddox says. "We are not looking at going after big industrial projects. We would like some industrial but expect to have more success with commercial and retail in a more planned approach."
Four Gateways
To help plan and control future growth, Barrow officials are focusing on four growth areas identified by the summit as the county's gateways, or entrances. Those locations are Highway 211 at I-85, Highway 211 at Highway 316, Highway 53 at 316 and the Northeast Georgia Regional Airport, a corporate business and general aviation airport located in Winder.
While the intersections were logical picks as gateways, "The airport was something of a surprise," Maddox says. "But we have a really fine airport and the study showed it is one of our greatest assets."
Completed in the 1940s, the airport was called the Winder-Barrow Airport until its name was changed in 2006 to reflect a growing importance to the area. The airport has been undergoing a number of improvements, including adding an instrument landing system scheduled for completion in 2007.
Major progress has also been made at another gateway since the 2004 summit. In June 2006, a 275-acre site at Highway 316 and Highway 53 was acquired for development through a $15 million bond issue. The prime location will be a mixed-used area, with commercial, retail and industrial.
"This is something that is really needed," says David Smith, chairman of the Joint Development Authority and the Winder-Barrow Industrial Building Authority. "All of our industrial parks are full. We have people calling all the time but have no inventory. When people call, they want to know what you have available now and now we have something to show them."
Funds for developing infrastructure at the site will come from a Special Purpose Local Option Sales Tax (SPLOST) approved by voters in March 2005. Barrow residents voted to extend a 1 percent SPLOST for the county, then came back the next year and voted to extend the school system's 1 percent SPLOST.
Keith Lee, Barrow County's chief administrator, says the county SPLOST is expected to raise $70 million over six years, with funds going toward a variety of projects, including a criminal justice center, a new cultural arts center, and a host of sewer, road and other infrastructure improvements. The school SPLOST will be used primarily for school expansion and renovation and other improvements.
Housing Boom
The emphasis on improving infrastructure and increasing commercial development is preparation for the assured housing boom Barrow will see for a number of years. The county has long been known as a good area for first-time homebuyers, but times and prices are changing.
"With land prices going up," Garrison says "starter homes will be leaving Barrow," to be replaced with larger, more expensive homes. An indication of what is already happening, Lee says, is an increase in the square footage of homes. In 2000, the average was 1,606 square feet; in 2006, it had jumped to 2,119 square feet.
The county already has its enclaves of luxury communities, including the well known Château Élan and Georgia Club. Château Élan, which sprawls over 3,500 acres near I-85 in both Barrow and Jackson counties, is best known as a winery and golf and spa resort, but it also includes upscale residential communities. The Georgia Club, located in Statham, along University Parkway, is convenient to Athens and heavily marketed to the University of Georgia community.
Last October, the board of commissioners approved rezoning for what will be the county's largest subdivision to date, a 2,097-home development on a 697-acre estate at Highway 53 and Mulberry Road. The development, which will also include some retail space, isn't expected to be completed until 2014.
As county leaders consider economic development, they are also working on "quality of life" projects.
Funds for a cultural center were included in the SPLOST approved in 2005. Garrison says the center is a joint project of the county, the school system and the city of Winder and all are chipping in to provide $4.5 million in seed money to get it started.
The center will provide exhibit and performance space and host meetings and special events. "We plan to get started on the center in 2007 and are optimistically looking at having it completed in two years," Garrison says. "We think the center will be a real catalyst for our area, and believe it will be a regional attraction."
In Winder, an historic building given to the city by a textile manufacturer in 1998 has been transformed into the Winder Cultural Arts Center. After major renovation, the center is home to the Winder-Barrow Community Theatre, the Georgia Piedmont Arts Center and Winder Community TV12, the city's public access cable channel.
"The arts center is an excellent example of the redevelopment going on in downtown Winder," says Sherrie Miller, director of Main Street Winder, one of the organizations working to revitalize the downtown area.
Winder is a busy city today, but Miller and others want to see it become "the vital small city it was in the '50s and '60s when it was a booming textile manufacturing center."
Much has been done, Miller says, especially last year when "downtown really took off" with a number of major renovations started or completed. One such project was a multimillion dollar revamping of The Peoples Bank's historic 1915 structure.
With infrastructure improvements, economic development projects and cultural projects well under way, Barrow County's leaders can now see more than just pavement in their future.
As Smith, Joint Development Authority chairman, explains, "We have learned a lot since the first summit meeting. We know we must be more proactive than reactive. Now we must stand up to the plate and make it happen."
Read More About Barrow County:
The Roads Ahead