Another Fine Festival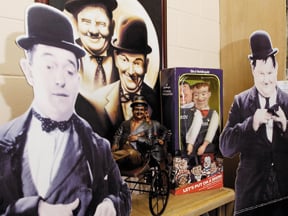 Thirty-five thousand people travel to the Columbia County city of Harlem each October for the Oliver Hardy Festival. That's Oliver Hardy, half of the legendary movie comedy team of Laurel and Hardy – he's the big one with the moustache.
Harlem, home of The Laurel and Hardy Museum, is the birthplace of Oliver Hardy, who was born there Jan. 18, 1892. "Relatives still abound in Harlem," says Beda Johnson, executive director of the Columbia County Convention & Visitors Bureau.
Last summer, Harlem was host city for the Sons of the Desert Convention, a regular gathering of the Laurel & Hardy fan club named for a 1933 film. "They travel every other year to some location to talk about Laurel and Hardy movies," Johnson says. "They do re-enactments. People from all over the world come."
During last year's festival, "the streets of Harlem were packed," Johnson says. "There were three stages, a parade. It was so much fun. Harlem embraces everybody. All the shops are open. The Laurel and Hardy look-alikes come. The fans know the movies, and they talk in this secret language, but they don't mind other people hanging out with them."
The 2007 Oliver Hardy Festival is scheduled for the first Saturday in October. The skinny-fat duo stayed together for three decades, appearing in more than 100 films, according to The Film Encyclopedia.