Welcome To The Brave New World of Public Relations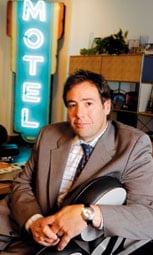 Back in August, Atlanta writer, producer and blogger Grayson Hurst Daughters wrote an editorial for a local web site, Georgia Political Digest, about how impressed she was after meeting Wal-Mart executives who sought to assure neighbors about the new store opening at Howell Mill Road and I-75.
In October, she was surprised to find the editorial was reprinted on a web site titled "Georgia Families for Wal-Mart." Then she was angered to learn that her words were part of an "Astroturf" controversy enveloping the public relations firm Edelman and its client, Wal-Mart. An Astroturf campaign is a carefully engineered public relations or political effort disguised to look like a grassroots movement.
The most controversial part of Edelman's campaign was "Wal-Marting Across America," a blog that followed the "adventures" of Jim and Laura, who were parking their RV in Wal-Mart parking lots across the country. Jim was exposed by the union-backed Wal-Mart Watch as a photographer for The Washington Post working on a freelance assignment. Laura was a freelance writer and sister of an Edelman employee. The RV trip was funded by Edelman for Wal-Mart, not by the apparently happy-go-lucky travelers Jim and Laura appeared to be.
Edelman had put up a "flog" – or fake blog.
Daughters demanded that Edelman remove her column from the Georgia-related Wal-Mart site until the campaign became more transparent. The PR giant's CEO, Richard Edelman, agreed. But a month later, her column was still posted on the Working Families for Wal-Mart site. (The site can be found at www.forwalmart.com. Edelman failed to register the proper domain name, www.workingfamiliesforwalmart.com, which was snapped up by Wal-Mart Watch.)
Edelman apologized in his own blog for his company's ethical lapse.
"I want to acknowledge our error in failing to be transparent about the identity of the two bloggers from the outset," he wrote. "This is 100 percent our responsibility and our error; not the client's. Let me reiterate our support for the [Word of Mouth Marketing Association] guidelines on transparency, which we helped to write. Our commitment is to openness and engagement because trust is not negotiable and we are working to be sure that commitment is delivered in all our programs."
Welcome to the Brave New World of public relations.
Simpler Times
Just three decades ago, the practice of public relations was pretty simple: Get the client's name in the local newspaper. The people who went into the business were often newspaper veterans looking for a more lucrative way to support their families.
Like Ken Willis.
Willis started working for newspapers in Macon when he was just 13 years old. He ultimately became the lead reporter at The Atlanta Constitution on a story that drew worldwide attention: the "Missing and Murdered Children" case.
He left newspapers for a ride in public relations that has been as wild as the Great American Scream Machine at Six Flags.
"By the time I was 33, I started a family and I didn't have the obsession to say up all night to track down anything and everything that I thought was necessary to be a good reporter," Willis says.
He told a friend at Southern Bell he was thinking about getting into PR and soon got a call from a phone company manager.
"I thought he said 'We need help selling mobile homes,'" Willis recalls with a laugh. The manager cleared up the confusion: "'No, no, no. It's mobile phones.'"
Willis had never heard of "cellular" technology. But he was interested enough to join BellSouth Mobility and help roll out cellular phones in Atlanta.
He later became administrative assistant for a former roommate, then-Congressman Pat Swindall, in Washington. He came back to Atlanta to work with Amanda Brown-Olmstead and Associates, and then joined Hill & Knowlton. Clients, Willis noticed, "would say 'We want people who know these media people to help us.' So they were looking for media."
Before the 1996 Olympics, he was hired to start an Atlanta office for a then-small PR agency called GCI Group.
Willis opened GCI's Atlanta office by himself in the attic of his home in Decatur. His first client was the IBM Olympics account. From his start as a one-man outpost, Willis built GCI into one of the top firms in town, with about 100 employees. He was named president of GCI North America and president of GCI Latin America and brought in a number of seasoned PR veterans to work with him.
But the public relations business was hit hard after 9-11, when companies cut back on outsourced services such as PR.
Willis left GCI in 2003, saying the agency had decided to head in a different direction. GCI's Atlanta office is now headed by Donna Fleishman, a respected veteran of the city's PR wars. Willis took some time off, consulted a bit, and then joined Fleishman-Hillard's Atlanta office as a senior vice president in early 2006. Coming full circle, he spends most of his time with the cellular account – Cingular.
"PR clients now want us to participate in forming good strategy," he says. "The number of channels of communication has exploded because of the internet. You find a lot more PR firms engaged in internet communications, blogging – and that includes setting up blogs for corporations – and communicating with blogs like you communicate with newspapers."
As for the Wal-Mart "flog" controversy, Willis says, "Our approach is total transparency and total honesty."
At one point during his tenure at GCI, Willis believes, the operation he started in his attic may have become the largest PR agency in Atlanta.
Size and Scope
The relative size of PR agencies in the city today is anybody's guess. The Atlanta Business Chronicle, which used to compile a yearly ranking of PR agencies, no longer publishes the list. Publisher Ed Baker said his decision to stop compiling it stemmed from a combination of factors, including the reluctance of agencies to share revenue figures because of Sarbanes-Oxley, but also because the quality of the information he was getting from PR agencies "became suspect."
Now GCI is under the wing of legendary Atlanta ad man Joel Babbit, who was named president and chief creative officer for New York-based GCI Group, one of the largest PR firms in the world; he continues to run Grey Worldwide's Atlanta operation.
"Everyone has written extensively about the decline of traditional media advertising, about how TiVo, pay-per-view and DVDs have affected advertising, and about the decline in newspaper readership and the changing media habits of younger Americans," Babbit says. "That has led clients to find more effective ways of spending money and oftentimes that means PR.
"Ten years ago, it was very, very clear what an ad agency did – to produce TV and radio commercials and print ads. And it was very clear what PR firms did – press releases and media relations and press conferences."
But today, Babbit says, questions arise about such new media outlets as You Tube, MySpace and internet sites. "Does it fall toward the ad agency or toward the PR agency? These are new questions that present new opportunities for PR firms. It also means PR firms have different types of competition than they used to, such as ad agencies and Web developers. It's a very exciting time."
One person who has seen it all is Bob Cohn, an Atlanta PR pioneer who sold Cohn & Wolfe after building it into the biggest agency in town and 13th largest in the world. Cohn & Wolfe was the first local agency to take a marketing-oriented approach to PR, focusing on big events, such as the Olympics.
"Initially, public relations had to do with getting placement in the local news," says Cohn, who's still involved in PR with another agency – Cohn, Overstreet & Parrish. "The business today is dramatically different and highly specialized.
There are all kind of specialties such as health care, helping pharmaceutical companies reach doctors, not through the media but through other means of communication. In financial PR, there are specialists who try to influence people on Wall Street and stockbrokers and institutional stockholders. There are practically no limits to what you can do for a company today."
The industry has suffered a loss of trust over the years, Cohn says. "The media for a long time has looked at the PR profession with a great deal of mistrust. It has to do with the word 'spin.' When we started, there was no spin. What you did, you tried to put the best light on the reality of a situation, as opposed to hiding information."
Much of that mistrust over spin arises from politics, which has turned spin into a daily exercise in frustration for journalists. Cohn tried doing political work – once.
"In 1974, we were involved with six political campaigns. One guy withdrew; we won five and got paid for two. That was the end of our days as political consultants. We got a guy elected. … He didn't pay us, so we put together a fund raiser. He kept that money as well. That was it for me."
Training Ground
Cohn & Wolfe was regarded as a training ground, turning out many of the top professionals in the city today, such as Rob Baskin, managing director of Manning, Selvage & Lee in Atlanta. MS&L, believed to be the biggest PR agency in town, was the first of the national PR agencies established in Atlanta – by George Goodwin, a Pulitzer-Prize winning reporter for The Atlanta Journal and dean of the Atlanta PR industry. Goodwin, 89, still comes into the office once a week.
Baskin worked for Cohn & Wolfe and also for the Coca-Cola Co. before taking over at Manning.
One of the major changes in PR is that it is now considered a strategic tool by senior management. Baskin recalls the late Coca-Cola Chairman Robert Goizueta saying, "I can't delegate the reputation of my company to anyone. It is the responsibility of the chairman."
"Many senior executives take that responsibility seriously, which is a change from 25 years ago," Baskin says. "That has a tremendous amount to do with technological changes in communication. In a 24-7 wired world, reputations can change in a matter of hours."
As an example, he mentions Sen. John Kerry's botched joke about Iraq a few days before this fall's elections.
"It was spread by Republicans and the news media in two to three days. It was part of the social fabric as soon as the late-night comedians started making fun of it."
As a result, Kerry's political ambitions for 2008 were negatively affected, he says.
Likewise, Baskin says, Edelman found out that on the internet, "there is no place to hide. Any kind of secret is bound to come out. You can't purport to be one thing and then be another. You'll get found out. Edelman is a perfect example of an agency getting caught with its pants down. Credibility is king."
Opinion And Advocacy
David Beasley, op-ed editor of The Atlanta Journal-Constitution, often seeks people to write opposing viewpoints to the paper's editorials. Sometimes he receives unsolicited columns from PR people who don't acknowledge their affiliation with a group.
"People have gotten through without me knowing it," he says. "But I don't let them write about that issue again. My opinion is, just make sure you disclose in the piece who you're working for."
In public affairs and politics, groups adopt innocuous-sounding names that disguise their real purpose. For instance, the "Safety and Prosperity Coalition" was a corporate front-group that sought unsuccessfully to defeat Georgia State Supreme Court Justice Carol Hunstein this year.
As more advocacy groups are formed and more commerce is conducted on the internet, "everything should pass the red-face test," says Kathy Bremer, managing director for the Atlanta office of Porter Novelli. "You should never have a situation where you are hiding the identity of a source of information."
Bremer came into public relations from Care International.
"I think the biggest change I've seen in the business is the way that the client's world has changed. The client's world is much more about major problems that cross disciplines and require big ideas and solutions."
Just a few years ago, she says, a client might say "I need a PR agency to do this, a direct marketing agency to do that and an ad agency to do another thing. More often today, a client says, 'I have a problem that needs solving and I want the best minds I can find to solve that problem.'"
As an example, she mentions Porter Novelli's campaign to help the Centers for Disease Control inform doctors and parents about the importance of diagnosing symptoms of autism as early as possible. The agency ended up with partners in the health care and nonprofit communities, public service ads, media relations, a celebrity spokeswoman – Eva Larue of "CSI: Miami" – and even put messages on the Times Square Jumbotron and the Goodyear Blimp.
PR is not trying to take over the consulting role of companies such as McKinsey & Company, Bremer says. "The space that PR increasingly owns has to do with translating the business objectives of the client into understanding the audience and turning that into something that will move the business forward."
PR has proved to be one of the premier industries for women seeking to break through the glass ceiling. The blossoming of PR as a profession coincided with the influence of Betty Friedan and Gloria Steinem in the 1970s, says Amanda Brown-Olmstead, who has run her agency in Atlanta for 35 years. It's now called the new ABOA, A. Brown-Olmstead Associates.
At one point, she felt, PR had an overabundance of women, but now seems to be more balanced.
Brown-Olmstead negotiated to get her brand back after a buyout. Now, it's a five-person boutique.
"The way the industry has evolved for me and a lot of folks like me is that we can work with serious clients in serious situations and have credibility without being a huge operation," she says. "A lot of that is technology and the maturity of the industry."
When she started out, she recalls, "I didn't even know what I was doing." Learning as she went – and training scores of successful PR people along the way – she built a full-service agency that was gobbled up by a succession of large companies.
She says she realized years ago where PR would be heading today.
"The PR brain was very good in strategy," she says. "That's not to say ad brains weren't good. They plotted their course: 'This is what we're going to say and this is what it's going to cost.' PR is all about reaction and timely opportunities. What's in the news today? What is the mood of the constituency of this client today?"
Brown-Olmstead has reached a point in her career where she operates her agency out of her home in Buckhead.
"I could not have done this 20 years ago. People would not take me seriously if I were a 38-year-old woman with a small firm. But I've been in the market a long time."
With her small agency, she seeks to do what even the biggest agencies are doing today – providing senior strategic thinking to her clients' top executives.
Editor's Note: Atlanta writer Doug Monroe has worked in public relations with IBM, BellSouth and Hayslett Sorrel. He has freelanced for GCI Group and currently freelances for the Hudson Slaton Group.