The Voice Of Experience
Teresa Lasseter brings real-world experience to her work with the Farm Service Agency.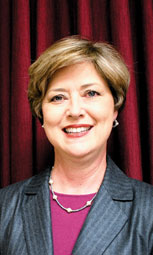 Growing up on a farm in Tifton, Teresa Lasseter knew all about long hours. But who knew she'd continue to keep farmer's hours as administrator of the U.S. Department of Agriculture's Farm Service Agency (FSA)?
"I get up at 5 a.m. I'm in my office by 7 and usually don't leave until close to 7 at night," Lasseter says. "But there's limited amount of time for political appointees to get things accomplished in Washington. My goal is to leave a better agency behind when I go."
Lasseter, 54, has spent most of her career serving in the FSA. She is the agency's first female administrator, and the first administrator to have worked her way up through the organization's ranks. "I began working with the FSA in one of their county offices, part time, in Tifton," she says. "I was just a young mother with two children looking for a temporary job for the summer."
A graduate of Abraham Baldwin Agricultural College, Lasseter had worked for the Georgia Department of Transportation for several years out of college before landing that summer job with the FSA in 1977. She held a variety of positions while traveling the state and familiarizing herself with farm programs on the local level and entered the agency's management training program before stepping back in 1993 due to family concerns.
A political appointment from then-Gov. Zell Miller kept her closer to home. She was executive director of the Georgia Agrirama Development Authority in Tifton, remaining there until 1999. During her "break" from the FSA, Lasseter also chaired the Tifton Chamber of Commerce. She then relocated to Moultrie and settled in, not imagining the career changes yet to come.
President George W. Bush's election in 2001 signaled Lasseter's return to the FSA when the chief executive appointed her the (FSA) state executive director for Georgia. She served for one year until 2002 when she was appointed the Associate Administrator for Programs (in the FSA) and asked to move to Washington, DC.
Years of FSA experience served Lasseter well. "They wanted someone in that position who knew the agencies and programs," she says. "Thirteen months later, once the rules and regulations [of the 2002 Farm Bill] were in place, I went back to Moultrie."
But in August 2005 Lasseter was asked to interview for the administrator's job. She became chief of the FSA in October 2005. Her work history in the agency was invaluable; an even greater benefit was growing up on a farm. "I have a different appreciation for farmers, ranchers and land owners," she says. "They need to remain strong and viable. I consider my job to be a tremendous opportunity for public service."
Knowing she has a limited amount of time to get things done, Lasseter wants to see more FSA reorganization. "Many of our programs have changed and work loads have shifted," she says. "We need to consolidate more of our county offices, and staff them according to the work load."
She says the agency also needs better training and tools for local staffs with one goal in mind: better service to customers. "Our customers are farmers, ranchers and land owners," Lasseter says. "We must update our technology to service them more efficiently, quickly and accurately. Communication is vital. Many farmers want to do their FSA work online and we're in the process of shifting programs to the Web. This saves farmers time and for them, especially, time is money."
Lasseter says the job, answering legislators' questions on Capitol Hill, meetings with the secretary of agriculture, and handling a budget of multiple billions, can be overwhelming but she thrives on the challenges. Her husband, Willard, remained in Georgia to run the family's John Deere dealership, but her daughter, Autumn Veazy, is an attorney in Washington living with her mom in Arlington, Va. "It's been great living with my daughter again," says Lasseter, whose son, Zach, is an accountant in Tifton. "It's the first time we've lived together since she was in high school."
Knowing a new administration means new administrators, Lasseter gives herself two more years to accomplish her goals before returning to Georgia. "My work is rewarding, but I love Georgia," she says. "It will be great to come home again."