The Flowering of Barnsley Gardens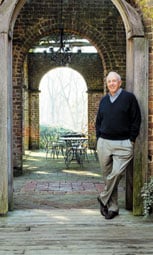 A rain delay during a 2004 golf tournament at Barnsley Gardens in Adairsville led Julian Saul, former president of Shaw Industries, into his newest venture: purchasing Barnsley Gardens Resort and developing it into a high end anchor for residential and commercial development.
"I knew the place was for sale," Saul, a Dalton native, recalls. "The friend I was with said, 'Why not buy the place?' Other friends encouraged me. This place is a hidden treasure. The region is going to be a real growth area. We're only 60 minutes from [Atlanta] when the traffic cooperates."
At the time of the soggy golf tournament, Barnsley Gardens was already a northwest Georgia showplace owned by Prince Hubertus Fugger, a German from Augsburg, who rescued the property from decay in 1988. Fugger restored and expanded the former gardens to include hundreds of types of fauna and foliage. The 100-year-old boxwoods surrounding the restored garden fountain were trimmed back. A rose garden featured more than 150 varieties. A quaint village-style resort opened in 1999.
Barnsley Gardens earned accolades from travel publications, and had become a favorite haunt of garden enthusiasts and local schoolchildren on field trips. After his labor of love, Fugger was selling Barnsley, but only to the right buyer.
"The Prince and Princess wanted to meet with me," says Saul, who recalls lunching with Prince Hubertus and his wife, Princess Alexandra, at their home on the estate, a fully restored 1830s cabin, located next to a scenic lake. "They wanted [Barnsley] to go to someone who cared about the place," Saul says. The Fuggers found their man.
"In terms of economic development, we're bullish on this place," says Saul. Only 400 acres of the property, including an 18-hole golf course, is currently developed, leaving another 900 acres still untouched. Saul and his partner, Mike Meadows, have plans for onsite expansion and recently acquired an additional 1,700 acres, which serve, in the short term, as a bird hunting preserve while affording plenty of room for a residential development with more than 400 homesites.
All that expansion talk is welcome news to Ellen Archer, executive director of the Cartersville-Bartow County Convention and Visitors Bureau, who says the county lacks high end executive housing often expected by large manufacturers and corporations looking to relocate. But she adds that beyond the tangible bricks and mortar, Barnsley Gardens offers something that can't be seen with the naked eye.
"I don't think we can put a dollar amount on the image contribution that Barnsley makes to this neck of the woods," she says. "They've hosted celebrities. It's a wonderful place to take [economic development] prospects visiting the area. Barnsley Gardens is northwest Georgia's living room parlor."
Barnsley Gardens took root in the early 1840s when Godfrey Barnsley, a wealthy English-born shipping magnate, bought almost 4,000 acres in northwest Georgia, intending to build an estate where he would live with his wife, Julia,and raise their family of six children. But construction stopped when Julia died before the estate was finished, leaving Barnsley to raise their children alone.
Work resumed when, according to Barnsley, his wife's spirit appeared to him in the fountain in the formal garden, asking him to finish the estate; and so it was that the magnificent 14-room Italianate manor house was completed. The home included lavish touches for its time – indoor plumbing, marble and tile from Italy and France and a large safe where it was rumored Barnsley stored his gold.
Though the Civil War halted Barnsley's shipping empire, which was heavily reliant on cotton, and eventually cost him his fortune, the manor house remained virtually untouched until a tornado ravaged the structure in 1906. Nevertheless, Barnsley's descendants lived on the estate until 1942 when it was auctioned off and eventually sank into ruin.
Royalty To The Rescue
Fast forward 40 years when, in a fairy-tale turn of events, Prince Fugger entered the picture. Looking for investment property in the United States, the prince learned about the estate ruin and land for sale. As the story has it, the prince purchased 1,300 acres in 1988 – sight unseen – for $1 million and began the restoration of Barnsley Gardens.
The refurbished gardens and ruins area opened as a state historical site in 1990, drawing some 38,000 visitors annually. In 1997, Fugger closed the gardens to build the resort. He consulted original plans for the estate and drew heavily on the style promoted by Andrew Jackson Downing, a prominent 1800s advocate of Gothic revival architecture.
The charming resort village consists of 33 buildings housing 70 guest suites plotted around a common green. The upscale Rice House restaurant, open only on weekends, sits at one end of the green; another restaurant, the Woodlands Grill, open daily, faces the golf course at the opposite end. Cottages, each with a private porch and wood burning fireplace, are furnished with antiques and offer all the amenities expected in a high-end resort. Paths and sidewalks connect the cottages to the gardens and village green.
Unable to recoup his investment, Fugger operated the resort at a loss until 2004 when he decided to sell to Saul and Meadows. The partners made few changes initially, focusing instead on general maintenance. Saul's wife, Anita, played a major role in redecorating many buildings on the property and seeing to the resort's overall aesthetic.
Anita is also actively involved in the resort's expansion plans and pulls out a sheaf of "very preliminary" sketches and blueprints for potential additions. Already on the drawing board for next year is construction of 14 residential units. The homes will be built in the same style as the existing cottages, with exterior color, façade, and other restrictions in place to standardize the property's appearance. The new cottages will use the original blueprints but expand to include kitchens and laundry rooms, features not found in the resort's guest cottages. These new homes will be leased back to the resort for rental when the owners aren't in residence.
"We're planning to enlarge the spa," she says. "And we'll enlarge the conference area to include a ballroom." The ballroom will be especially helpful as a backup location for weddings. Barnsley Gardens is an enormously popular wedding site and nearly all are held outdoors. "We hosted 39 weddings in 2005," Anita says. "We're on track for many more than that in 2006."
With just 70 rooms, Barnsley Gardens is considered a "boutique" resort, but Scott Mahr, general manager, maintains 65 to 67 percent occupancy on an annual basis. "Monday through Thursday we're usually booked with corporate customers on retreats or holding meetings," Mahr says. "The weekends, it's all leisure."
Barnsley Gardens is not a closed resort; visitors are welcome to come for a day to play a round of golf, enjoy a meal or to engage in any of the activities offered, from a full service spa to golf and tennis to shooting sporting clays. An onsite Orvis store offers private fly-casting instruction and shooting instruction.
One unique feature is the resort's "Fairy Godmother," Denise Webb. She's a combination concierge/dream-fulfiller who designs special birthday parties, romantic evenings, anything the guest imagines. "If you polled the guests about what they remember most about their stay, they'd mention the Fairy Godmother more than anything else," Anita says.
Economic Clout
Barnsley Gardens contributes to the local economy by encouraging guests to visit downtown Adairsville and Cartersville.
The CVB's Ellen Archer says Barnsley's tax dollars have been a boon to the area. From September 2005 through August 2006, Barnsley Gardens paid more than $172,000 in hotel/motel excise tax, representing more than $3.4 million dollars in room sales; additional local and state taxes push the total Barnsley generated above $400,000 for the 12-month period. The resort employs 270 area residents.
Melinda Lemon, Cartersville-Bartow County's director of economic development, says there's no question that Barnsley helps attract quality prospects to the region. In March 2006 Cabela's, one of the country's largest hunting and fishing outfitters, announced its intention to build the company's first Southeastern retail store in Adairsville – a 165,000-square-foot facility expected to employ up to 350.
Proximity to Atlanta and Chattanooga and to suppliers located along the interstate were key factors in the company's decision, as was a trained workforce and convenience to Hartsfield-Jackson Airport; these are the tangible reasons a company chooses to locate in Bartow County.
"Cabela's had a relationship with a local fishing celebrity (Orlando Wilson) but Barnsley was where they entertained the prospects," Lemon says. "I don't think anyone in Bartow County takes what Barnsley Gardens brings to our community for granted."