Jackson County
A New Jail, New Retail, New Rooftops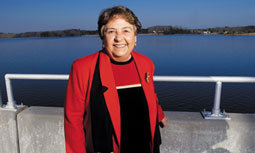 "I'm going to build a jail this afternoon," Jackson County Commission Chairman Pat Bell says as she departs a meeting late last year at the brand new offices of the Jackson County Chamber of Commerce.
Anybody who has spent even a short amount of time with Bell might believe she is just the person who could pull that off. Bell is known for her "fire for getting things done and being totally unafraid to serve up a good dose of honesty," according to Living Jackson magazine, which describes her attitude as "tell it like it is."
She is, in fact, going to build a jail – this year – with $32 million in Special Purpose Local Option Sales Tax (SPLOST) funds. And she did, in fact, have two meetings about the new jail scheduled for later in the day. She was leaving the office of Gerard "Pepe" Cummings, chamber president, who had just a week earlier moved the organization from Commerce to a newly renovated building in Jefferson.
"Our number one focus for 2007," Bell says, "is going to be to build a jail that we've needed for 15 years. It will be out next to the courthouse," a new facility Bell refers to as the Taj Mahal.
The Jackson County Courthouse is located in Jefferson, the second largest city in Jackson, a county of 52,295 people nestled between Hall County and the city of Gainesville to the northwest and Clarke County and the University of Georgia to the southeast. Even though Jackson County is home to several substantial manufacturing operations, it is largely rural. Interstate 85, however, does cut right through Jackson County and is the reason for much of the county's economic activity.
One of the problems Bell inherited when she began her term as commission chairman was how to pay for the new courthouse, which opened in 2005 and which Jackson County built on a lease-purchase plan with the Association County Commissioners of Georgia.
The commission, at the time the deal was struck, had hoped to pay for the courthouse with SPLOST funds, according to the Athens Banner-Herald, but that commission forgot to dot a few i's and cross a few t's, Bell says, so she had to figure out how to pay for it.
"When I came on board, my focus was on the budget because we had no way of paying for the courthouse," Bell says. "I inherited that, and I inherited the hidden costs – $65,000 a year to keep the elevator going up and down. It just went on and on. We put into play a hiring freeze and a spending freeze. We got all the county employees together, and they were tremendously helpful. And we have managed. It was amazing that we were in the black last year [2005], and we'll be in the black this year [2006]."
And so, she moves onto other priorities: the new jail, water and roads, the last something that has been on her radar screen for a while now; she served on the commission prior to becoming chairman and also served one term under the gold dome as a Georgia state representative.
One of her goals, which she says she first voiced 12 years ago, is to build parallel roads – parallel to I-85, that is – from Braselton to Commerce. The reason, Bell says: "So we can attract economic development and industry and put them where we want them."
Jackson County is about two-thirds of the way through the $18-million parallel roads project, Cummings says. "Our big thing is to try and plan and stay ahead of the curve in infrastructure," and roads are an important piece of that.
A Water Summit
Bell seems to be way ahead of the curve when it comes to the county's water supply. "This year, we're going to have what I guess I'm calling a water summit, where we pull together all of our people in the county that have water systems and talk about what we have, then project down the road what we're going to need and then start looking for another water source."
Presently, Jackson is part of the Bear Creek Water Supply Reservoir, which also serves Oconee, Clark and Barrow counties. "We own a fourth of the reservoir," Bell says. "The summit is going to be a look ahead because we were told when we built Bear Creek that it would do us for a certain length of time, but it won't. We have some good water sources in this county, and if we work together and come together and utilize what we have, we might be able to build together." Every Jackson County municipality that has a water system will be a part of the summit.
Bell is starting her water summit 20 years ahead of time, knowing that these things take time: "We spent 10 years talking about Bear Creek. I said, 'OK, boys, we've got 10 years to talk about it, then 10 years to do it.'"
The city of Arcade had hoped to take charge of its own water and sewer and negotiated with the county in order to do just that. The county finally agreed, says City Administrator Barbara Kesler, but the county's Water and Sewer Authority did not; so Arcade is still negotiating. Part of the reason Arcade city leaders want to get in the water and sewer business, Kesler explains, is because of a planned community under development on the southwestern edge of town. When complete in 15 to 18 years, the development will include 2,400 homes, a golf course, swimming pool, retail shops and a retirement village.
"The development is still in the works," Kesler says. "We're still working on getting them the water and sewer, but the city may not end up being the provider. We've stepped aside for the time being to allow them to get the water from the Water Authority."
Bill Copenhaver has been mayor of Hoschton since 2005. This town of nearly 1,500 sits on the western end of Jackson County, and is, the mayor says, "on the edge of the growth coming out of Atlanta right now. We're seeing quite a few retail businesses come into town. In the year I have been in office, we have gotten three new restaurants, an antiques shop, a home design center and a couple or three real estate offices.
"We know that because of where we're located, off the interstate, we're not going to get the big box stores. We're not going to have all the fast food restaurants, but we have developments and neighborhoods that have a lot of people in them, and they like quality restaurants where they can sit down and enjoy a good meal.
Last November, the mayor says, Hoschton had three residential developments in the early stages and four more approved. Prices will range from $200,000 up to $750,000. "We know people are coming out of Atlanta, and they are either retirees or working people, and they're looking for a decent house either on a big lot or small lot, and we're trying to make a mix of that."
The city's intent, Copenhaver says, is to keep its small-town feel. "We're trying to make it pedestrian friendly by putting in sidewalks and tying these communities into downtown. That seems to be what fits."
Even so, Copenhaver knows Hoschton will grow, and so the city is in the process of upgrading its sewage treatment plant, a project that should be complete this fall. Next up will be a look at the water system, perhaps something that will be solved by Commissioner Bell's water summit.
Hoschton is attracting, Cop-enhaver says, smaller businesses of 100 to 150 employees. "Specialty type businesses," he calls them, and he is OK with that. "We look at our neighbor, Braselton (which sits closer to I-85), and see that they've got a lot of problems up there that we don't want to deal with."
Boomtown in Braselton
Braselton Mayor Pat Graham, who calls her city the Gateway to Jackson County – although it rests partly in three other counties as well – recently welcomed the 1-million-square-foot Progressive Lighting corporate headquarters to town, along with a 540,000-square-foot Home Depot distribution facility.
One of the 10 fastest-growing cities in the state of Georgia, Braselton, Graham says, is expanding its wastewater treatment plant from a capacity of 1.27 million gallons per day to 2.9 million gallons per day.
On the opposite edge of Jackson County from Hoschton and Braselton, the city of Commerce, population 5,000 plus, is getting a new business park. "Commerce 85 Business Park is in the process right now," Mayor Charles L. "Buzzie" Hardy, Jr. says. Last November, half the walls were up on a 962,000-square-foot speculative building designed to be a distribution warehouse with space to park 500 tractor-trailer rigs.
Just before Thanksgiving 2006, that building was to be sold to a group of investors, a transaction that would enable Atlanta-based J.W. Rooker & Associates, Commerce's partner in the business park, to start grading the site for a second 1-million-square-foot speculative building. Hardy describes the 500-acre business park as "probably one of the biggest things that's ever happened in Commerce." The city worked on the business park for about two years. Purchasing the land took the longest amount of time, Hardy says. Commerce could afford to borrow only $6 million, and it needed nearly $20 million to buy all the land necessary.
"We couldn't buy all of it," Hardy says, "but we went on and bought what we could and tied the rest of it up with options, then started looking for a buyer. [Rooker & Associates CEO] Jack Rooker came in, and the first thing he did was buy up everything else, then buy us out. We wound up with the industrial park and no money invested in it, except for the utilities. We're putting in all the utilities."
Commerce also has been busy rebuilding its downtown. When Wal-Mart and Tanger built nearby, "it took our downtown retail," Hardy says. The Tanger Outlet Center and Tanger Town Centre are located at exit 149 off I-85 at Highway 441. There are 125 stores in all, and they attract some 3.8 million shoppers annually.
To compete, Hardy says, "we've had to rebuild the whole downtown, and make it attractive to come downtown. It's working."
The city has invested more than $1 million in its downtown during the past 10 years, and it shows during a drive down South Broad Street, the main drag, which parallels the railroad tracks. "Commerce has a complete new streetscape," the mayor says. "We tore out all the old sidewalks and redid all the infrastructure on the sidewalks."
And the city isn't done yet. "We're rebuilding a park in the downtown area, and we just bought a building for public restrooms. We're continually investing," Hardy says. The result is a 90 percent occupancy rate and two or three new restaurants downtown.
Commerce has rebuilt its electrical lines during the past five years, a $4 million undertaking, and it had to relocate its gas lines when Route 441 was widened from Athens to Commerce. Because the lines had to be disturbed anyway, Commerce went ahead and doubled the capacity at the same time, a $3 million job.
Adding Subdivisions
Pendergrass Mayor Monk Tolbert was born and raised in nearby Jefferson, and his wife was born and raised in Pendergrass, a town of nearly 500. "We were high school sweethearts. We married after school, moved to Atlanta for 10 years, came back and have been here ever since."
Tolbert has been mayor for four years, first elected to serve out the term of his predecessor, who resigned to run for the county commission. After that, Tolbert was elected to a four-year term.
The major news in Pendergrass right now, Tolbert says, is subdivisions. He ought to know; he's building one of them. "We've got two that are in the works." The first, scheduled to have begun construction in early December, will encompass 115 homes built by Tolbert's company, Prestige Homes of Georgia. Prices will start at about $150,000 and run up close to $200,000. The other subdivision, with 150 units, was scheduled to begin construction early this year. Prices in that second subdivision will range from about $225,000 up to about $285,000.
Mayor Tolbert hopes that the residential growth will lead to commercial growth. His vision is that the bypass around Pendergrass will begin to attract retail and commercial businesses once the neighborhoods are built. "We have to get some rooftops there before we can get retail. That's what we're hoping for – that within the next couple of years we can start developing the bypass. We're only a mile and a half off of I-85. We think we've got a good location, and back last spring/summer, we voted in liquor by the drink, so we hope we can entice some restaurants to move up here."
Maysville City Clerk Barbara Thomas says that town of 1,450 has a new water tank going up and is set to begin Phase 1 of a project made possible by a Transportation Enhancement grant that will enable Maysville to build sidewalks from the city's downtown area to the elementary school. Downtown Maysville has a new florist, Bloomin' Design, and a new forum for artists known as The Art Gallery.
Jackson County grew by 25.7 percent from 2000 to 2005, well above the state average of 10.8 percent, according to Douglas C. Bachtel of UGA's Department of Housing and Consumer Economics. Bachtel ranks Jackson as the seventh fastest growing county in the state, based on percent change.
Nearly 60 percent of Jackson County's workforce commutes to another county to work each day. The largest percentage of those who commute out of the county, the chamber's Pepe Cummings says, go to Clarke County. "I think the university is the main draw – or university-related enterprises – and then the second largest draw would be the whole health care side of things." Seven or 8 percent of Jackson County residents commute to Gwinnett County, and only 5 percent to the rest of metropolitan Atlanta.
Chateau Elan Winery and Resort, located in Braselton, but actually in Barrow County, employs some 500, many of them from Jackson County.
And, don't forget, Cummings says, that Jackson County is an importer of jobs as well as an exporter. Between 1999 and 2004, nearly 2,000 jobs were created in the county.
"Jobs," Commission Chair Bell says, "are the bottom line of economic development. Jobs for our people, this region and this state." A North Carolina native who came to Jackson County in 1970 as a county extension agent, Bell knows that the people who come to an area to work also care about quality of life.
For that reason, she is proud of the $4-million recreation facility being built in Nicholson and of continuing work at Hurricane Shoals Park, where, 30 years ago, her 4-H kids helped clear 18 dump-truck loads including lots of abandoned cars.
"I've gone from junk cars to the Taj Mahal," Bell says today. "And I got paid for it, too."
Read More About Jackson County: