Cherokee County: Still Growing Strong
Creating Jobs For An Expanding Population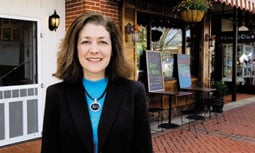 Urbanites looking to raise families in bedroom communities have been pushing Metro Atlanta's suburbs into the forefront of real estate booms for decades, and Cherokee County in Northwest Georgia is no exception.
Second in growth only to Henry County, Cherokee has experienced a population surge of 26 percent since 2000 and is expected to more than double in population by 2030. Real estate developers have been leading the charge, building large communities with thousands of homes for families looking for more rural locales in close proximity to Atlanta.
Amy Matthews and her husband Sam Kwon chose to build in Woodstock, one of the largest of Cherokee's municipalities, because they wanted a home that would meet all their needs but wouldn't stretch their budget the way a new home in Atlanta would have. Matthews, who had been residing in Atlanta, and Kwon, who lived in Marietta, began construction on their home in 2005, the same year they wed. What clinched their decision to purchase in Woodstock's BridgeMill Homes was the subdivision's proximity to I-575 and I-75; Matthews works in Midtown Atlanta and Kwon works in Peachtree City.
The couple is among the 65 percent of Cherokee residents who make a regular commute into the city and surrounding counties, averaging 26.5 minutes, according to the Department of Transportation. While housing has grown 36.3 percent since 2000, the area's employment has increased only 2 percent.
However, community leaders have been priming the area for business, making economic development the number one priority. Years of planning are finally coming to fruition and Cherokee County is ready to provide live, work and play opportunities. Forecasters at the Atlanta Regional Commission predict Cherokee's employment will triple by 2030, the highest growth rate among Metro Atlanta's 13 counties.
Despite its soaring population, the county retains a low density. In fact, the area prides itself on its commitment to greenspace with hiking and biking trails and fishing and boating activities on the Etowah River or Lake Allatoona, one of the nation's most frequently visited lakes, according to the U.S. Army Corps of Engineers/Mobile District. It's only now that business is realizing the area's potential for rapid growth, and the community welcomes it with open arms.
"One thing we concentrate on is economic growth," says Misti Whitfield Martin, executive director of the Development Authority of Cherokee County. "We're certainly trying to bring new development and business to the county so we can bring more opportunities to our residents, particularly the 65 percent who go out of the county to work."
And economic growth is on its way, via a 700-acre masterplan development by the same group who brought life to Johns Creek – the area of Alpharetta that succeeded so well in bringing business and residences together that it has become a new city. The Bluffs of Technology Park, expected to be completed in 10 to 15 years, will provide commercial, retail and residential development and an estimated 15,000 jobs, Martin says.
"This concept's premise is to provide a place that corporate America wants to come home to," says Mark Mallard, principal of The Bluffs developers, TPA Realty Services of Atlanta. "When you see what's been developed around us [from] the Riverstone development just south of us to high quality, high-end retail, there is a tremendous amount of residential growth all around us."
Also moving into the neighborhood is Florida-based Sembler Company, which recently announced its plans to develop Canton Place at exit 19 on I-575. The project will provide more than 800,000 square feet of commercial space, as well as an open-air mall near The Bluffs complete with upscale, name-brand and designer stores, including a 45,000-square-foot Dick's Sporting Goods.
Northside Hospital-Cherokee also announced plans for a new, improved Canton location in late 2005, purchasing 54 acres at Canton Place. Northside's Director of Marketing and Public Relations Russ Davis says, "We can only grow so much in our current facility and with the growth expected to continue to be as vibrant in Cherokee, our commitment is maintaining and increasing our level of service to the community."
Woodstock, the closest of Cherokee's towns to Atlanta, has seen its population and employment rise with the addition of Towne Lake, a 3,600-acre master-planned community of more than 19 neighborhoods with 5,600 homes, as well as retail, restaurants and office parks, that began construction in 2003. Towne Lake's success has brought developer Macauley/ Willoughby & Sewell to the county, announcing plans for a 4,000-acre plan-ned community with up to 12,000 homes near Sutallee and Lake Allatoona. At presstime, however, the developer had asked the commission for permission to withdraw his rezoning request.
Canton Mayor Cecil Pruitt credits Cherokee's commercial growth to a reciprocal cycle. "One of the reasons we are getting this development is you've got to have the house tops before you have these kind of commitments. With these commitments, then you have additional people coming to the city," he says.
Small Business Wanted
Cherokee's economic growth wish list includes more small business to help maintain the area's rural charm. In November, the county became the 28th in the state to receive designation as Entrepreneur Friendly, and immediately set upon enhancing small business.
"While going through the 12-month designation process, we had to sit back and look at what we can do to better serve the needs of our entrepreneurs," says Pamela Carnes, president and CEO of the Cherokee County Chamber of Commerce. "We didn't just get this designation that says we're entrepreneur friendly so we could put a sticker on the door and walk away. We've only begun to open the doors to how we'll help entrepreneurs in our communities."
One way the county will assist small business is the development of its Business Start Up Kit, scheduled to be unveiled in 2007 and to be available from local attorneys, accountants and financial institutions. The kit is designed to guide entrepreneurs through the process of starting a business in Cherokee County, pulling together the different processes for each town, each with its own set of guidelines. A professional consultants program also is in the works.
"As we launch these programs, we will provide ongoing tracking in order to determine how we've been positively helping small businesses. We feel like we've better positioned ourselves to better serve the community," Carnes says.
Maintaining small-town charm in communities proud of their Southern heritage also is spurring revitalization efforts among Cherokee's downtowns. Canton's central business district is currently undergoing a streetscape project, and community leaders have spent the last several years working to improve the once-forgotten Main Street. Hedgewood Properties of Cumming, led by husband and wife team Don Donnelly and Pam Sessions, is currently working on a project to enhance and rejuvenate small businesses, recreation and the arts in a neighborhood from which residents can walk to work. Woodstock Downtown will provide housing that includes condos and single-family housing in the city's historic district.
"We really wanted to build a mixed use live/work/play kind of environment with different housing options and different price products and then grow on and enhance the commercial base that is already there. We really felt the area was underutilized," says Sessions of Woodstock's quaint shops and restaurants just begging for visitors.
The town of Ball Ground is planning a $1.3-million downtown streetscape project, and businesses are expanding into the sleepy area. Last September, Meyn America, LLC, which employs 260 in Cherokee County, opened its new headquarters in Ball Ground. Waleska's small population booms each fall with the addition of more than 1,000 students to Reinhardt College. The institution brought $42.3 million to the state of Georgia in 2003 and continues to make a strong economic impact on Cherokee County.
"The heart of the county is our small towns that still exist. You can still walk down the street and wave at neighbors passing by," Carnes says.
Growing Pains
All roads lead to growth in Cherokee County, and while the county anticipated it for years – upgrading infrastructure before the builders came, to ensure roads and sewers would be ready – one area currently under pressure is the school system. Educators have worked hard over the last eight years to take Cherokee County off accreditation probation, successfully raising tests results to some of the highest in the state, but overcrowding and lack of land are making it difficult for the school system to keep up.
"During my first five years, beginning in 1999, we grew anywhere from 1,100 to 1,500 students a year," says Cherokee School superintendent Dr. Frick R. Petruzielo. "This past year, for the first time, we grew at a rate of six percent, which was just about 2,000 students. We expect that to spike up to 3,000 by 2012, and then to grow at a rate of 5,600 students per year. Our enrollment was 25,000 when I got here and is nearly 35,000 now. We expect by 2012 that it will be 59,000."
In 2001, voters approved a Special Purpose Local Option Sales Tax (SPLOST) intended to raise nearly $300 million a year for 15 years. Last November the school system asked voters for another bond and received a whopping $500 million – but still only half the funds needed to accommodate growth.
"We've got literally thousands of kids in portables and even with all the new construction going on over the last five years and all of the construction that is planned for the next five there will not be enough money to eliminate portables. In all likelihood we'll be back before the board in 2011 for another referendum, where, hopefully, we can eliminate the debt created by this referendum and borrow another half a billion in order to keep the construction program going," Dr. Petruzielo says.
The lack of funds becomes increasingly dire with each new development. While the school system has collected more than $8 million in land, dollars or infrastructure from developers, it must still urge those builders to recognize the need for more land for actual school buildings. "Too often what has happened in the past is the developer gives us money but takes up all the land building houses on it. Now we can't have neighborhood schools, we've got extraordinary costs for transportation, and by and large something is really lost in the translation," Dr. Petruzielo says.
The chamber's Carnes, however, points out that municipalities are working with developers to get land for new schools. "Good schools are an amenity to these families and an incentive to purchase a home in these communities," she says, adding that the growth of business does have financial benefits to the school system.
"For so many years, our residents had to drive elsewhere to find retail because our offerings were so limited and you were restricted. You had to go to other communities to shop, and those taxes you paid were going to new schools in other counties. As our community grows and more business and retail opportunities continue to develop, the taxes will go toward our own schools and the tables will turn as other community residents visit Cherokee County to shop."
Don Stevens, chairman of the Cherokee County Airport Authority, welcomes a $34-million expansion that will bring more business to the area. After nearly 30 years in Cherokee, he admits his love for the county sometimes makes him want to keep it a secret. But he understands the growth will not yield. "Growth is a fact of life, you can't shut the gate. When I moved to Cherokee County I felt like putting a fence across [Highway] 140 and saying 'no more' but it's not realistic. You're going to have the growth and the best thing you can do is to manage it and make sure that it is quality growth."
Quality is the goal for this picturesque community. With young families following good schools, low tax rates and now new office parks, Cherokee County is quickly becoming a good place to live and work.
Read More About Cherokee County:
The Sky's The Limit