A Family Affair
The Chadwick brothers' story is one of triumph and tragedy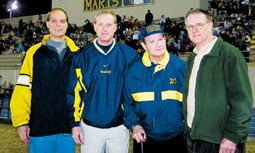 Three brothers won fame and glory on the gridiron but they would give it all back if they could have their sons back and their "star player" healthy and whole.
Talk about your gridiron greats – few were greater than Walter Chadwick. He rewrote the record books at Decatur High School and was sought after by most colleges in the Southeast. He picked Tennessee.
As a Vol, he spent four years on the varsity as a running back, punt returner, kickoff returner and wide receiver. How is that for versatility? He may be the most versatile since Charley Trippi of the 1946 University of Georgia team, which went to the Sugar Bowl.
During his Tennessee career, Chadwick scored 16 touchdowns and rushed for 1,306 yards. He helped lead the Vols to three Bowl games – the Bluebonnet Bowl in '66, the Gator Bowl in '67 and the Orange Bowl in '68. He scored 11 touchdowns in the '67 season alone.
Chadwick was drafted by the Green Bay Packers but didn't make the squad. He played one exhibition game for the Atlanta Falcons, scored two touchdowns against the New York Giants and was cut again.
He was picked up by the Winnipeg Bombers of the Canadian League. "We were so bad we lost every game," he says. But that winless season wasn't the low point for Walter. He was driving his VW Bug when a truck crossed the center line and hit him head-on.
Walter was near death when he arrived at the Grady Hospital Emergency room. He spent 14 days in intensive care at DeKalb Medical Center and doctors there said it was a miracle he was alive. He suffered severe brain damage.
He was sent to Warm Springs for two years of physical therapy and then released. He landed a job cleaning presses.
That lasted 15 years but he is out of a job now, looking for work.
Says his friend Bill Smith, "He was always a gentleman and he still is. He has a dynamic personality even though he has difficulty speaking. He is kind and thoughtful."
Dennis Chadwick, Walter's younger brother, had a son, Josh, who was born with a heart defect and died at age 27. Dennis was also a star at Decatur High School and a varsity football combatant at Tennessee.
The eldest Chadwick brother, Donald, lost a son, Kurt, at age 27.
But the family had had its share of bright moments.
Dennis' son, Ian, recently was named to the Wofford College Sports Hall of Fame. His daughter, Greyson, has landed a part in a movie.
And then there's Alan Chadwick, who coaches at Marist and has the best winning percentage of any coach in the history of Georgia High School football. Going into the finals of the 2006 season, Alan had a .862 win percentage with 251 victories and 40 losses.
He's been named regional coach of the year 13 times, State AAA Coach of The Year once, and State AAAA Coach of The Year once when he led the Marist Eagles to the Georgia State High School Championship. He received the Doyal Award from the Georgia Athletic Coaches Association for coaching excellence and is past winner of the NFL High School "Coach of The Year" award for the state of Georgia.
During his 22 years as Head Coach at Marist, he has won 21 region titles and compiled a 251-40 record, making him Marist's all-time winningest football coach. Though he's coached only 22 of Marist's 94 teams, his squads account for 43 percent of the school's all-time wins.
After an outstanding career as a quarterback at Decatur High School, Alan attended the University of Georgia on a football scholarship. He transferred to East Tennessee State and led the Ohio Valley Conference in total offense and passing yardage. He and his wife Lisa, have two daughters, Kelsey and Kendall.
Gene Asher is a veteran sportswriter and businessman.