Urban Rebirth: Sandy Springs
It took 30 years for Sandy Springs to become a city. Now other communities are following its lead.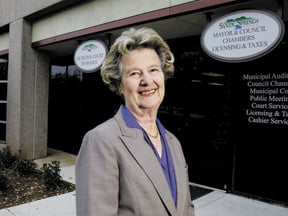 At a time when Georgia's metropolitan areas have sprawled over once rural land to create seemingly endless suburbs, another very different trend is at work: the rebirth of the city.
Across the state, residents are shining, polishing and rebuilding their downtowns. In suburban Atlanta, people are forming their own cities. Cities are re-emerging as centers of culture, community and civic spirit.
Four Georgia cities have merged with their county governments: Augusta-Richmond, Athens-Clarke, Colum-bus-Muscogee and Cusseta-Chattahoochee.
Although counties are created by the state constitution, cities are created by charters that must be approved by the state and by residents of the proposed city. The main difference is simply that cities are closer to home, smaller and more directly under the control of local citizens, who actually pay more in taxes in order to get additional services.
"It's cultural. It's political. It's a sense of place," says Al Outland, policy and communications director of the Georgia Municipal Association.
It's all that and more in the case of Sandy Springs, the Atlanta bedroom community that became its own city this past year – after a 30-year struggle to incorporate. "Sandy Springs felt like they were the cash cow that didn't get a lot of service but provided a lot of resources," says Jim Higdon, executive director of the GMA. "They wanted better control over their own destiny."
When Sandy Springs residents first began talking about forming a city – initially to avoid being annexed by Atlanta and then to be able to set their own rules and manage their own resources – they formed a committee and named as its president Eva Galambos, a Ph.D. in economics who worked part time consulting because she had three young children.
State laws prevented Sandy Springs from becoming a city. One law said no new city could incorporate within three miles of any other city. Efforts by Sandy Springs' Republican legislators to change the law were blocked by the Democratic controlled House of Representatives year after year. But Sandy Springs never gave up.
"My children thought it was a pipe dream and 'Mama's crazy,'" Galambos recalls. But, she adds, "I could tell there was a huge reservoir of support in the General Assembly. It was just politics. And politics do change."
In Georgia, politics changed in 2005 when the Legislature shifted to Republican control. The Sandy Springs bill sailed through the first month. Sandy Springs finally won the right to hold a referendum and let its citizens decide whether they wanted a city. They voted yes by an unheard-of majority of 94 percent.
Today, the new city of Sandy Springs has just finished its first full year of operation and become a nationally recognized model for how to create a municipal government from scratch.
Now that Sandy Springs has changed the roadblocks in state law, other communities are free to vote on whether to become a city. Already two more suburban communities in North Fulton – Milton and Johns Creek – have formed cities. Two neighborhoods in the southern part of Fulton County – one called South Fulton and the other called Chattahoochee Hill Country – are considering cityhood. Discussions are under way in DeKalb County's Dunwoody and Cobb County's Vinings communities.
DeKalb County CEO Vernon Jones would like his county to become the city of DeKalb; and even in the coastal village of St. Simons, there is talk of incorporation.
Eva Galambos now has grandchildren – in college – and after 30 years as president of the Committee for Sandy Springs, she is mayor of Georgia's seventh largest city. The story of how Sandy Springs became a city – and why it took so long – has sparked interest and phone calls from across the country and even other countries as far away as Japan.
"We begged for publicity for 30 years, and nobody would listen," Galambos says. "Now, all of a sudden, everybody wants to do a story."
And, so it seems, everybody wants to form a city – if they don't already have one. And if they do, they seem to be paying a lot more attention to it.
Georgia's population has nearly doubled in the past 25 years. Of the more than 9 million people living in the state today, about half live in metropolitan Atlanta. Most of the rest are spread out in cities and suburbs across the state. Only about 20 percent live in areas the Census Bureau classifies as rural.
What this means is that more and more people are calling Georgia's cities and towns their home. And more than ever, people are showing a fascination with life around Main Street. From north to south, Georgia's downtowns are experiencing a renaissance, fueled by unprecedented public and private investment.
The new urban style of development sweeping major cities across the country is touching even the smallest towns and communities. From Rome to Statesboro, Gainesville to Thomasville, cities are showing off fresh streetscapes, renovated historic buildings, reopened downtown theaters, new cafes, shops and coffee houses and even lofts and town homes.
Urban Identity
Behind all this is a growing desire for a sense of place, a sense of belonging, with the capability of self determination. This is creating a rebirth for Georgia's cities, but also a new level of demands on the service and security they can provide.
"People want to be able to identify with something," Higdon says. "Nothing negative intended, but when people ask where you're from, I don't think people are going to say, 'unincorporated Gwinnett County.' They're going to say Tucker or Lawrenceville or Buford."
Or Cartersville, Moultrie, LaGrange, Douglas or any number of other cities with newly refurbished downtown streets. Or even separate but distinct smaller communities with their own unique history and identity.
"A lot of towns are reinventing themselves, reviving themselves," Higdon says. As much as anyone, he's in a position to know. For the past five years, he has managed the GMA – an organization of 502 cities devoted to advocating for the rights of home rule in Atlanta and Washington and also providing a long list of financial and management services for local governments. Higdon is retired from the state of Georgia, where he worked for more than 30 years under six governors.
"I've probably been to every little hamlet in Georgia," he says. "There are some beautiful downtowns." Some of his favorites are the antebellum cities such as Washington and Madison – "quaint and vibrant," he calls them – near his native Greensboro. But he also talks of the downtown revitalization in cities across the state.
Much of this work is being supported by low-interest loan programs from the GMA and many other sources, local, state and federal. The GMA created a subsidiary, the Georgia Cities Foundation, to help municipalities find funding for downtown improvements through a revolving loan fund. A $9-million matching grant from the Woodruff Foundation kick-started the loan fund, with the state and others adding more. The goal is to stimulate additional public and private investment as well as refurbish the cities.
The foundation already has funded downtown projects in 23 Georgia cities: Athens, Blue Ridge, Bowdon, Camilla, Carrollton, Clarkesville, Commerce, Dalton, Elberton, Fayetteville, Gainesville, LaGrange, Lyons, Macon, Marietta, Moultrie, Newnan, Rome, Statham, Thomasville, Valdosta, Villa Rica and Waycross.
"The heart and soul of a community is the downtown," Higdon says. The shape of the downtown tells the tale of the economic and cultural life of the people there.
But the current downtown renaissance is about much more than civic pride or even economic vitality. More practical driving forces are at work: rising gas prices, record-breaking air pollution and escalating infrastructure costs.
Downtown redevelopment under many names – smart growth, green growth, new urbanism – has become a banner for better stewardship of cities.
"The real challenge is not growth. Growth will occur. The question is how will Georgia respond to that growth," says GMA's Outland.
The GMA's Georgia Cities Foundation is the statewide answer to the Atlanta Regional Commission's highly-acclaimed Livable Centers Initiative, an ongoing 10-year, $500 million grant program that encourages communities to plan and develop higher-density, mixed-use, pedestrian-friendly streetscapes.
Since it began in 2000, the LCI has awarded grants to 75 communities around Atlanta and 14 surrounding counties – all aimed at creating functional live-work-play environments.
One of those ARC livable centers is in Sandy Springs. Even before it became a city, a citizen task force was at work on a stretch of Roswell Road to create more of a true main street, pedestrian-friendly environment. Like other LCI communities, Sandy Springs leveraged its grant money – $137,000 in this case – to secure federal transportation funding. For Sandy Springs, the total investment amounts to nearly $2 million, according to ARC records.
"It's really looking much, much nicer," Galambos says. "We want to expand that and have all Roswell Road look like that. We're hoping to get more redevelopment."
Already a large mixed-use development called City Walk is under way in the area, with retail, office and apartment space planned.
No Bedroom Community
These changes seem remarkable to anyone who knew Sandy Springs as the sprawling suburban community it became in the 1960s and '70s. The strip mall, fast food, gas station lined Roswell Road was often used by urban planners as an example of what not to do. But things have changed.
"You couldn't call us a bedroom community anymore," Galambos says. "We're pretty urban."
Indeed, Sandy Springs is home to high-rise hotels, hospitals and office buildings along Interstate 285 and Georgia Highway 400 as well as the commercial strip along Roswell Road. With the rapid commercial and residential growth the area has undergone in the past few decades, land use issues have always been hot topics here – and fuel for the drive to become a city.
Zoning hearings before the Fulton County Planning Commission held in the government annex building in Sandy Springs would often go into marathon sessions, sometimes stretching into the wee hours of the morning. But the Fulton County Commission would make its final decisions during the workday downtown where far fewer concerned citizens could show up.
"The county commission refused to come to us. We had to go downtown during working hours. And then they wondered why Sandy Springs got so mad at them," Galambos says. "We don't run our city hall that way. We have meetings in the evenings. There's a greater feeling of wanting to participate in local government and wanting to have control of things closer to home under the direct control of the electorate with accountable local officials."
Taxes were a huge issue. "The county took 50 cents of every dollar we put in and spent it in South Fulton," Galambos says. "We still pay Fulton County general fund taxes. We are putting a lot more into the pot than we spend on us – and not complaining. But they were taking our police and fire money and spending it in South Fulton."
From the beginning, critics in largely African-American South Fulton County and the city of Atlanta accused the mostly white suburb of racism. But Sandy Springs leaders say that charge was subterfuge. "It was never a question of race," Galambos says. "It was a question of all of us in Sandy Springs feeling totally neglected by our government."
Here's the math. Sandy Springs' county commissioner represents 160,000 people. In the city, each council member represents 16,000 people. "There was no way to get the same responsiveness as part of the county," Galambos says.
Meanwhile, Sandy Springs has become a much more diverse community, with a growing minority population and a wide range of housing options – apartments, small homes, mansions.
The Sandy Springs city movement was sustained over three decades by residents' growing desire to keep their money and their decisions closer to home. "People felt the government had just gotten too unresponsive and too far away," Galambos says. "There's a lot less waste when government is close to home because people can see the waste."
Now that Sandy Springs has its own city, residents can report any problem any time to someone close to home. Sandy Springs has a unique, 24-hour, seven day a week, staffed citizen call center.
"We anticipated 1,500 calls a month, and our average monthly calls now amount to about 5,000," says John McDonough, Sandy Springs' city manager.
These calls cover the waterfront in subject matter; people are encouraged to call in or report online anytime they see litter or graffiti.
As a result, residents say, Sandy Springs streets are a lot cleaner, neater, more orderly. They also see a lot more police cars, since the city now has its own Public Safety Department.
"What sets us apart is our commitment to ongoing customer services to try to find a way to tell people yes instead of no," McDonough says.
After all, Sandy Springs was told no for 30 years. It seems about time for yes.
The unique round-the-clock call center is one reason Sandy Springs won an innovation award from the National Council for Public Private Partnerships, McDonough says. But just about everything about the new city of Sandy Springs is unique – and a public-private partnership.
The biggest challenge was bringing a government for nearly 90,000 people with a future budget of more than $70 million on line literally overnight.
"Suddenly, after 30 years, we were like the proverbial dog that caught the train," says Oliver Porter, a retired AT&T executive who was a member of the Committee for Sandy Springs. "Now that we've got it, what do we do with it?"
Once Sandy Springs won the right to exist, a date was set for the city to legally take over: Dec. 1, 2005. Says Porter, "We had no authority, no money, no staff, no way to even promise anyone a job. That condition prevailed until midnight of Nov. 30. Then, at 12:01 a.m., we had to have a full-sized city up and running. We had to have laws. We had to have staff."
The solution was a midnight meeting to pass laws and sign a contract with a private management company to operate the city. The company, the Denver-based CH2MHILL engineering and consulting firm, had to hire people and put them to work in advance on nothing more than a handshake and a hope for future business. The deal will ultimately pay off for CH2MHILL, which is in line to get at least two more similar contracts with the new North Fulton cities of Johns Creek and Milton.
The mayor of Sandy Springs offers a political summary of how life is different as a city. "The best part is, before we had a city, all we could do is gripe," Galambos says. "Now, we can actually do something about the problems. It's very satisfying to do something about it. You can't always fix everything, but at least you can step up to the plate and try."