University Report: Georgia College & State University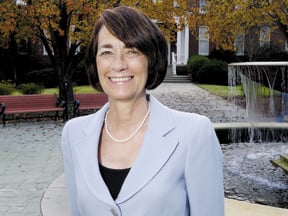 On a cool autumn night in Milledgeville, two German photographers, a legal researcher and a journalist are sitting on the front porch of the Antebellum Inn discussing post-World-War-II Europe, the death penalty in America and French art. A few blocks away, Hancock Street is crowded with students and professors from Georgia College and State University (GCSU) and the talk there is of the poetry of T.S. Eliot and the short stories of Flannery O'Connor.
It seems everyone here in Milledgeville, even a visitor, is expected to have ideas about art, music, literature, history, politics and all the other subjects that a liberal education comprises.
On and off the campus of GCSU – and it is sometimes difficult to know where the campus ends and the town begins – intellectual capital is a local currency that stimulates life at the school as well as the Milledgeville economy.
"Milledgeville and this university are intimately intertwined," says GCSU president Dorothy Leland. "Step off this campus and you walk into this quite historic downtown." But the campus and the town share more than sidewalks and streets. There's a common appreciation of the value of architecture and a shared history in attracting students with impressive credentials and tourists and shoppers drawn by a love of beautiful old buildings.
Equally impressive is the distance and speed this university has traveled to reach its prominence as the public liberal arts college of the state of Georgia. What originally put Milledgeville on the map as the home of the Georgia Governor's Mansion in 1839 ultimately put the little campus on the map as the Georgia College and State University in 1996. In fact, GCSU may be the nation's only institution of higher learning begun in a governor's mansion that is today maintained by a university system.
The beautiful Greek revival structure that housed Georgia governors from 1839 to 1868 was spared the Union torch but over the years was threatened by indifference. "After 1868 the state was in a quandary about what to do with the mansion and other public buildings in Milledgeville," says Jim Turner, director of The Old Governor's Mansion.
Ownership changed hands a few times, and the home ended up as a dormitory for Georgia Military College. In 1889, when state leaders decided to charter Georgia Normal and Industrial College as the state's first women's college, the mansion became a part of that campus.
For most of its first 100 years, what is today GCSU was devoted to instilling the virtues of Southern womanhood in the students of its female-only classes, while exploring the loftier realms of the arts with a view of producing secretaries, teachers and nurses to travel the few narrow career paths available to young women of the late 19th and early 20th centuries. Board of Regents and government leaders of the 1940s and '50s were so devoted to the idea of producing well-read young women that the school did not become coeducational until 1967, after many other women's colleges began accepting male students. In the early '50s, the student population had dropped to 600 and buildings were falling into disrepair, but the school lurched along until the 1990s.
In the early '90s, then University System Chancellor Stephen Portch began to hear grumblings from campuses around the state that Georgia had no public liberal arts university. "At the time, I was interested in the universities becoming more distinctive," recalls Portch, now retired but still consulting on matters of higher education and living in rural Alabama. "Someone needed to step forward and Georgia College [now GCSU] responded to that challenge."
A New Mission
In 1996, the Board of Regents gave the institution its current name along with a mission of becoming the public liberal arts university for the state. In the decade since, a dramatic transformation fueled by $150 million in construction and renovation projects has given Georgians and others the opportunity for a Tiffany education at Target prices. Some $10 million went into the seven-year restoration of the former governor's mansion, making it a national architectural treasure, Turner says. Some $96 million has gone toward new housing, a portion of it born of historic restoration. On-campus housing is important because freshmen are required to live on campus. The bricks and mortar rebirth is important, says president Leland, but so are other, more cerebral improvements.
"We have come a tremendous way," she says. "Ten years ago the SATs of our entering freshmen were below the average SATs of the other institutions. Now we are in the top three or four."
And a key indicator, freshman-sophomore retention rate, stands at 84 percent, also making GCSU a leader in that category. "We're in the top three with Georgia Tech and the University of Georgia," Leland says. "And that's just where we want to be."
Since 1996, faculty-student ratio has improved from about 1 to 24 to about 1 to 15. "That's important," Leland says, "because part of what we feature is smaller class sizes in which students get a lot of individualized attention."
Those small classes have grown big numbers. The current student population totals more than 5,141, large by this university's historic standards but still small enough to handle its mission of close relationships between teachers and taught. Still maintaining a lively liberal arts and sciences school, GCSU has added or expanded schools of business, education and health sciences. "As a public institution, we still have all the commitments to meet the educational, workforce and economic needs of our communities," Leland says.
The university has begun bringing local at-risk seventh graders onto its campus to complete their high school degrees, with the chance to build college credits at the same time, a rare opportunity for most of them. "Part of what will drive the future of Georgia is the work being done to improve our high school graduation rates," Leland says.
Thanks to two separate collections of works by notable Georgians, this campus also attracts a more transient scholar – the researcher. A unique campus asset can be found in the papers from the multifaceted career of the late Paul Coverdell, a Georgia state senator, Peace Corps director and U.S. Senator often credited with launching the political "education" of office seekers and voters that began in 1993 and led to the Republican Party's dominance in Georgia today.
Coverdell's friendship with a college administrator here led to formation of the three-year-old Coverdell Institute and Archives at GCSU. His papers and personal memorabilia are housed at the institute, including some five tons of materials from his U.S. Senate days. Processing of the Coverdell papers is being funded by a $795,000 appropriation from the U.S. Congress.
"The Coverdell Archives offer an insight into the mind of a remarkable 20th century public servant," says Gregg Kaufman, director of the Coverdell Institute. Coverdell was Peace Corps director at the time the Berlin Wall fell and opened up the possibility of new relationships between the United States and Eastern bloc countries. To extend U.S. influence in Eastern Europe, Coverdell established Peace Corps missions in 32 new nations, most of them emerging from the gravitational pull of the Soviet Union.
"When the Iron Curtain opened up, Paul Coverdell boldly led an American initiative building positive relationships with the Eastern European bloc," Kaufman says. "The Coverdell papers are of real value to scholars of the post-Cold War era."
A Literary Cache
In a nearby building rest manuscripts penned by Flannery O'Connor, a 1945 graduate of the institution and an important figure in the evolution of the American short story.
O'Connor, a Catholic in a Protestant world, wrote of the eccentric and often violent people who populated her mind and, perhaps, the Georgia in which she grew up. Her stories often contain disturbing violence, just right for the modern reader, says Marshall Bruce Gentry, GCSU professor of English and editor of the Flannery O'Connor Review. "We like violence," Gentry says. "Her stories give you a surprise; something's going on here that you don't see coming."
The growing number of researchers arriving at GCSU contrasts sharply with the provincial nature of the college's original mission of serving just the immediate neighborhood. For most of its life, this institution reached no farther than a few Middle Georgia counties for students, and most of those were part-time commuters.
Today's average GCSU student is more likely to live on or near campus, with the most difficult commute a three-block walk in the rain. "The student population of this university has probably changed more rapidly and more dramatically in a shorter period time than anywhere in the history of higher education," says Bruce Harshbarger, vice president of student affairs and dean of students. "It's a kind of breathless thing to keep up with."
Harshbarger says the students he saw when he arrived in 1995 were from GCSU's host county, Baldwin, and a few neighboring communities. "The recruiting territory changed very dramatically," he says. "Today, probably about half our freshmen come from the Atlanta metro area, with a quarter of each freshman class coming from Gwinnett County. Interestingly, we are seeing a lot of the students stay in Milledgeville."
One of those is Heather Holder (BA '99 and MPA '05), executive director of Milledgeville Main Street/The Downtown Development Authority and a native of Gwinnett County who found the charms of small town life irresistible.
"I never shopped in a downtown setting before I came to Milledgeville," Holder says. "A mall is so sterile. But the downtown is bustling. And the downtown shopkeepers and professionals all know you and each other."
Despite the students' heavy reliance on shoe leather to get around, Milledgeville still draws much-coveted retail patrons. "We have about 17,000 cars on [major thoroughfare] Hancock Street every day," Holder says.
The downtown master plan included input from the campus, says Holder, who also serves on a campus planning group. "We wanted to involve the college in what we're doing, and the college involves us in what they're doing," she explains. "We want to work toward a very seamless design. Our sidewalks mimic each other's; our street lamps mimic each other's. We want people to feel [downtown] is an extension of the campus."
One measure of the campus' economic value to Milledgeville, Holder says, can be found in rising prices for downtown real estate. "Our downtown privately owned buildings are worth $9.63 million," she says. "That is a 39.13 percent increase since 1999."
The reason for the hike in property values is directly linked to the university's presence and prominence, Holder says. "The university changed its mission in 1996 and [was] aggressive in becoming a statewide university and promoting [its] liberal arts mission. We transitioned from being a commuter college to becoming a statewide university."
Students who once went home on the weekends now stay and take advantage of the short walk to shops and restaurants downtown. And because they hail from more affluent counties, they have a more potent spending power. Results: 11 new businesses have opened downtown in the last three years, along with more than $8 million in public and private investments, creating 144 new jobs, many of them filled by students.
"The downtown comes alive at 6:30 each morning and doesn't close until 2 a.m.," Holder says. And, she adds, it's not unusual to see shops close a little early on afternoons when there is, say, a concert under way on the campus green.
In her spacious third floor office, GCSU president Leland is asked what the recipient of a liberal arts degree can do with the sheepskin in the modern, technology-driven world. "Just about anything," she says. "Most top Fortune 500 CEOs are looking for people who have a broad base of knowledge, who are globally aware and prepared to work in a globally interconnected environment. And they want people who have good communications skills. The top CEOs are looking for the kinds of traits that we emphasize in the liberal arts learning environment."
On the campus below, student members of the American Chemical Society are acknowledging National Chemistry Week by firing potatoes from a device the chemistry professors call a "condensed phase carbohydrate accelerator," and which the students call a "spud gun." The potatoes are launched from a plastic pipe using hairspray as fuel and the arc from a long-barrelled lighter to ignite it.
"One of these potatoes once reached the speed of sound," says one professor wearing a big grin, proving that teaching, like learning, can be fun.