Tifton/Tift County
Transportation improvements, infrastructure upgrades and higher education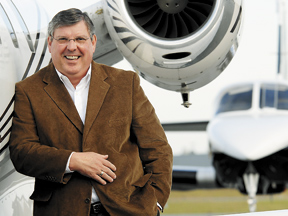 In many ways, Tift County's economy depends in great part on the lands that surround it and the strangers who pass through Tifton, the county seat, on their way to or from Florida's attractions.
Farming in recent years has accounted for some $347 million in cash receipts and government payments in Tift and four surrounding counties. That's a major source of spending in Tifton's vibrant retail economy, which rings up nearly $300 million a year in retail sales.
Tifton has long been a popular destination for farmers and their families when the crops – and the cash receipts – come in. And there are those tourists traveling along I-75, who stop to buy gas, take motel rooms, eat and otherwise contribute significantly to Tifton's status as a regional retail center.
In fact, Tifton continues to post a retail pull factor – a measure of sales to buyers living outside the county – of 1.53, landing it among the state's top 10 communities in that category. This little economics lesson is not lost on Tifton and Tift County elected officials charged with the responsibility of providing the roads, water, sewage and other needs of a growing community, or one that has seen an aging infrastructure in need of repair or replacement.
Retail sales generate taxes, especially Special Purpose Local Option Sales Taxes (SPLOSTs), the kind used to make community improvements. "That's the way we sell the local option sales tax," says Tift County Commission Chairman Grady Thompson, echoing the sentiments of local elected officials in communities located along Georgia's interstate highways. "We've got people from Michigan and Illinois coming through here and buying at our stores. Why not cash in on it?"
The value of using other people's money to help pay for local improvements hasn't been lost on local citizens, either. Last March, 85 percent of Tift County voters going to the polls endorsed a six-year extension of the SPLOST, creating an anticipated $60.5 million for various community improvements, including some $11 million for roads.
Commission Chair Thompson saw the big yes vote on the tax issue as confirmation of his long held belief that the local roads to prosperity needed paving. "Roads are my thing," Thompson says. "I ran for office [two years ago] because our roads were getting in such bad shape. In the last two years, we have paved more than 30 miles of roads. We had to catch up on our road work."
And they seem to be doing that in Tift County. According to ACCESS, a local government database, Tift County had 25 transportation improvement projects under way at the end of October. And, Tift's primary river of commerce, I-75, is being widened to six lanes, presumably bringing in more tourists and adding to the 14.6 million vehicles that pass through the county each year.
Of Sea And Air
Tifton has been linked with transport since its founding more than 200 years ago by Captain Henry Hardy Tift, a Connecticut ship builder who saw the area's pine forests as an ideal source for his enterprise.
Tift laid out what he modestly called "Tift's Town" as a mirror image of the Connecticut port of Mystic, with particular attention to the road patterns. From the beginning Tifton never had the traditional town square around which to huddle stores and shops, but important early rail lines spread from the center of the community like rays from the sun.
Tifton's history was always traveling the road of transportation commerce, a nice adjunct to an agrarian society; crops have to get to town for farmers to make money. From seaways to railways to highways to cyberways – and increasingly, airways – life in Tifton has been closely tied to the movement of crops, cargo and people.
One Tiftonite, Lt. Col. Henry Tift Myers, a rakish flier who set many of the era's aviation speed records, became the first presidential pilot, flying FDR to Yalta on the Sacred Cow, the first aircraft in a long line of planes that came to be known as Air Force One. Myers also was the pilot for President Truman and often flew him to the Little White House in Key West, Fla.
After depositing the president in Key West, Myers would fly back to Tifton and land at a former World War II training field where locals would climb aboard Truman's plane, the Independence, for a tour, after which Myers would present his visitors with a piece of presidential stationery as a memento. The Truman letterhead can still be found framed and hanging in local homes, says Myers' biographer, Tifton native Bonne Cella.
From the dawn of air travel, Southwest Georgia farmers were often surprised to see barnstormers settle puttering Jennies down in their pastures. Some Tiftonites believed the region's first airport was in the pasture of the H.H. Tift farm, where a silo served as a beacon for pilots. By 1946, according to local histories, Tifton had an airport with traffic, including some irregularly scheduled commercial flights to Atlanta.
With such a history, it should come as no surprise that ambitious air transportation plans abound here. "We are looking to lengthen Tift Myers Airport from 5,500 feet to 7,000 feet," says Earl Denham, president and CEO of the Tifton-Tift County Chamber of Commerce. "The widening of Interstate 75 [to six lanes] and the lengthening of the runway hold great possibilities for opening the doors to more international trade and multi-modal activity. And I'm told Hartsfield-Jackson is getting saturated, so why not Tifton as an alternative?"
The cost of lengthening the runway is estimated at $4 million, Denham says, "and could be two years down the road." The project, currently before the Georgia Department of Transportation, is being shepherded by the local legislative delegation.
Cyberspace Highway
Expansion has begun on another high-speed highway, this one built in cyberspace in 1999 by locals as a do-it-yourself project championed by the city's mayor after some out-of-towners just said no to Tifton.
When the city of Tifton recently announced extension of its city-owned high speed Internet, many-channeled cable television and telephone services into the county, it was a doubly sweet moment for Mayor Paul Johnson. First, it marked an ongoing partnership between the city and county either in sharing of services or extending a helping hand in providing them. Even sweeter, perhaps, was the continuing success of CityNet, the city-owned high-speed service provider.
"One of the most significant developments in our continuing infrastructure upgrades is the inter-local agreements that we have established for the [city-county] combination of services," Johnson says. To date, he counts 33 city and county services – such as fire, waste and water – that have become consolidated or otherwise shared. "With such agreements, we control our own destiny on pricing and service, rather than putting it in the hands of some out-of-town mega-something company."
If there is a note of satisfaction tinged with a drop of bitterness in Johnson's tone, it's because the mayor, in his 10th year in office, holds the memory of a time seven years ago when the city went scouting for a high tech service provider. No one, he says, was interested in such a small account. So Tifton filled its own need.
"Seven years ago we took the giant step to provide high speed fiber optic service to a small South Georgia community that the mega-companies chose not to invest in," Johnson says, drawing out his words for emphasis. "Since that time, they have taken notice. We are still in business and still locally owned and managed. The same services that the people of Tifton get are significantly more [in cities] where there is no other provider other than the monopoly."
The availability of high speed Internet and zillion-channel cable television was of particular interest to Dr. David Bridges, the new president of Abraham Baldwin Agricultural College (ABAC), who found CityNet to be an important recruiting tool, especially for those students who would live in ABAC Place, a $32 million on-campus apartment complex completed in 2004.
"Contemporary students expect high speed Internet access, and they expect a hundred TV channels on their TVs," Bridges says. Privately owned and operated by an ABAC Foundation subsidiary, the apartments did not qualify for state funding to purchase such services. "We had to go out to the marketplace to get those services and it turned out that in Tifton there are a number or such providers, CityNet being just one. We let out bids and CityNet was lowest with the most services offered."
Bridges says the college will follow the same procedure when construction is near completion on a new $16.9 million freshman housing complex set to open in the fall of 2007 and accommodate 489 new students.
Four-Year Mission
If housing seems very much on the mind of the new president, it's because ABAC is, in an important way, one of Georgia's newest colleges.
For 99 years, ABAC served the agricultural needs of Georgia, and far beyond, as a two-year college, but this year the University System's Board of Regents gave the institution the mission of awarding four-year degrees, a move that raises the school's status, and one sure to increase enrollment. Both of the two new baccalaureate degrees will be in agriculture-related fields of study.
There's another field of study in which Bridges would like to see a population increase but can't, unless he gets some outside help. "We have 240 students in our school of nursing," he says, "and that number is limited by accreditation guidelines that stipulate we have to have one [full-time] faculty member for each 20 students, and we are maxed out."
Bridges estimates some 700 to 800 students out of a campus population of 3,600 are in a nursing curriculum, and there simply aren't enough teachers to serve them. Even with housing and teaching facilities falling into place – ABAC opened a new $7.2 million health sciences building last September – faculty staffing is lagging behind.
To catch up, Bridges is seeking a few inter-local partnerships of his own, with the view of turning nurses into critically needed nursing teachers, or by finding other imaginative means of landing and retaining desperately needed nursing faculty. He certainly has an interested party just across town at Tift Regional Medical Center, one that pledged $1 million to help complete ABAC's health sciences building.
"The nursing shortage is not going to be addressed until we get the adequate faculty," says Bill Richardson, president and CEO of the Tift Regional Medical Center (TRMC). "There is a moratorium on new nursing programs and one of the reasons for that is the lack of faculty."
To remedy the shortage ills, TRMC and ABAC have partnered to seek a $3 million grant from the U.S. Department of Labor to subsidize nursing faculty salaries at the college to make them more competitive with those of nurses in the clinical setting. The hospital will pay the cost of making the grant application. The two presidents are also exploring the idea of one-year sabbaticals and salary subsidies for clinical nurses who qualify to teach.
"The salaries in the clinical setting are outrunning faculty salaries," Richardson says. "The solution will be in the coming together of medicine and academics."
The two institutions share a rural Southwest Georgia primary service area long plagued by shortages in nursing. ABAC has a $110 million impact on the Tifton region, according to a 2005 economic study from the University System of Georgia.