The Bankers' Hour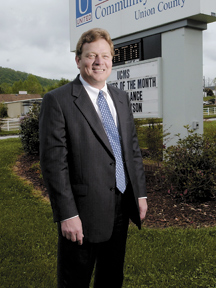 Gene Sprayberry remembers the first talent show sponsored by United Community Bank in Blairsville.
"It was such a small thing, we even gave away the Cokes and Goo Goo Clusters," he says. "And almost everybody in the show did a lip-sync act, and it was pitiful. But it was entertainment for those times."
That was about 15 years ago. Today, that talent show – The Bankers' Hour – features 40 performers from nine banks, plus 75 offstage helpers. It draws 7,000 people to two shows in one day in April. There's often standing room only in Anderson Music Hall in Hiawassee. And it's free.
"You will be absolutely amazed at the amount of talent we have," says Jimmy Tallent, president and CEO of United Community Banks Inc. [UCBI], headquartered in Blairsville.
Just as longtime customers are amazed that their little bank in Blairsville, once Union County Bank, is now United Community Bank and part of 26 banks and nearly 100 offices in three states: Georgia, North Carolina and Tennessee. [UCBI, the third-largest traditional bank holding company in Georgia, was to have acquired Southern National Bank last month and formed its 26th bank, this one in Canton.]
It started after Tallent became president 22 years ago. A native of Habersham County, he learned about customer service from Julian Hester, president of Habersham Bank, where he borrowed $400 for an engagement ring and got a part-time job all in one day.
When he came to Blairsville, he knew what he'd like to do: conduct banking the way Hester taught him. "People say to me, 'Don't lose sight of where you came from,' which is very profound," he says. "It keeps us grounded. We're $7 billion – we will be by the end of the year [2006] – but really, we're literally no more than 26 community banks that average about $250 million each. That's the way I like to think of it."
A bank must be involved in the community it serves, he says: Donate to charities, give away tomato plants, help schools, appreciate customers. And even hold a talent show for senior bank customers. So when Gail Nichols Day came up with the idea for the show, Tallent said go for it. And when the show began to grow and improve, the general public wanted in. Tallent said let 'em in.
Day even recruited Sprayberry, executive vice president of the Blairsville bank, to play Junior Samples of "Hee Haw" fame. At first, the VP was reluctant to make a fool of himself, but today, with the show's success, he's happy to do so.
"I couldn't say no to Gail," who, he says, comes up with all the songs and skits. And many of the singers, he says, are outstanding.
The bank covers the costs, but requests donations, all going to charities in the banks' communities.
It's a great show, Sprayberry says. "You couldn't buy this show in Vegas for less than 90 bucks apiece."