January 2007 Legends
Jackie Miller Walburn's 50-year-old basketball scoring records are still standing.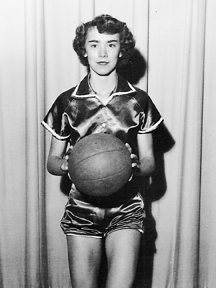 On the wall of the gymnasium of Armuchee High School, an achievement plaque honors Jackie Miller Walburn. It reads, in part, "Record holder for most career points, most points in a season, highest point average per game (30), most points in a game (48) – three times – and one of Armuchee's greatest athletes."
Those point totals were established more than 50 years ago when Jackie was the rage of northwest Georgia basketball. The records still stand – all of them.
There never has been anything like Jackie. Said her high school coach, Hugh Selman, "On the court she was a veritable tiger. She swept the backboards clean. She was the deadliest shot in our region. She not only led the league in scoring, she led it in assists. She was unselfish, wanting her teammates to have the ball; but I had to convince her we were not going anywhere unless she was taking her shots."
Selman recalled a game at which Jackie arrived late. "She showed up at halftime. We were behind, 22-7. We convinced the kids to keep feeding the ball to Jackie. They did and she never missed a shot. We won the game by one point."
She also won at tennis, was a star of the softball team and valedictorian of her class. Not bad for a girl who grew up in Glenwood, scarcely on the map, five miles north of Rome.
Irma Jacquelyn Miller Walburn was born Feb. 27, 1937, in Shannon, in northeast Floyd County. When she was seven, her family moved to Glenwood. Her dad was a barber. When he got his first paycheck one of the first things he did was buy a basketball and a goal for Jackie, her sister Cheryl and her brother Rayburn. It was the only goal in town, so if you wanted to play a game you played at the Miller house.
When the neighborhood kids went home Jackie stayed out shooting the ball until it was past dark. Eventually, she wore the goal out.
When she reached Armuchee High School, she had grown to 5′ 10″. Coach Selman spotted her shooting baskets in the gym before the first morning class started. He told her to pick up a uniform after school and he would find a place for her on the team. Not the freshman team – the varsity.
"Coach Selman put me in a game scrimmage and literally turned me loose. I was fortunate to have teammates who knew where I would be on the court and they would pass me the ball. That's the way it was in every game for three years. They kept passing me the ball and I kept making my shots."
For three years Jackie made headlines. She took her team to the district and state championships, and made the all-district and all-state teams. Every time they saw her play, the college scouts licked their chops. Jackie chose West Georgia College in nearby Carrollton and kept setting records: most points in a season, most points in a career, most points in a game (52 – against LaGrange College). She received the Herndon award, presented to an outstanding freshman.
Off the boards, Jackie, a tall dark-haired beauty, attracted the attention of Roswell Lee Walburn; they represented a match made in heaven: the star of the women's basketball team and the star of the men's.
"That first day of school we walked to the gym together, talking basketball. The boys were going to play Auburn that night and we were going to play LaGrange." Lee suggested a dinner bet. Whoever scored the most points had to pay for an after-game meal. Lee thought he had a sure thing. But he only scored 13 and Jackie registered 52.
They fell in love, married and had three children. Lee worked for The Atlanta Journal and the Atlanta Braves, had his own public relations firm and finally became the longest-tenured editor in Atlanta magazine's history.
After graduating from West Georgia, Jackie played six seasons with the old Atlanta Tomboys ('56-'61). She turned down a professional contract with the Arkansas Redheads but later became a standout in local tennis when she played in ALTA leagues.
Asked to name the toughest obstacle she ever faced, Jackie says, "I never had any obstacles, only opportunities."
Gene Asher is a veteran sportswriter and businessman.