Cobb County
An Opportunity For Redevelopment And Refurbishing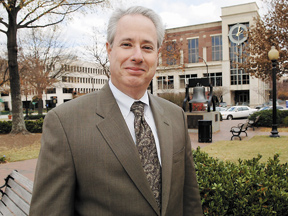 Any doubts about Cobb County's status as a suburban powerhouse are quickly dispelled by a drive through this thriving – and increasingly urban – environment.
It sometimes seems that a new shopping complex, mixed-use development or office building is going up on every corner. Subdivisions are sprouting from once rural farmland and roads are crowded with vehicles.
It might come as a surprise to know that Cobb has actually slowed down.
"Our growth since the year 2000 has been 1.7 percent which has been very overt on our part to slow it down because we needed time for the infrastructure such as water, roads, etc. to catch up," says County Commission Chairman Sam Olens. "What's been very interesting is at the same time the growth has slowed down, the quality has never been higher."
Cobb is one fast-growth county that is trying to catch its breath, take a look at where it's going and ensure that development doesn't create new problems that haunt later generations.
Quality is the byword these days, Olens says.
He cites the Pacific Group's West Village project at Atlanta Road and I-285 as a good example of appropriate development. Once a collection of dilapidated and crime-ridden structures, the area has been revitalized through a mixed-use live, work, play project valued at more than $450 million.
Cobb is also driving to escape the conundrum faced by other suburban counties that have attracted large numbers of new residents, but little commercial activity and few jobs. That imbalance places a strain on the local tax base because homes tend to consume more county services than they pay back in taxes. Retail and office tend to do the opposite.
That's why county leaders greeted a recent study on area job growth with such enthusiasm. According to the Atlanta Regional Commission, Cobb is slowing its rate of population growth while creating more jobs. In the survey of a 20-county metro region, Cobb ranked third in anticipated job growth from 2000 to 2003, with 135,021 new jobs projected for that period.
"For every new resident they estimate will move to the county, we'll have approximately .9 jobs coming with that resident," Olens explains. "So a lot of the growth to the county is commercial, whereas historically it was predominantly residential."
Cobb's diversity is one of its strongest assets, locals say. The Cumberland area is increasingly becoming the county's version of urban. Here you can find many of the distinguishing features of the big city including high-rise condos starting at $750,000, fashionable shopping and, by next September, the $145 million Cobb Energy Performing Arts Centre. The 2,750-seat center will be home to the Atlanta Opera and will host Broadway productions, ballets, family shows and symphony concerts.
Across the street, Cumberland Mall is getting an extensive makeover to the tune of $65 million. Once a destination for shoppers, the mall had lost much of its luster as consumers turned to open-air lifestyle centers.
To attract affluent residents moving into the area, it's getting a new look with pedestrian-friendly street-scape and an open-air plaza complete with fountains. In the parking lot where J.C. Penney used to be, a Costco is under construction. On the site of the former Macy's, there's an outdoor lineup of plazas, shops and high-end chain restaurants.
The nearby Vinings area is receiving its share of this development. A luxury condo enclave, The Aberdeen, is under construction on Paces Ferry Road. Marketed as a "destination" development, it offers condominiums starting at $900,000, and penthouses priced from $2 million and up.
"It's really catering to the high-end market," says Geoff Anderson, president of Taz Anderson Realty Co.
He believes Vinings' appeal includes its laid-back neighborhood feel coupled with Cobb's lower tax rates.
"It makes Vinings really attractive for people who have considered Buckhead to be the real place to be," he says.
The area is attracting an increasing number of residents and that means more growth will follow.
"Within the next five to seven years we'll have another $3 billion to $4 billion worth of projects growing in the Cumberland area," notes Cobb Chamber COO Don Beaver.
Redefining The Old
Among Cobb's cities, the emphasis these days is on finding new uses for existing properties. Throughout the county, local governments have made a concerted effort to bring new life – and new business and residents – to their downtowns and outlying areas.
"Redevelopment is the buzzword in Cobb," Beaver says. "What's exciting is that all the cities and their leadership are moving forward to address the needs of their citizens and, because of the lack of undeveloped land, they're going back and capturing pre-existing facilities."
Marietta has gone further than perhaps any other city in kick-starting redevelopment in its neighborhoods and urban core. Three Tax Allocation Districts (TADs) are helping provide the necessary funding. Forming a TAD allows the city to freeze property values in a designated area until improvements increase those values. The local government can then borrow funds to buy property or make infrastructure improvements that attract developers, says Teresa Sabree, project manager at the Marietta Redevelopment Corporation.
The city also is focusing on creating new development that is linked rather than occurring in small pockets. To help foster that expansion, the city took over Roswell Street from the state DOT and is getting ready to create a network of parks and streetscapes running from U.S. 41 to the town square.
"The Roswell corridor is pretty much the backbone to a lot of these redevelopments," says Brian Binzer, the city's director of development services. "All those projects are right off Roswell and we're going to connect everything together."
The city floated a tax allocation bond last year that helped pay down the price of the 17-acre Manget property where a mixed-use development with 265 residences is taking shape. The former Clay Homes public housing site is also getting a mixed-use development with mid-rise town homes.
Local Investments
Communities such as Austell, Powder Springs, Mableton, Kennesaw and Acworth have all seen major new developments take shape. Some are already out of the ground, and more are in the works. A model for these communities is Smyrna, which earned a reputation for smart growth and revitalization with its Market Village mixed use development of retail and town homes.
"A lot of that particular growth is driven by land prices that are probably relatively inexpensive compared to other parts of the county," says Cobb Economic Development Director Michael Hughes. "Those areas are also similarly situated next to interstates and other major arterials that I think provide the type of access that people desire to get to and from their places of employment or places where they buy goods and services."
Powder Springs is putting considerable resources into developing its downtown area and actively seeking new kinds of businesses for its storefronts and properties.
In 1996, the city adopted a community enhancement master plan focused on citywide economic development. The centerpiece of the plan is the $17 million Lewis Road Project that will create a new corridor into downtown.
City officials are seeking to add 25,000 to 40,000 square feet of retail north of the square and 250 town home residential units connected to the nearby Silver Comet Trail. In addition, the city is building a new $3-million public library. Enhanced transportation and infrastructure should help bring new business to fill in available property.
"We are going to invite retailers and restaurants that match the demographics and the psychographics of the city and invite them along with area developers and owners of commercial properties to come together and network and see if they can create deals," says Pam Conner, the city's director of community development.
Mableton, an unincorporated South Cobb community, is working to transform itself into an active place where people both live and work. With the opening of the Cobb Regional Library in May and the Mable House Barnes Amphitheatre in 2003, development is accelerating.
"I think a lot of that has to do with the East-West Connector being completed about five years ago. We have seen a lot of development take place to the south and southwest of that corridor," Hughes notes.
The county drew up a redevelopment plan to take advantage of these assets, while preserving the community's historic aspects. The plan calls for developing a mixed-use area similar to downtown Smyrna.
New housing has arrived with construction of Mitchell Chase, a 31-unit affordable housing community off Old Gordon Road, and John Wieland Homes and Neighborhoods has turned several decaying subdivisions into desirable residential.
Solid Footing
The success of this continuing development depends on the county's dedication to maintaining low taxes coupled with investment in infrastructure. Using funds from its Special Purpose Local Option Sales Tax (SPLOST), Cobb has been able to launch 50 new transportation projects to help ease overcrowding on its roads.
"We're working actively to make those transportation improvements to increase mobility on our roads as well as expanding transit at the same time," Olens says.
Along with transportation, the county is aggressively making improvements to its storm water program with the construction of the Chattahoochee sewer tunnel. Now it's getting ready to build a South Cobb sewer tunnel as well.
Cobb has been able to do all this without damaging its financial standing. Taxpayers are subject to a lower millage rate than any other urban county in Metro Atlanta, and Cobb is only one of 20 counties in the country with a AAA credit rating.
Yet the county and its leaders are constantly looking to the future and making plans to ensure that Cobb offers quality of life along with quality of business. In November, the county asked voters to decide if it should issue bonds to generate $40 million to purchase parkland; the answer was a resounding yes.
"The need is based on the fact that the county is 85 to 90 percent built out," Olens explains. "If you're going to preserve greenspace, you need to acquire it before the county is fully built. We're not looking at this from a perspective of what's needed now, we're looking at it from a long term perspective of what assets do we need to improve our residents' quality of life in the future."