Blairsville-Union County
Great scenery, friendly folks and a watchful eye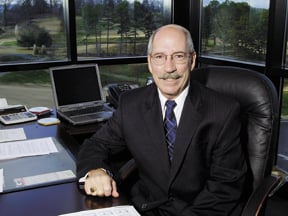 Lamar Paris sits with his back to the lush fairways of Butternut Creek Golf Course and the mountains beyond Nottely River valley. About 35 yards from his right arm is the fringe of No. 8 green, a par three. The sun is shining, the blinds are open, and Paris is beaming, probably because one of the first questions to him is a pushover: What brings so many people, so many retirees, to the Blue Ridge Mountains and to Union County to live?
"This, the scenery," he says, motioning outside his second-story window in the courthouse, "and the people. We've just got an extremely friendly county."
The next question is not as easy: How do you control growth?
Well, he says, the government gets too much credit and too much blame for growth. True, but if any one person in Union County can affect growth even a little, it's probably Lamar Paris. If he were in Atlanta, he'd be the governor. If he were in Washington, D.C., he'd be the president.
But this is Blairsville, where Paris is the sole commissioner of Union County, the one who can decide if an RV park comes in, when a county road will be fixed, and even whether lewd dancing is allowed. (It isn't.)
"We can impact it," he says, speaking of growth, "and we're killing ourselves right now trying to guide it and keep it in certain bounds." Union's population growth rate, similar to that in other counties in Georgia's Blue Ridge Mountains, is 4 to 5 percent – 600 to 800 new people a year, he says. So he watches building permits closely, expecting fairly steady growth.
"But," he says, "if we went one year from 700 to 1,500 [new] people, I'd panic. You can see that might be starting a trend that would turn out to be exponential."
Some longtime residents don't like even the current rate of growth. Ray Seabolt is one of them. Seabolt, along with brothers Jerrell and John, is carrying on his grandfather and father's tradition of growing sorghum cane and making sorghum syrup. At one time, he says, a dozen or more Union County folks produced sorghum every fall. Now there may be three. For decades Seabolt has seen tourists come to Union County to enjoy the many festivals, to visit Vogel State Park and Brasstown Bald – and to buy his syrup. But things are changing.
"Fewer people farm now," he says, taking a break from the smoky shed where Jerrell is straining hot, sweet-smelling syrup ready for glass jars. "A lot of people who used to farm sold and now there's houses there. … It's growing too fast for my opinion." (The county's population, listed as 17,289 in the 2000 census, is estimated at 21,300 today.)
Commissioner Paris understands Seabolt's concerns. He was born and reared in Union County, graduated from high school there, got a degree from the University of Georgia and came home to sell real estate and make small loans. He knows mountain people. Seeing small farms disappear gives him heartburn, he says, but the word "zoning" gives him hard chest pains. That's why since he took over as commissioner in 2001, he has handled zoning as though it were a live rattlesnake in his path.
"We've never had zoning," he says, "and the price of property here is so high now we're trying to avoid zoning. … We still have a lot of mountain people here, and they don't like people telling them what they can do with their property. So every time we do something land-use related, we have to ease it in."
The county's progress, however, comes in fully exposed: in industry, schools, roads, the hospital and even the courthouse, which has just been expanded from 15,000 square feet to 45,000 square feet. (The addition on the backside of Union County Courthouse includes the commissioner's room with a view, overlooking the 18-hole golf course, which, by the way, the county owns.)
On A Roll
"We've had quite a bit of success," says L. Thomas Murphy, executive director of the Union County Development Authority. "I'd almost use the word 'boom.'" Besides the courthouse addition and remodeling, he and other county leaders list these successes:
– A new industry, Applewood Doors & Windows, expected to employ up to 50 people, has located in the Blairsville Airport Regional Industrial Park. It makes specialty doors and windows out of wood.
– The airport itself has been expanded. It now features a 5,000-foot runway, with plans to add another 500 feet. Murphy says the airport is the largest north of Gainesville and east of Dalton. Money for the project, he says, was approved years ago when the mountains' own Zell Miller was governor. "It took the city [which owns the airport] several years to get it done like they wanted it," Murphy says.
– Wal-Mart has an option on some 30 acres of land and is expected to build.
– The county school board opened a new high school four years ago and recently completed a new middle school.
"If it was just retirees moving in, we wouldn't need a new high school and middle school," says Norman Cooper, editor of North Georgia News, one of two weekly newspapers in the county.
– Union is home to four banks, including the headquarters of United Community Bank, which was to have expanded to 26 banks last month. "That's probably the economic engine that drives the town, really," Murphy says. "They have a tremendous impact on the county."
– Copperhead Lodge, a new 40-acre resort built by and for motorcycle enthusiasts, features an amphitheater for concerts, a rustic lodge, cabins and a swimming pool.
– Spending by tourists amounted to $17.13 million last year.
– Cott Beverage, bottler of water sold in Wal-Mart stores, has started up in a building vacated in 2001 by Elan Natural Water. It employs 30.
But the biggest project of all is still in the exploratory stage. Union County, Murphy says, is one of two sites – Cashiers, N.C., is the other one – vying for a "Reynolds Plantation-type project" that would include a 350-room hotel, a clubhouse, marina and about 100 two-bedroom cottages on Lake Nottely. It could employ as many as 500 people.
The board of the Union County Development Authority has approved issuing revenue bonds of up to $60 million to finance all or part of the 300-acre resort.
The developers – the Eagle Group – have put a million-dollar option on the property that is non-refundable, Murphy says. If the project goes through, he says, "it'll mean people will come in here by the droves. … It'll bring in national meetings." The resort proposes 22,000 to 23,000 square feet of meeting space.
"Our experience," he says, "is people come in here, they like us, and they start looking to buy real estate."
Another major attraction is the county's nonprofit hospital, Union General Hospital, which offers acute-care services rarely found in small communities. The institution has just added 75,000 square feet of space, going from 32 beds, some in semiprivate rooms, to 45 beds in all private rooms.
Union General also boasts new X-ray equipment, a new labor and delivery room, four operating rooms, and an emergency room that will accommodate 14 patients with a physician always on duty. At one time, staff occasionally had to call in a doctor for emergencies.
The hospital operates an ambulance service without help from the county and a 147-bed nursing home in Blairsville. The county also owns a kidney dialysis clinic in town and Chatuge Regional Hospital & Nursing Home in neighboring Towns County.
Three times Union General was chosen Georgia Rural Hospital of the Year, and in 1994 was named one the top 10 rural hospitals in the nation. "The quality of health care here has really improved," says administrator Rebecca Dyer, a Union native who started out as a weekend receptionist while attending college. "It's a step above what you'd find anywhere in the U.S."
Getting Around
All of this progress is going on in a quiet, mountainous county where most of the traffic heading north on U.S. 129 narrows into one lane around the 1899 restored courthouse in the middle of Blairsville, the only municipality. Which can be a problem, the town's mayor, Jim Conley, says.
"We handle the auto traffic OK," he says. "It's the big trucks that come through. They choose to come this way. They could go the [Gooch] bypass, but we can't require them to do that."
The county-owned Gooch bypass, which is located off 129 south of town and named for former county commissioner Glenn Gooch, opened about five years ago. But, Conley says, a state bypass is needed, one that's been on-again, off-again at the state Department of Transportation for at least two decades.
Even the problem with traffic, however, is relative, especially for motorists who drive in Atlanta. "Yeah, you might spend 15 or 20 seconds trying to get around the courthouse," says Scott Carter, chairman of the Union County Development Authority and a Union County resident for 25 years. "We didn't even have a traffic light when I moved here."
Another concern for Mayor Conley is keeping up with requests for water and sewer service from industries and residents outside the city limits. "Consequently, we need to increase our revenues," he says. "Grant money that used to be available for governmental entities is not as available today. Competition is tougher."
The mayor hopes the city will get a $500,000 expansion grant next year from the state Department of Community Affairs. In the meantime, it just replaced all the old water lines inside the city, some dating to the 1940s.
Blairsville has recently revived its Downtown Development Authority after years of inactivity and is currently seeking designation as a Better Hometown through the state DCA to qualify the city for money for downtown revitalization.
Like the county, Blairsville has no zoning, but the city is expected to establish a Historic Preservation Commission, which Conley says may be better than zoning laws. "Once we designate sites and buildings as being historic," he says, "we can pretty much dictate what you or I can do with our building or property." Don't worry, though, he says: Blairsville will not adopt a look-alike motif for all buildings.
Commissioner Paris, meanwhile, has established a three-person department of building inspection that follows strict standards. Other county improvements include repairing all roads since he took office, installing 128 miles of fiber optic cable, remodeling the 911 center (the system itself is next) and installing a GPS mapping system. The county has just revalued all taxable property, increasing the tax digest from $2.2 billion to $3.5 billion. But Paris says the county still maintains the second lowest millage rate in the state. The county has a 1 percent special purpose local option sales tax (SPLOST), whose income is split between roads and bridges and county projects.
The commissioner says he addresses land-use issues as they arise. As examples, he points to ordinances dealing with the size of cell towers and billboards and the visual impact of RV parks – Paris himself assesses the impact. Other ordinances discourage tattoo parlors and toughen restrictions on junkyards.
Paris has many other goals, not including public water and sewer service. He leaves that to the city – and to two water authorities serving the county.
"I may be considered an oddball in my belief of growth control," he says, "but I think the fact that we do not have countywide sewer is one of our major tools in controlling growth." The county requires a minimum three-quarter-acre lot size with public water and 1.5 acres without public water. The requirements, he says, help protect the mountains and valleys from overcrowding.
As it is, growth is coming fast enough, the commissioner says. "We can stand 4 or 5 percent growth for a few more years, but if you get above that, I'll be nervous – and so will everybody else."