Larry Munson: The Voice of the Game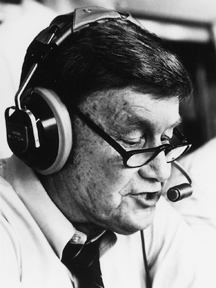 In the long and storied history of sportscasting, there have been many greats. Bill Stern comes to mind, as do Ted Husing, Mel Allen, Red Barber and Lindsay Nelson.
Who could ever forget the "CBS Radio Roundup" during college football seasons in the 1940s and early '50s? "The old redhead," Walter (Red) Barber himself, would moderate, then send the radio pickup to Stern for a quick rundown on Notre Dame-Michigan State. Stern would give a name/status report and send the mike back to Barber.
And Barber would say "Now let's go down South to Athens, Georgia, and Sanford Stadium where Bill Munday is at work covering the Georgia Bulldogs and the Alabama Crimson Tide. "Come in, Bill Munday …" And the next thing you would hear on your radio would be "Those Bulldogs have done it again! Johnny Rauch, Joe Geri, Joe Tereshinski. It's the Bulldogs by 14 and they are ready to score again!"
And so it went. From noon on Saturday until the last big game was complete, you could listen to the top football broadcasters in the country. When the "CBS Roundup" passed on, Munday found a home at the University of Georgia. He never lost his touch, but he was a more objective broadcaster and the Bulldogs wanted a homer. They got one in the person of Ed Thilenius in the 1950s, but Thilenius was stricken with throat cancer and had to give up the mike.
And then along came the great one and – as far as the Bulldog nation is concerned – the greatest of all.
His name is Larry Munson. He is 83 years old and at the end of his 41st season. He rarely speaks of retirement and as far as dog fans are concerned he could stay forever. He came from Nashville, where he worked for the Vanderbilt Commodores football and basketball teams and the Nashville Vols baseball team. The Bulldog nation is less concerned with who will replace the current quarterback when he graduates than with who will replace Munson if, or when, he retires.
Munson first came to Atlanta in 1966 as a sidekick to Milo Hamilton with the Atlanta Braves. While Hamilton was the "homer," Munson was the straight man. The duo lasted one year – Hamilton didn't want a straight man.
Munson joined the Bulldog network as play-by-play man when the '66 baseball season ended and has been there ever since. No longer a straight man, Munson became a Bulldog through and through. As far as popularity and originality are concerned, he's in a class by himself.
More than 1,000 fans turned out last August to honor Munson. Legendary Georgia coach Vince Dooley and former coach Jim Donnan were there. So was Gov. Sonny Perdue, a former walk-on player. He read a commendation honoring Munson, which read, in part, "Larry, you're in the hall of fame of our hearts."
Georgia Tech play-by-play announcer Wes Durham had this to say about Munson. "If you are a Georgia fan you better enjoy him now. Once he is done we will have lost one of the greatest treasures in college sports."
Munson may go but his original sayings will live in the hearts of his countrymen forever. Take, for instance, Vernon Haynes "running over Tennessee with a hobnail boot" or "Run, Lindsay, Run," coined in 1980 when Lindsay Scott took a shovel pass and ran for a touchdown that put Georgia in the Sugar Bowl and a national championship game against Notre Dame (which the Dogs won, 17-10).
"Sugar Falling Out of the Sky" hit the airwaves in Auburn in 1982, when a Georgia victory put the Bulldogs into the Sugar Bowl against Penn State.
In 1978, with UGA losing, 16-14 to Kentucky in the fourth quarter, Munson counted down the clock as the 'Dogs tried to get set up for a field gold. "14 … 13 … 12 …" Munson screamed. "They're trying to get lined up … 9 … 8 … 7 … I don't think they are going to make it … 6 … 5 … 4 … they're set … 3 … 2 … There's the snap. It's up, watch it, watch it, watch it!"
Then a commercial and when the station came back on you knew the kick was good because Munson was beside himself.
When they write about the voices of the game, Munson's name will be at the top.