Higher Education In Atlanta: Intellectual Capital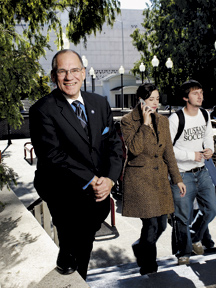 Atlanta's institutions of higher learning are joining forces with local leaders to remake the capital as the smartest city in the South – smart development, smart jobs, smart attractions – and an international city of opportunity.
"I don't think most people walk around fully understanding the economic strength these institutions bring to the community," says Walter Broadnax, president of Clark Atlanta University. But word about Clark Atlanta and the other schools is out. As enrollment grows and campuses expand, these halls of learning are becoming ever more conspicuous and, economically, more powerful.
"We're often taken for granted," says Carl Patton, president of Georgia State University. "People are excited when the Super Bowl comes and pumps a couple of hundred million into the economy, but from the new reports, you see that our universities are doing that every day."
If this assertion seems staggering, consider numbers released by the Atlanta Regional Council for Higher Education (ARCHE) in September: These 19 institutions (visit www.atlantahighered.org for a list of members) contribute $10.8 billion and 130,000 jobs to the state's economy annually, including $9.2 billion in total spending (from the schools and their students) and $1.5 billion in capital improvements. The schools also draw some 5.7 million visitors, who spend $469 million. In addition to the 216,500 students enrolled, some 522,540 ARCHE alumni live in Georgia, paying $2.4 billion in taxes.
ARCHE, in presenting its report, concedes that in the end, those numbers may not be as significant as the effects of higher education on Georgia as a whole. Whether as a public health capital or a magnet for the nation's brightest African-American students, "Having such a wealth and diversity of colleges in Atlanta makes this a very smart place," says ARCHE President Michael Gerber. "Atlanta already owns the hill. Now, we just need to plant a flag in it, so our leaders can fully utilize it."
To some extent, the institutions of higher learning may be so much a part of the landscape that they tend to go unnoticed; but there's one segment of the population that's impossible to ignore: students. Few institutions have been as diligent in getting students out onto the streets of Atlanta as Georgia State. "We're not a 24-hour city – yet …," Patton observes. "Our students start coming on campus around 7 a.m. and often don't go home until the library closes at 11 p.m."
Unlike so many developments throughout the city, each new building GSU renovates features windows that open to the street, so it doesn't feel closed off. (Patton's experience as an urban planner has played a big part.)
Patton says GSU's newest project, the University Commons, will further increase the number of students in university housing downtown to 4,400, with a long-range goal of 7,000 students on campus.
Further transforming Atlanta are a larger number of students milling around West End's Atlanta University Center, which includes Clark Atlanta, Morehouse College, the Interdenominational Theological Center, Morehouse School of Medicine, and Spelman College. "A lot of our kids are active in the community, as consumers," Broadnax says of Clark Atlanta's 5,000 students. "I'm not sure what they're consuming, but they are consuming," he jokes. "They are an economic force, and having a university in an urban setting like Atlanta creates a magnetic economic impact."
Clark Atlanta welcomed its largest freshman class to date this year; Morehouse College, under the tenure of soon to be retired Walter Massey, has raised $120 million, the largest fund-raising effort in its history.
New construction will provide 300 new residences on the Spelman campus as the college celebrates its 125th anniversary. "It's exciting that even though the trend is moving away from all-female and all-black colleges, as a result of increased competition from other institutions seeking to diversify, we are in a period of great growth in applications," notes the college's president, Beverly Daniel Tatum.
Broadnax credits the revitalization of West End and cooperation with the city of Atlanta with improving campus safety, and consequently, AUC's popularity. "[Atlanta Police] Chief [Richard] Pennington and the mayor [Shirley Franklin] have been good colleagues in getting us what we need," he says. "The kids feel safer, but there's not too much protest about police on campus. There's always a balance."
Georgia State's Patton further credits neighborhood groups and student presence with helping improve conditions and safety downtown. "I've got to give credit to a lot of other people. Central Atlanta Progress has been working with us for a long time." The area around the new $168 million University Commons area is soon to be home to street-level retail, which the school hopes both students and local residents will patronize.
Patton, who notes that the ARCHE findings don't include the anticipated $800 million impact over five years of GSU's new University Science Park on Piedmont Avenue (because groundbreaking didn't take place till early October), also emphasizes the less tangible role his institution plays in improving job skills for Georgia students. "While our research helps improve citizens' health, and our incubators spin out new companies, we also graduate more than 6,000 students a year, who go on to better paying jobs because of their college education," he says. "They can earn twice or three times what a high school graduate earns. In their first year of employment, they can recoup their investment in a college degree."
Tatum elaborates on how Spelman and other universities reach out to lower income students in particular. "We're especially pleased to have been recently ranked number one by Washington Monthly for social mobility of students, based on our graduation rate (56 percent predicted, 77 percent actual). It speaks to the role of historically black colleges in general, but certainly in Atlanta, in graduating students who may not have otherwise been able to contribute to the economy," she says. "We need to re-emphasize the value not just of Spelman, but all Atlanta universities; and not just to the economy and workforce of the city, but to its intellectual capital."
Close to 85 percent of Spelman's 2,183 students receive financial assistance, and of its 13,000 alumnae, some 5,000 have remained in the greater Atlanta area, Tatum notes. "They're educated in a way that they assume community leadership roles quickly," she says.
Outpacing The Triangle
Education may be most important, but it's time to market these institutions' other assets more effectively, leaders say. According to Patton, the work of the Georgia Research Alliance, which includes the University of Georgia, Medical College of Georgia, Emory University, Clark Atlanta, Georgia Tech and Georgia State, generates more money than North Carolina's Research Triangle, even though the latter has a more prominent reputation.
"And our [Research Alliance] goal is to outpace them," he says. "With our focus on vaccines, viruses, and infectious diseases, Georgia State's goal is to complement and support GRA's efforts."
The focus of this research augments Atlanta's quality of life and its reputation for health care. "Emory HealthCare is the largest health care system in the state," says Emory University President James Wagner, "and Atlanta has a claim to be the public health capital of the world, because of Emory, the Centers for Disease Control, the American Cancer Society [headquartered in Atlanta], and the Carter Center, among others."
Emory HealthCare provided $70 million in uncompensated care last year, and also supports medical clinics throughout DeKalb County and the state, Wagner says.
Higher education also plays into equally significant and positive, if more subtle, aspects of local life.
In a study of 60 metropolitan statistical areas across the country conducted by the Human Capital Research Corporation, Atlanta consistently ranks in the top 10 in more than 20 different categories, for degrees ranging from engineering and related technologies to visual and performing arts and theological studies and religious vocations. These multifaceted superlatives add up to something for everyone, Gerber says.
The study "didn't really address quality of life aspects, but it's generally true that universities do a lot to reach out to their host communities," he notes. "What distinguishes Atlanta from the others is the variety of our institutions, exponentially larger than other cities', which increases the capacity of higher ed to play a role in building quality of life. In addition to our research and historically black colleges and universities, we have specialized institutions, like SCAD-Atlanta and Columbia Theological Seminary, and the amount of their outreach goes across all aspects of society."
Gerber cites faithandthecity.org, which receives funding through The Community Foundation to address social problems through the city's religious communities and to develop public religious leadership in both those communities and local seminaries, as one example; but nearly every ARCHE institution, from Agnes Scott to Oglethorpe University, provides outreach assistance to their host community, to neighboring communities and sometimes even distant communities, as evidenced by schools' assisting Hurricane Katrina victims.
From noncommercial radio stations to art galleries, higher education improves culture in local communities, and Atlanta's no exception. Repeating its success in revitalizing areas of Savannah, SCAD, which established a campus in Atlanta and has joined ARCHE, is reaching out to its host city in many ways, from sending student volunteers to augment the one-man staff of the Wren's Nest (home to the late Atlanta author and former Atlanta Constitution/Savannah Morning News Editor Joel Chandler Harris), to rehabilitating the Peters House (The Mansion) in Midtown. "You really can't measure the benefit to the community, in terms of quality of life, attached to higher education," observes SCAD President Paula Wallace.
Growth Smarts
Where smart growth is concerned, however, you can certainly feel it. For example, a Tech student came up with the idea for the proposed Atlanta Beltline, a project now high on metro leaders' to-do list. In fact, Georgia Tech's "invisible hands" have been guiding the renaissance of downtown and Midtown for the last decade, says the institution's president, Dr. Wayne Clough.
"As a result of the Olympics, Tech expanded its housing to accommodate 8,000 students, almost half the student body," Clough says. "With Midtown emerging as a destination for people, other developers have seen the market and built housing for our students. They've done a good job, so the school has no current plans for new housing."
Technology Square has spanned I-75/85 and reconnected Georgia Tech with the rest of the city, inspiring the new Midtown Market. Tech's Enterprise Park jumped Northside Drive and reestablished links with the West End. "We're now working with the Department of Transportation to rebuild the Fifth Street Bridge into an innovative bridge/park that will accommodate a pedestrian environment, including a park with trees," Clough says. "The expanse of the park will dampen the impact of the downtown connector below, and integrate Technology Square with the rest of the campus."
But Clough has a broader vision for synergy between Atlanta's higher education community and its economy, one that addresses the need for a different kind of workforce for the 21st century, referring to what writer Thomas Friedman calls the "flat world."
"We are using a concept I call 'alignment' to synchronize our efforts with those of the state, the city and organizations like the Metro Atlanta Chamber of Commerce to have a maximum impact in economic development. Tech has been working hard to develop strengths in areas like nanotechnology, biotechnology, logistics and energy that will be important to the future, while attracting some of the best students in the world to our campus, providing them with the tools to succeed in a world where the only constant is change."
Where the workforce is concerned, there's a lot to build on. Thanks to Atlanta's higher education community, "Our workforce here is a coveted ingredient for a company's success," Hans Gant, the chamber's senior vice president, said at the announcement of the ARCHE findings in September. "We lead the nation in the diversity of our workforce.
Companies like Internet Security Systems [recently acquired by IBM] and UPS started locally with hundreds of employees, and now they have thousands around the world. These companies will continue to grow and sustain the economy for years to come, both here and on a global basis."
Unexpectedly, the diversity of this workforce coincides with new Brand Atlanta, Inc. attempts to shift the city's reputation for convention tourism back toward its Olympics-era marketing as an international city with globally competitive attractions.
"Atlanta has been previously known as a meetings and conventions town," says Spurgeon Richardson, Atlanta Convention and Visitors Bureau president. "But with Brand Atlanta, we see a wonderful opportunity to grow leisure and tourism development."
"We called ourselves an international city back in 1996 but we weren't really there yet," says Craig Lesser, Commissioner of the Georgia Department of Economic Development. "But now we're really getting there. By bringing [international] students in and retaining them, we're really adding to the cosmopolitan, international flavor of the city that we market to industries."
It's a two-way street, which bolsters the argument that higher education in Atlanta is an economic engine rivaled in power only by Hartsfield-Jackson International Airport. "In addition to its global economic impact, Atlanta provides an incredible export [of intellectual capital]," says Sebastian Mathews, program manager for United Nations-affiliated CIFAL Atlanta.
"He makes a real good point," Gerber says. "Many students and faculty that come to Atlanta simply because of the higher ed community return to where they work and visit, carrying the message of Atlanta's resources back with them and building Atlanta's reputation as an international city."
Lesser notes that the GDEcD now has offices in 13 countries, "thanks largely to support from ARCHE institutions."
Emory's Wagner also reemphasizes the "brain-gain" role of higher education in attracting the world's best and brightest to Atlanta. "Emory students come from all over the world (only 20 percent of undergrads are from Georgia); but nearly a third of our alumni live in the region," he says.
Thus, Georgia students who wind up at Atlanta's educational institutions have the opportunity to learn from the best and brightest of the international student community, and the jobs awaiting them when they graduate bear that out. Where preparation for the global economy is concerned, "strength through diversity" has never seemed so relevant.