Energy In Georgia, Part III: Alternative Energy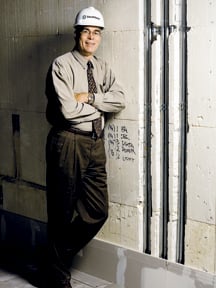 Energy is everywhere, all the time, and it impacts everything that everyone does. Without energy you have no life or death; you are intangible, insubstantial, non-existent. And for a species like ours, existence is typically preferable. It's also unavoidable – because of energy. We can't control it, so we try to make the best of it.
But this last installment of our three-part series covering energy in Georgia is about making the best of that tiny portion of the universe's energy that we actually can control, the stuff that can be manipulated and converted into the kind of energy we want, when we want it.
We began the series in October with a look at liquefied natural gas. Last month we discussed the looming resurgence of nuclear powered generation. This month we'll explore the work being done in Georgia to plan ahead – the development of alternative, cleaner modes of energy generation, and the effort to conserve existing resources.
The Georgia bandwagon is especially crowded with farmers and entrepreneurs eager to develop a biofuels industry – one University of Georgia expert estimates there are 40 different biofuel plants in the planning or development stage.
Energy and existence may be inevitable, but lives are finite; and the one thing everyone we spoke with has in common is an understanding that our energy decisions today, even the little things, will affect the quality of existence in the future.
"I try to conserve, turn off the lights when I'm not using them, dress warmly in the winter, adjust the thermostat to save energy," says David Ratcliffe, chairman, president and CEO of Southern Company. "I remind myself routinely that we just work here, we don't own the place."
Sustainable Alternatives
Alvin Vogtle was many things. Psychic wasn't one of them.
The daring, tenacious Vogtle was the inspiration for the Steve McQueen character in the World War II epic, "The Great Escape." A fighter pilot, Vogtle was shot down, captured, and made five failed attempts to escape German POW camps, succeeding on the sixth try. As president and CEO of the Southern Company in the 1970s, he led the electric utility to unprecedented success. So they named a nuclear power plant after him.
About 35 years ago, Vogtle met Sonny Dinsmore, one of his Birmingham, Ga., neighbors, a young entrepreneur who owned a small grading company in rural north Fulton County. At the time, even the visionary Vogtle couldn't possibly have known he was meeting the future of electric power generation. After all, Dinsmore was only angling for some work with Southern subsidiary Georgia Power.
"I'd finally gotten the nerve to ask to be put on the bidders' list," Dinsmore says. "Eventually, Georgia Power became my major client. I worked on a bunch of substations."
That was as close as Dinsmore got to the energy business until a few years ago, when he started turning chicken manure into electricity at a pilot plant near Carnesville, 70 miles northeast of Atlanta. Next year Dinsmore's company, Earth Resources, Inc., will open a $20 million power plant that will generate enough energy to power 15,000 homes.
Ironically, Dinsmore won't be selling the plant's 20 megawatts of electricity to his former major client – he says they weren't interested. Instead, Green Power EMC, a partnership of 28 electric membership corporations (EMCs), signed a 15-year power purchase agreement with Earth Resources.
"You walk into any grocery store and you take for granted that the lights will be shining while you look for your package of chicken," Dinsmore says. "We feel like we're solving a couple of problems – taking tons of waste that can't be used and turning it into energy that can be used. It's only 20 megawatts, but it's a start."
And it could be an early sign that Georgia is entering a new energy age, where renewable and plentiful fuel sources – like poultry litter, or woody biomass, or the sun – make the leap from potential to kinetic energy; an enlightened age in which energy conservation and efficiency are emphasized, and energy policy takes in the bigger picture, seriously addressing issues such as global warming and the health of future generations.
It could be. But Utopia won't be rushed, and it won't come cheap.
"We've got to think long-term, but we tend to be short-term economic thinkers. Everyone looks at the next quarter as the financial horizon," says Dennis Creech, executive director of Southface Energy Institute, an Atlanta-based nonprofit that promotes sustainable homes, workplaces and communities. "This kind of thinking is going to catch up with us."
It brings to mind the Jimmy Carter energy saga. Thirty years ago this coming April, the president from Plains spoke of an energy crisis that could be solved only through serious effort, long-term focus, and sacrifice: "We must not be selfish or timid if we hope to have a decent world for our children and grandchildren. By acting now, we can control our future instead of letting the future control us."
Then Carter introduced an ambitious plan that included conservation, reduced dependence on foreign oil, environmental protection and the development of new energy sources. This effort, he said, was "the moral equivalent of war." Setting an example, he installed solar panels on the White House roof and a wood-burning stove in the living quarters.
Soon after the oil crisis of 1979, prices at the pump went down and the country couldn't remember what Carter was so worked up about. He lost his 1980 bid for re-election to Ronald Reagan, who had the panels removed to fix a leak and never replaced them, dismantled the stove and killed Carter's synthetic-fuels program.
Since then, U.S. dependence on foreign oil has increased and the price has skyrocketed; and we're still leaving the lights on, especially in Georgia, where the average home consumes almost 1,100 kilowatts of electricity a month, compared to the national average of about 870.
"People laughed at Jimmy Carter when he said we were facing a national crisis," says Bill Bulpitt, senior research engineer at Georgia Tech's Strategic Energy Institute. "Then Reagan shut down a lot of Department of Energy research that would have moved us toward energy independence. At the time, 40 to 45 percent of the oil we consumed came from foreign sources. Today it's about 70 percent. We're more vulnerable than ever."
Planning Ahead
It's one of the world's grim ironies that the stuff we depend on most, the stuff that is the foundation of our economy and modern civilization, could also be hastening our demise. Generating energy, especially electricity, is damaging the planet on multiple fronts.
For one thing, producing electricity – especially at coal-fired and nuclear power plants – constitutes one of the world's largest uses of water. Fossil fuels like coal, oil and natural gas – all finite resources – are poisoning the air and heating the planet at an accelerated rate. Concern over human-induced global warming now extends far beyond a circle of angst-ridden environmentalists. Even the Pentagon has declared climate change an urgent national security threat that demands immediate response.
"Global warming, the issue of carbon emissions and the health of the environment must be addressed in the context of energy policy," says Lee Thomas, the former Georgia-Pacific president who chairs the energy policy council, a group appointed by Gov. Sonny Perdue to finalize a comprehensive state energy strategy.
In March, Perdue directed the Georgia Environmental Facilities Authority (GEFA) to spearhead development of the plan, a process open to public scrutiny and input. This month the energy council will submit a final plan to the governor, following hundreds of pages of commentary from citizens, advocacy groups, business leaders and utility companies (via the Internet and in person at a series of public meetings).
Early drafts of the plan tackled energy reliability, funding for efficiency practices and alternative fuels, clean-air issues, projected supply and demand, among other things – lots of complicated stuff being discussed by a council that was only assembled in September, leaving some stakeholders wondering if this is a serious effort to address long-term goals, or a case of election-year savoir-faire.
"Energy efficiency and growing a bioenergy industry in the state are slam dunk items," says Stephen Smith, executive director of the Southern Alliance for Clean Energy. "But putting together a coherent, detailed strategy in just a few months seems unrealistic."
There was obvious division along economic and philosophical lines among commentators at the public meetings held throughout the state. Business and industry special interests (shipping and transportation, for example) tended to urge caution, with a nod toward the status quo, while private citizens, faith-based organizations and advocacy groups pushed for efficiency, conservation and alternative fuels (and subsequent state funding).
Only time will tell if the strategy becomes a vision or a memory.
"If we want to be serious about developing a comprehensive energy vision for the state, we've opened the door," Smith says. "That's a good start. But you don't want to throw something together that has no weight to it, then let it sit on a shelf."
Alternative Routes
Until the 18th century, wood was the world's dominant fuel source. Widespread use of coal drove the industrial revolution. Oil and natural gas became the leading fuel source in the 20th century. Now, it is widely believed, we're approaching or have reached peak oil – the point of maximum production level, which means it's downhill from here.
So maybe it's time to rethink wood, or to consider chicken manure, switch grass, algae or any other viable, sustainable source of bioenergy.
When Glenn Farris talked about bioenergy 20 years ago, he got that deer-in-the-headlights stare. "I was a raving lunatic then, but I guess I'm a pretty smart guy now," says Farris, whose company, BioMass Gas & Electric (BGE), is developing a plant in Forsyth County, next to a construction and demolition landfill.
It's one of several projects around the state involving landfills. Keeping a promise it made years ago to offer "green energy," Georgia Power will purchase and sell energy from DeKalb County's Seminole Road landfill gas generation electric plant. Green Power EMC has been offering electricity from landfill methane for years, and in October 2005 the city of LaGrange started piping landfill gas to the nearby Interface and Monsanto carpet manufacturing facilities.
The BGE project is different because the plant isn't using landfill methane gas, but gasifying wood waste, sawmill residue and herbaceous agricultural waste to generate 20 megawatts of electricity that it plans to sell to Georgia Power.
The Earth Resources poultry litter plant actually began as a landfill concept. "I was hired to develop a waste-to-energy process to save space in landfills, because Sonny [Dinsmore] was in the business of building landfills, and wanted to produce renewable energy," says Billy Jones, Earth Resources' project engineer. "But we live in the heart of Georgia's $14 billion poultry industry, where bedroom communities are cropping up at an alarming pace, leaving little acreage for spreading litter. We've got plenty of fuel here."
Previously, Jones spent 30 years on the road, servicing power plants for major utilities, a first-responder for the energy industry. He was working at Three Mile Island hours after the near meltdown.
"There's a lot of behind the scenes, unscheduled stuff that went on that I can't talk about," Jones says. "Suffice to say, we'd go in, rip a power plant apart and put it back together, all so you'd have the convenience of flipping a switch and seeing the light go on."
Chicken waste may keep the lights on in North Georgia, but it won't get you to the grocery store. Ethanol and biodiesel are the hot topics from pine forests to research labs to boardrooms. There may not be enough land to support a nationwide convoy of ethanol vehicles and feed the world. But where there's a will to make a profit, there's a way. Bullish planners suggest that replacing even a percentage of the nation's petroleum dependence would reduce greenhouse gases, and that it's worth the investment of time, money and science.
A 2003 study by the University of Georgia's Center for Agribusiness and Economic Development says biomass could generate $422 million in yearly sales of agricultural and forest byproducts, raising $826 million in annual revenues for Georgia's electric utilities. The study suggests that Georgia's biomass could support up to 50 plants generating almost 170,000 megawatts of electricity a year, or enough to power 140,000 homes.
Accordingly, a small army of researchers, farmers, investors and entrepreneurs are trying to turn Georgia into the Saudi Arabia of biofuel. In August, more than 600 of them attended the Georgia BioEnergy Conference in Tifton. They heard scientists and politicians speak, heard how Brazil has become entirely energy independent (thanks mainly to sugar-based ethanol).
"I'm absolutely pursuing this. I think it's foolish to keep depending so much on foreign oil," says Joe Boddiford, a Screven County farmer who attended the conference and invested in a corn-based ethanol plant being developed in Camilla by a firm called First United Ethanol. "The farmers need to retain some ownership in these new fuels. The Exxons and Shells are already investing, and we definitely need something to come back to the farm."
Boddiford, who is on the Georgia Peanut Commission board and grows a variety of crops and trees, will note the results emerging from the biorefinery in development at UGA. And he hopes his trees might some day be transformed into cellulosic ethanol, perhaps by C2Biofuels, a company planning to construct a plant in South Georgia using technologies now in development at UGA and Georgia Tech, including research at the Strategic Energy Institute (SEI), which is actively involved in several energy technology development and demonstration projects.
Here Comes The Sun
The SEI and Tech are at the epicenter of new age energy research, from efficiency practices to new and emerging technologies. For example:
– Tech scientists are at the forefront of research in proton exchange membrane fuel cells (the stuff the automotive industry is interested in), and they've conducted successful flights of an unmanned, hydrogen-powered aircraft.
– Retired SEI director Sam Shelton, who now works part-time on a variety of energy-related projects, recently completed a collaborative study with the Southern Company, designing an offshore wind farm off the Georgia coast. "We think there's a unique opportunity," he says. "There are the environmental benefits, and it's pretty economical, especially compared to other renewables."
– Tech's University Center of Excellence for Photovoltaics (direct conversion of sunlight into electricity) is developing the technology that will make solar cells more efficient and affordable. A company called Ajeetco (named for professor and program director Ajeet Rohatgi) is commercializing the technology.
Solar seems the perfect solution to the world's energy needs for a number of reasons, starting with zero emissions and the endless supply – the earth absorbs more energy from the sun in an hour than it uses in a year. The major problem, of course, is still cost, especially in Georgia, which lags far behind states like Florida and California, which offer large incentives for solar installation. For example, a 5 kilowatt solar power system in, say, California carries a hefty price tag of about $45,000 up front, but state rebates and tax credits cut the cost in half.
"Our business has grown exponentially in the last 18 months," says Keith Freeman, vice president/CTO of OneWorld Sustainable, the company that installed the solar panels on Hawks owner Rutherford Seydel's Buckhead "EcoManor," the most energy-efficient home in the state. "The growth is the good news. The bad news is, our growth has been in the Carolinas and Florida. In Florida, the state pays half the cost of installation up to $20,000 for residential systems. Right now, Georgia has nothing."
OneWorld, which recently installed solar-power systems for Ted Turner in Montana and for the University of South Carolina, has spearheaded the Georgia Solar Schools Program to cultivate interest among middle and high school students in environmental and social sustainability.
"I've always looked at solar as a gateway to sustainable living," says Tim Blackwell, president and CEO of OneWorld. "It's part of the bigger equation."
Efficient Models
The most obvious and cheapest solution to meeting the state's energy challenges is to use less of it.
For Bill Bolling, founder and director of the Atlanta Community Food Bank, every dollar he saves in energy costs at the food bank's LEED (Leadership in Energy and Environmental Design) Certified warehouse/headquarters is a dollar that will help feed a hungry family.
"That's like giving him an endowment," says Dennis Creech, founder of Southface, whose organization promotes energy efficiency practices to a growing number of Atlanta builders and developers, through its numerous education programs and by setting an example. Southface's headquarters in Midtown Atlanta showcases more than 100 green ideas and technologies that cut the building's energy usage almost in half. Next door Southface is developing its Eco Office, where usage will be cut by 60 to 70 percent.
"Everything we're doing is 'off-the-shelf' technology," says Creech, who founded Southface 28 years ago. "This is technology being used elsewhere in bits and pieces. It's the integration, putting it all together in a package that is making a big difference."
Emory University has 25 acres of LEED Certified buildings on its campus. Georgia Tech, which has a 10-year-old solar array on top of its aquatic center, is building green. And, just five minutes (via hybrid car, of course) from Southface is 1180 Peachtree, the 41-story office tower developed by Hines, the first high-rise building in the Southeast to achieve LEED gold status.
All of this is fine, but for Katy Hinman and Georgia Interfaith Power and Light, achieving energy efficiency means answering to a higher power.
"We think that part of the faith community's mission is stewardship of our resources," says Hinman, executive director of the Georgia branch of an organization that has mobilized a national religious response to global warming, preaching conservation and efficiency, and promoting renewable energy sources.
"Preserving the health of the planet and its people should be part of the central mission of the faith community," says Hinman, who has a Ph.D. in Ecology and Evolution and a Master of Divinity from Candler School of Theology at Emory, and is a candidate for ordination in the United Methodist Church. "It's not about saving money, it's not about adding more tree-huggers to the congregation. It's about doing the right thing. I see this as a ministry."