2006 Legal Elite
For the fourth year, Georgia Trend presents a roster of the state's Legal Elite.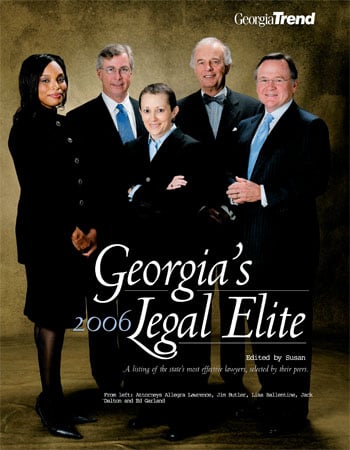 The Lawyers' Lawyers For the fourth year, Georgia Trend presents a roster of the state's Legal Elite – attorneys selected by their peers in 11 different practice areas. The list includes some 363 attorneys; some are named in more than one category.
To compile the listing, Georgia Trend mailed ballots to several thousand lawyers who are members of the state bar and whose practice areas correspond to those we are highlighting. We included a ballot on our Web site and accepted ballots from all attorneys who are members of the Georgia bar and practice in Georgia.
All ballots had to be signed. Respondents were not allowed to vote for themselves, but they could vote for lawyers in their own firms, so long as they voted for an equal or greater number of attorneys outside their firm.
The names of the top vote-getters appear in the following pages in these categories: Business Litigation; Personal Injury; Criminal Law; Labor and Employment; Taxes, Trusts and Estates; Real Estate Law; Bankruptcy and Creditors' Rights; Intellectual Property; Family Law; Corporate Law and Pro Bono.
Georgia Trend's Legal Elite is not affiliated with Super Lawyers or any other national or local listing. Ballots were tallied by the Georgia Trend editorial staff, with research assistance from writer-researcher Christy White. The editors selected the 11 individual attorneys who are profiled in this editorial section. Articles were prepared by Michele Cohen Marill, Bobby Nesbitt and Kenna Simmons.
Attorney Listings By Category:
Bankruptcy & Creditors' Rights