Keeping It Green
New revenues, mixed-use developments and greenspace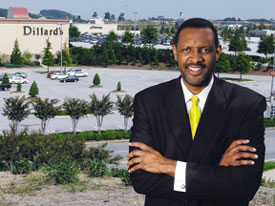 The tremendous growth in DeKalb has county officials thinking green – and not just about the millions of dollars in added revenue from new businesses.
Even more money would pour into the county in the form of federal funds and utilities' franchise fees if a proposal to make DeKalb a city passes the Legislature. That is high on Chief Executive Officer Vernon Jones' priority list – as is managing a balancing act of adding development while maintaining quality of life in a county that's considered one of the most nature-friendly in the country.
From Perimeter Center in the northwest to The Mall at Stonecrest in the southeast and in all the areas in- between, improvements are being made with the goal of creating more mixed-use developments, addressing traffic problems, protecting greenspace and maintaining the quality of life that has made the county so attractive to new businesses and new residents, the CEO says.
"Mixed-use developments make sense in terms of the impact they have," Jones says. "If a person can live in the neighborhood, walk to work or go shopping, it keeps the tax dollars there. There's less traffic on the street."
These developments are not typical shopping malls, he adds. "It's like the old Mayberry where you can walk from store to store down the sidewalk."
One of the premier mixed-use projects under way is at The Mall at Stonecrest, where a ribbon-cutting was held recently to open a second office building. Residential and retail growth is going well there, Jones says, with some 1,600 new homes, restaurants and shops opening around the mall.
"Stonecrest, which employs well over 5,000 people, has been one of our major successes this year," says Maria Mullins, director of the county's Office of Economic Development. "There is tremendous opportunity for growth there."
As growth continues, Mullins says, the challenge will be to make sure the jobs and housing match.
"We went to make sure we have affordable housing for our heroes – our nurses and police officers and teachers. We don't need to price housing totally out of the market. We need to make sure there is a place for them to live with us."
One way of achieving this goal, Mullins says, is through initiatives in the planning and zoning process that provide bonuses if developers build a component of housing that is more affordable.
"The developers are very excited to do that when you can show them a way they can meet their profit margin and do something worthwhile. We just need to partner with them and show them how it can be a success. And then people won't have to drive 60 miles to work."
The next goal at Stonecrest is to continue to make it a place where people work, play and live, says DeKalb Chamber of Commerce President Leonardo McClarty.
"We want Stonecrest to become an 18-hour destination place. Look at Cumberland or at Perimeter, where, because of the office development, you have activities going on all day long."
By adding more office space, Jones says, the county hopes more companies will move their offices there and create more jobs. And, as more residences are added, people will be able to work closer to home, drive short distances and not clog the freeways.
"We already have a Blue Flyer bus service from MARTA," Jones says, "but one of our priorities is to run the MARTA rail out there."
Traffic is still a problem around the Perimeter Mall area, McClarty says, but the area is more pedestrian friendly than it has been in the past. He praises the Perimeter Community Improvement District for the good job it has done with bus shuttles, ride shares and landscaping improvements for pedestrians.
"Now it's easier to walk to lunch from one of the buildings in the mall area than it is to get in your car and find a parking place," McClarty says. More traffic relief for Ashford-Dunwoody Road at Perimeter is on the way with the construction of the $40 million "flyover bridge," which will soar over I-285 from Perimeter Center East and connect at Lake Hearn.
"We're seeing the potential of a mixed-used development at the corner of Ashford-Dunwoody and I-285," Mullins says. "That's under way. Added development on the Perimeter Summit corridor is in the planning stages. We're looking at balancing office and residential and building pedestrian access into the Perimeter area."
Clifton Corridor
Another key development area is the corridor along Clifton Road through the Emory University campus. Both Emory and the adjacent U.S. Centers for Disease Control are expanding and moving forward with design plans in the billions of dollars in new investments.
"Children's Hospital [at Emory] is building a new state-of-the-art facility, phasing it in at the same site as the existing hospital," Mullins says. "And Emory is working to create a pedestrian campus with satellite parking areas."
What happens at Emory has a major impact on DeKalb. Emory has 21,807 employees at Emory University, Emory University Hospital, Emory Crawford Long Hospital, the Emory Clinic and the Wesley Woods Center.
Plans are under way to revitalize the Emory Village commercial area by changing the configuration of retail mix and by improving buildings, parking and sidewalks, and adding a roundabout to improve traffic flow at the five-way intersection of North Decatur and Oxford roads. Improvements are being made through the Clifton Community partnership, a collaboration among Emory University, Emory Healthcare and the businesses, organizations and neighbors who are part of the community.
The Alliance to Improve Emory Village, a like-minded group focused on improving the businesses in Emory Village, is working to create a safe, economically viable, walkable and compact mixed-use community that is compatible with and a resource to the surrounding historic neighborhoods and Emory University.
Other changes in and around the Emory campus include a proposed mixed-use retail, service and residential development on Clifton Road across from the Centers for Disease Control.
"We expect to break ground next summer. That site is not only near University, it's also near Emory Hospital and the Children's Hospital of Atlanta," says David Payne, director of communications, campus planning and outreach for Emory University. "There is a critical mass of employees who work on Clifton Road."
Having apartments and other housing in the development, as well as restaurants and retail shops, Payne says, allows more employees and faculty members to live and shop within walking distance of where they work.
"We're also expanding Cliff, our shuttle system, to include Executive Park [near I-85 and North Druid Hills Road] and the Veterans Administration Hospital on Clairmont Road as well as new stops to the North DeKalb Mall Park-N-Ride," he says. Rides are free, and the 59 alternatively-fueled buses run as early as 5 a.m. and as late as 12:30 a.m. On Saturdays, Cliff service runs to Lenox Mall; and Emory's Oxford campus will have service to Stonecrest Mall.
"Our goal is to reduce the number of single-occupancy vehicles in the area," he says. "We want to get people to change their commuting habits."
Emory has purchased a residential property on Clifton Road behind Emory Village on Peavine Creek, he adds.
"Emory wants to make it into a park-like property that will have community use as well as Emory use. We want to keep it green. Beyond the environmental aspects, it provides a buffer between the Druid Hills residential area and Emory Village."
New Arrivals
Development is changing the face of other communities in the county. A new Wal-Mart is moving into the Belvedere Mall area, and there will be a residential component, too, Jones says.
Other plans for the area include using Tax Allocation Districts – they use a self-taxing mechanism to fund transportation and aesthetic improvements – as a tool to redo Memorial Drive to I-285, adding lighting and moving the concrete barrier.
In Avondale Estates, Mayor Jerry McCumber is continuing to oversee a downtown revitalization project.
"Our commercial area had fallen behind in the last 15 or 20 years," he says. "We had a number of auto repair shops and old stores that weren't top-end and were in fact struggling."
Another problem was that Avondale's tax base was 93 percent residential to 7 percent commercial, and residential taxes do not cover the cost of services as well as commercial taxes. More businesses needed to be brought in.
Initial improvements included the opening of the James Joyce Pub and the Academy Theater. Both were good fits for Avondale with its Tudor-style architecture. Other projects in the works are the realignment of Franklin Street and the development of a four-story building with 45 to 50 condos. The first level would be retail and commercial.
The city of Decatur also is in the midst of a major transformation, McClarty says.
" Decatur is hot from a condo standpoint. It continues to show that people like to live in places where they can walk to restaurants and shop. They like to be able to walk along the square and have that central gathering place."
Decatur 's pedestrian-friendly downtown is one reason the city was chosen to host a major literary festival over the Labor Day weekend. Several thousand people attended the free Atlanta Journal-Constitution Decatur Book Festival featuring some 130 authors, musicians, food vendors and fireworks in the town square.
"I just read an article that other cities across the country have ' Decatur envy,'" Mullins says. "The city was not happy having the MARTA station coming in downtown, but they've taken advantage of it with handicapped access to the square and the restaurants. The new station is supposed to be finished by November."
The county's housing market is expected to remain relatively strong, Jones says, but like Fulton County, DeKalb has had to deal with the issue of infill, which occurs when smaller houses in older, established neighborhoods are torn down and replaced with mini-mansions. Many homeowners are upset because these out-of-proportion houses and cluster homes take up most of the lots and ruin the appeal of adjacent properties with large, nicely-landscaped yards.
"We didn't want a one-size-fits-all policy," Jones says. "Instead, we came up with an overlay district. If 55 percent of the residents approve it, we can approve the height restrictions. In historical districts like Druid Hills, they don't want big homes being built. We're doing this on a community-by-community basis."
While DeKalb is a good place to live, county officials want to make sure it's also attractive to a new brand of businesses. As the global impact increases, traditional jobs will be replaced with what Mullins calls "innovation economy jobs" or the "knowledge economy." Such an economy consists of service, financial, medical and information industries.
"We're not interested in smokestacks and those types of jobs any longer," Mullins says. "The citizens have spoken about how they want parks and greenspace and a clean environment. We have to encourage entrepreneurs to create their own businesses and nurture that part of the economy."
The chamber is working toward that goal as well as offering a helping hand to minority-owned businesses.
"A new program we had this summer that we hope to start again in the fall is a minority certification program," McClarty says. "When IBM, Coca-Cola, Cingular and other companies and state agencies get ready to award contracts to a business, they want to know if it's a minority-owned business. DeKalb has so many small businesses it will help them get in the door with larger corporations."
To supply workers for the knowledge economy, DeKalb is planning a workforce training program.
"We've been working with the school board on this," DeKalb County Executive Assistant Richard Stogner says. "The strength of our school system is very important. We have a lot of work to do in Georgia, but Vernon makes a lot of speeches encouraging people to stay in school. We're competing with people all over the world and we need an educated workforce."
The county is having no problem attracting new businesses because of its convenient transportation system and low county taxes. The challenge is keeping the ones already there from being lured away.
"We have people from all over the world coming here to recruit our companies out," Mullins says. "We need to be prepared for that. We need to have jobs that support a good standard of living with the quality of life we have."
Immigration continues to make a major impact on the most diverse county in the state. "The world has come to DeKalb to live," Jones says. "We do know that our workforce has a lot of immigrants. We have to hire people that are bilingual in the police department, fire and rescue and government services because immigrants are part of our fiber."
The biggest effect of the growing immigrant population has been on the school system. That is contributing to the need to build more schools and hire more teachers.
"The International Village corridor [in Chamblee] continues to grow with leaps and bounds," McClarty says. "There are plenty of business activities going on, but now a lot is being done in terms of landscaping, streetscaping and aesthetic improvements."
In addition, he says, more immigrants are starting their own real estate and banking businesses to serve a second generation of the Asians, Hispanics and Latinos who are buying homes and condos.
"Chamblee is really growing in terms of condos, townhouses and independent housing," Jones says. "It's happening in Doraville, too. People want to come back inside I-285 to avoid traffic gridlock."
The immigrant population is impacting not only Chamblee, but other places in the county as well, Mullins says. "They're in the new condos in Decatur and you see them in Dunwoody. One of the great stories is how people are coming together. We're not like other cities where cultures tend to isolate themselves. It's become a wonderful integration of different countries and cultures. It's a very welcoming atmosphere."
City Of DeKalb?
And, finally, there is the question of making DeKalb a city. "We should already have been a city," says Jones, who has sent a proposal to the Georgia General Assembly based on a study he commissioned that examines the fiscal impact of such a conversion.
"It's best for the citizens. If DeKalb became a city, we would qualify for additional federal dollars. I'm a fiscal conservative, not a pseudo-Republican conservative," the CEO says. "If you create a city of DeKalb, there's no increase in taxes, there's revenue increase, and it prevents creation of these new cities through annexation. There's no advantage other than a tax increase to annex a city at this point.
"I'm going to do everything I can to educate people about the advantages of this. Richmond and Augusta consolidated, Athens and Clarke consolidated, and Columbia County is getting ready to incorporate. It makes government more efficient and it makes sense for DeKalb."
The idea for making DeKalb a city is not new. Former county CEOs Manuel Maloof and Liane Levetan both considered it. In fact, Mullins says, in 1998 DeKalb County actually went to the National League of Cities meeting to compete for the National City of the Year.
"And DeKalb County won city of the year."
DeKalb County At-A-Glance
Population: 677, 959
Unemployment Rate (Aug. 2006): DeKalb, 5.2 percent; Georgia, 4.6 percent
Median Household Income: $49,117
Higher Education: Agnes Scott College, Columbia Theological Seminary, DeKalb Technical College, Emory University, Georgia Perimeter College, Gupton-Jones College of Funeral Service, Luther Rice University, Oglethorpe University
Top Five Employers: BellSouth Telecommunications, 22,041; Emory University, 21,807; DeKalb County Schools, 6,876; DeKalb County Government, 6,600; Cox Enterprises, 5,322
Sources: U.S. Census Bureau, DeKalb County Chamber of Commerce, Georgia Department of Labor, Emory University