Fighting Hunger, Changing Lives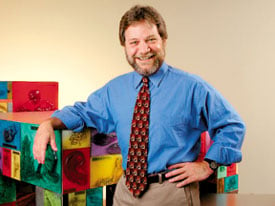 For the past six Novembers, two days before Thanksgiving, members of Atlanta's media have joined forces with Atlanta Braves pitcher John Smoltz and Atlanta Falcons linebacker Keith Brooking in preparing thousands of Thanksgiving meals for hungry Atlantans.
Called "The Great Thanksgiving Dish," the event is one of many innovative programs designed by the Atlanta Community Food Bank (ACFB) and its seven partners in the Georgia Food Bank Network (GFBN) to reach Georgians in need.
Bill Bolling, executive director of the ACFB, likens the network to an actual financial institution. "The statewide network is like the headquarters. The eight different banks then partner with and serve 2,400 community organizations," he says. "Each bank is an equal and independent body but we serve a common purpose."
That common purpose, to fight hunger by engaging, educating and empowering the community, is done through the act of feeding, but that's just the beginning. "I consider food to be a tool," Bolling says. "Through serving or providing food, we are able to engage people where they are in their lives and direct them to the resources to make the next step."
Bolling points out that the mission of many of ACFB's partner agencies has little to do with food; instead they might have an after-school program or a program serving senior citizens. "The food bank enables those organizations to do what they are called to do," Bolling says. "The real work isn't in distributing food, it's transforming lives; and I've seen that happen in the people who are served and in those who do the serving."
The ACFB opened in 1979 and was soon followed by sister organizations in Savannah and Macon in 1981. Branches in Augusta and Valdosta opened in 1982, followed by Columbus and Albany in 1983. The Athens food bank opened in 1992. An informal Georgia Food Bank Association began in the early 1980s and was incorporated as a 501(c)(3) several years later.
"All the food banks have their different personalities," Bolling says. "I think it reflects the leadership."
He describes the Valdosta Food Bank as "entrepreneurial," a description Frank Richards, its president and CEO, does not dispute. "I think [Bill] means we're willing to try anything and everything to help hungry people," Richards says. "We get a wide variety of items donated and we are always willing to take that product and find ways to use it."
Richards learned the importance of long term strategic planning when he noticed a trend in the late 1990s in grocery stores toward more freezer and refrigerated sections, and an emphasis on prepared foods. "This meant our organization had to be prepared to handle donations of those types of foods," he says.
In 1997, the Industrial Authority in Lowndes County offered a piece of land to the food bank in the county's industrial park where it built a facility in 1998, expanding twice, adding a 1,900-square-foot commercial kitchen in 2001.
That kitchen came in handy when Valdosta became temporary home to thousands of evacuees from Florida and the Gulf Coast in the wake of devastating hurricanes in 2004 and 2005. Tapping into its emergency food and water reserve, the Valdosta food bank collaborated with the Red Cross and Salvation Army to prepare thousands of food boxes. "We sent 187 truckloads of water," Richards says. "We provided water to Moody Air Force Base."
The Food Bank of Southwest Georgia in Albany saw its share of hurricane evacuees as well. "It was crazy," recalls Dwayne Myles, the energetic young executive director who's also CEO of the Valdosta bank. "We had around 1,000 evacuees from Katrina and Rita. Second Harvest, the National Food Bank, called and told us to let them know what we needed. They shipped everything directly to us."
But food banks aren't just for times of crisis. "It's easy to get caught up in your world and forget that there is a need," Myles says. With a grant from Wal-Mart, the Southwest Georgia food bank has started a "Backpack Program," filling backpacks with nonperishable food for up to 300 children each week.
"Ninety-five percent of [our] kids get their breakfast and lunch at school through the free and reduced lunch programs. We were seeing children going home for the weekend not knowing if they would have food to eat," Myles says. "We fill up the backpack with nutritious food that they don't have to cook. They bring back the empty backpack on Monday and we'll fill it up again for them to take on Friday."
On The Move
Another program used in several of the statewide food banks involves Manna Trucks, large tractor-trailers of food that go where the need is: often a rural crossroads or a parking lot. Manna Trucks extend the regional food banks' reach into rural areas where, quite often, poverty is high and resources are scarce.
Using any of the network's 2,400 partner organizations, the food bank, whether in Albany, Augusta or Valdosta, gets word out that a Manna Truck will be in the area, often sending flyers to constituents. The partner organization takes "orders" and the food bank pulls items together. "We provide groceries for two weeks," Myles says. "Food and produce. It's usually enough to feed a family of three or four." Volunteers, the mainstay and backbone of the food bank network, spend three to four hours distributing the food.
In 1982, even before the director had an office, the Golden Harvest Food Bank in Augusta began the Master's Table, a community soup kitchen. "When the food bank started, the board of directors wanted to not only address the problem of long term hunger, they wanted to feed people immediately, says Mike Firmin, longtime executive director of Golden Harvest. Master's Table began as a pilot program, moving locations from week to week.
Nine years later, the Master's Table found a permanent home and hired a manager, bringing the food to one location where it's been feeding the hungry ever since. In 2005, Master's Table served 88,885 meals to an average of 244 people a day.
The community volunteer support is astonishing. "If you wanted to volunteer at the Master's Table, you'd have to wait your turn," Firmin says. "All the dates in 2006 are subscribed by different community organizations."
In close proximity to the University of Georgia, the Food Bank of Northeast Georgia has a built-in reservoir of young, able bodies with a zeal for public service. A campus volunteer center at the University of Georgia connects students with volunteer opportunities at the Food Bank. Campus fraternities, sororities and other organizations sponsor numerous food drives throughout the school year. In food bank terms, 1.5 pounds of food translates into one meal. Consider this: In 2005, the food bank in Athens, which also operates a branch office in Cornelia in Habersham County, collected and distributed more than 4 million pounds of food.
During the summer of 2006, the Middle Georgia Community Food Bank (MGCFB) finally moved from its cramped warehouse on College Street to a 31,000 square foot facility off Ocmulgee East Industrial Boulevard in east Bibb County. Ronald Raleigh, MGCFB Executive Director, had been searching for a new location for 9 years after having to turn down multiple truckloads of fresh produce because of a lack of refrigerated storage space. The MGCFB annually distributes an average of 5.5 million pounds of food via 310 participating agencies.
The Second Harvest Food Bank of Coastal Georgia in Savannah reaches out to low-income senior citizens through its Brown Bag for the Elderly program. Volunteers fill grocery bags from the food bank warehouse, making deliveries at the end of the month, when the need is greatest.
Savannah 's food bank works with more than 320 nonprofit agencies in its diverse urban/rural region. Because many local agencies don't have the resources to transport food from the warehouse to their area, the Savannah food bank does it for them with rural delivery. Each day drivers fill orders for small churches or community centers providing, in many cases, the only emergency food resource in the area.
Columbus ' Second Harvest Food Bank of the Chattahoochee Valley founded Kids Cafés in 1995, offering a special after-school dinner program for children. The meals, about 700 a night, are prepared in a commercial kitchen and then distributed to community centers, usually within walking distance of children's homes. Kids Cafés in Columbus offer more than 100,000 meals each year. Boys & Girls Clubs administer the program in Valdosta. "We'll partner with an after-school program as long as it's a facility with homework assistance," says Richards, the Valdosta food bank director. All eight partners in the GFBN offer Kids Cafés or some type of program designed to feed hungry children.
Members of the Georgia Food Bank Network are bound by more than a common goal. Much of the food received is surplus, made available through a contract with the United States Department of Agriculture. Rather than negotiate with eight different banks, the contract is made with the network and administered through the ACFB. "We approach our work as a business proposition," Bolling says. "Because we're using resources that are donated we have to be transparent and accountable for every dollar."
Bolling and his colleagues continue to be gratified by the level of financial and volunteer community support they receive. "Like a bank, we grow and become part of the fabric of a community," he says. "Ask anyone and they will say the same thing, the best thing about food banking is the people; the good people who work here and the people who choose to work with us."