In The Thick Of Battle
Tech legend George Mathews stopped hearts and watches on the field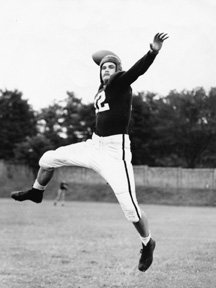 George William Mathews, Jr., one of the greatest and most successful Yellow Jackets of them all, wanted to attend the University of Georgia, not Georgia Tech.
When he was scoring touchdowns left and right for Columbus High School (1941-1943), he was hailed by the Columbus media as "another Frank Sinkwich," a reference to Georgia's first Heisman Trophy winner, a unanimous All-America pick and the man who, along with All-American Charley Trippi, drove the Bulldogs to the 1943 Rose Bowl and a victory over UCLA.
"Sinkwich and Trippi were my heroes," Mathews says, "but my dad made it clear that if I wanted his support, I would play for Tech, not Georgia."
And boy did Mathews play for Tech ? as a freshman, sophomore, junior and senior. The 5-foot-11-inch, 155-pound wingback was a two-time All-Southeastern Conference choice and an honorable mention All-American. He was also named to the late, legendary Coach Bobby Dodd's all-time Tech team.
"Mathews could do it all and he did," Dodd said. "He was a slashing runner, a brilliant pass defender, a great receiver, the best running passer I ever saw and the smartest player on the field of any player I ever coached."
As a freshman in Tech's first victory ever in Georgia's Sanford Stadium (1944), Mathews led the 44-0 rout, scoring three touchdowns, throwing a leaping pass for another and catching a dozen passes himself.
Legendary Atlanta Constitution Editor Ralph McGill wrote, "Paul Revere's ride was dull as dishwater compared to the mad gallops of Mathews, who proved that fact was stranger than fiction."
What longtime Tech fans most remember about Mathews is how he turned defeat into victory in the 1946 Navy game. Navy was leading, 20-14, and ready to score again with the ball on Tech's 5-yard line and only three minutes left to play. Mathews caught a Navy fumble in midair, never broke stride and raced 95 yards for a Tech touchdown. Tech scored again and won the game, 28-20.
"When Mathews latched on to the ball," wrote Bill Tucker of the old United Press, "he was GWTW (Gone With The Wind). Nobody clocked him on his run because watches stopped along with 33,000 hearts in Grant Field."
The late Georgia Coach Wally Butts said, "I'm not dumb. I knew Mathews was going to be a great one. When he was at Columbus High School, I spent most of my summers in Columbus trying to recruit him. He was good enough to play for any team in America."
On coach Butts' recommendation, Mathews played and started for the College All-Stars his senior season at Tech and so impressed the New York Giants that they immediately offered a pro contract for $8,000, no small sum in the 1940s. Mathews declined the offer.
After attending graduate school at Harvard, he joined the Bluebird Bus Company in Fort Valley and turned it into the largest maker of school buses in the world. He developed a charbroil grill. He took Columbus Iron Works and turned it into Columbus Foundries and then into Intermet, which did worldwide business.
Mathews is retired. He maintains homes in Atlanta, at Big Canoe and on Sea Island. He has been married to the former Jan Kerr of Atlanta for 43 years and they have two children.
I wondered how many 16-year-olds would have gone to Tech in 1944 to play football when the team was stocked with seasoned personnel in the Navy's V-12 and V-5 programs.
Then I remembered what the late Atlanta Journal columnist, Morgan Blake, wrote, "Mathews can dish it out and take it. He is never so happy as he is when he is in the thick of battle. Although he is a kid on the team, he is an inspiration to the veterans."
Mathews has given more than his athletic talent to Tech. He also built the George W. Mathews Heritage Center, located in the J.C. Shaw Sports Complex, to share the school's sports history with the world.