Georgia's Big Problem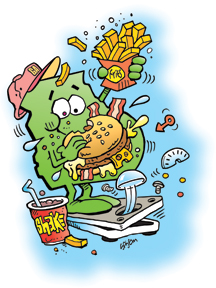 Georgia is growing – in more ways than one. You don't have to look far to see the evidence: Check out any mall, office building or public park. You'll see buttons popping, bellies hanging over belts, too much flesh fighting for space in too little fabric. In less than 20 years the state's overweight population increased drastically; more Georgia adults than not weigh more than they should.
From 1983 to 2002, the percentage of Georgia adults who were overweight (having a body mass index of 25 to 29.9) or obese (having a body mass of 30 or above) grew by more than 66 percent – from 39 percent to 59 percent – making Georgia the sixth biggest state in the nation and putting more than half of us at increased risk for weight-related health problems and premature death.
But adults aren't the only ones affected. A report released earlier this year by the Georgia Department of Human Resources found that 43 percent of Georgia third graders were either overweight (19 percent) or obese (24 percent) – almost five times the percentage (5 percent) of children nationwide. "One can only project pretty dire consequences from these findings," says Stuart Brown, M.D., director of the Georgia Division of Public Health.
"Up until now, every generation has lived longer, more productive lives than the prior generation," says Dr. Brown. "But if we don't start addressing the obesity issue in childhood, I fear that we will lose the advantages of all the advances made in recent years – in screening methods, diagnostic methods and early care methods."
If the trend continues, this may be the first generation in history to live sicker and die younger than their parents.
For adults as well as kids obesity carries heavy consequences. The greatest is an increased risk of type-2 diabetes, which itself is associated with a host of health problems, including heart and kidney disease, vision loss and stroke. Other problems linked to obesity include high cholesterol, some cancers, asthma, gall bladder disease, osteoarthritis, depression, sleep apnea and elevated surgical risk.
Obesity-related illness costs the Georgia economy $2.1 billion annually in medical costs and reduced productivity and lost wages, according to a Georgia Division of Public Health report titled Overweight and Obesity in Georgia 2005. "The health care costs are staggering," Dr. Brown says. "We are paying for this health problem with our insurance coverage and everything else."
For an estimated 6,700 Georgians annually, the wages of obesity is death; weight-related health problems account for approximately one-tenth of all deaths in the state in any year.
"Simply put, people who are obese are more likely to die," says Leena Khaitan, M.D., obesity expert and assistant professor in the Department of Surgery at Emory University. "Once you get to a body mass index of 40, you are at least twice as likely to die in a given year as a normal-weight individual. And the risk goes up with your weight. If your BMI is 50, you're three or four times as likely to die in the year."
The problem is so severe that some experts believe obesity will soon beat out smoking – if it hasn't already – as the number one preventable cause of death.
What's Making Us Fat?
Experts cite a number of reasons why the obesity rate is increasing. The main ones are our increasingly rushed lifestyles and advances in technology, says Inas Rashad, Ph.D., an assistant professor of economics at Georgia State University, whose research focuses primarily on obesity. "We cook much less and we work much more – in sedentary jobs, no less. We drive everywhere and find it convenient to purchase fast food – it's filling, it's palatable, it's cheap, and most of all – it's fast," she says. "There is a time cost associated with cooking – time that we cannot afford to spare."
Obesity tends to be more common among African Americans, those with lower incomes and those living in rural areas, which partly explains why Georgia and other Southern states are at high risk (Mississippi is number one), Rashad says. According to the Centers for Disease Control and Prevention and Department of Human Resources estimates, 32 percent of non-Hispanic black adults in Georgia are obese, compared to 17 percent of non-Hispanic white adults; and black children are more likely to be obese (27 percent) than white children (21 percent). Children from low socioeconomic households or rural areas are more likely to be obese (26 percent) than those from high socioeconomic households or metropolitan Atlanta (21 percent).
While experts can't say exactly why minority, rural or lower socioeconomic populations are more likely to be obese, one major factor is probably education level. "We know that there is a strong relationship between income and education attainment and nearly every [health] risk factor," Dr. Brown says. As economic status and educational level increase, so do healthy lifestyle practices, such as getting regular physical activity and eating fruits and vegetables.
In addition, the degree of what is termed urban sprawl – which is high in certain metropolitan areas including Atlanta Ñ has been partly associated with higher obesity rates. Areas with high degrees of urban sprawl are more spread out – supermarkets and centers of activities are not easily reached without cars.
Ironically, even some otherwise beneficial phenomena contribute to increases in obesity, says Rashad, who sites decreased smoking rates as an example. "High cigarette taxes and clean indoor air laws have deterred people from smoking, but often smoking cessation leads to increased weight, as smoking tends to suppress appetite and increase metabolism.
"We must be careful when shedding light on causes for the rapid increase in obesity, because that doesn't necessarily mean [the causes] are bad," she says. "For example, improvements in technology [elevators, microwaves, cars, etc] have improved our lives in many ways; obesity was an untended consequence. Women entering the labor force was a very positive change; obesity was an unintended consequence. Outlining potential reasons for the increase over the years does not necessarily mean going back to the way things were in the 1930s!"
Rather than laying blame on causes of obesity, Rashad says, we must simply be aware of them and work toward solutions.
What's The Answer?
Basically the formula for maintaining healthy weight has remained unchanged since the dawn of time – balance the number of calories you consume with the number you burn through physical activity. But for most people that simple equation proves difficult. Not only is technology making it possible for us to be less active, but food portions are growing ever larger, making it harder to eat less.
"There's no way of saying it politely – we overeat," Dr. Brown says. "All-you-can-eat establishments are popular. If we go to a restaurant and we have a nice meal, if they serve us small portions, we feel cheated instead of thanking the restaurateur for protecting us. We have an inability to balance these things correctly."
Often the tactics people take to lose weight backfire. For example, "low fat" foods may actually have more calories than their regular counterparts. Low-calorie foods may give people the feeling they can splurge elsewhere, resulting in a net gain of calories. Crash dieting can cause short-term weight loss followed by a gain in weight that often surpasses one's pre-diet weight. Skipping breakfast may lead to overeating later in the day.
Diet medications, though they have proven useful for many, carry unpleasant or in some cases harmful side effects, says Dr. Khaitan. For example, orlistat (Xenical), a drug that promotes weight loss by blocking the absorption of fats in the intestine, causes gas and diarrhea. A decade ago, the popular weight loss combination drug fenfluramine and phentermine (Fen-Phen) was removed from the market after reports of heart valve damage in women taking the drug.
When drugs prove too troublesome or simply don't work, many people turn to surgery. In 1991, a National Institutes of Health Consensus Development Conference on Gastrointestinal Surgery for Severe Obesity concluded that gastric restrictive or bypass procedures were appropriate for people with a body mass index of over 40 (equivalent to 235 pounds for a 5-foot-four woman or 300 pounds for a six-foot-tall man) or a BMI of over 35 with associated health problems.
In the years since, two procedures – the Roux-en-Y gastric bypass procedure and the lap band – have become popular, effective choices for the surgical treatment of obesity. The lap band – the most commonly performed weight-loss surgery in the world – involves placing a synthetic band around the top part of the stomach. "This tricks your body into thinking the portion above the band is the entire stomach," says Dr. Khaitan. "As long as the portion above the band is full you don't feel hungry."
Gastric bypass, on the other hand, involves detaching a ping pong-ball-sized section of the stomach and rerouting the intestines so that not all of the food eaten is absorbed. Most people who undergo these procedures experience dramatic weight loss, but the procedures are not a quick, easy fix. Nor are they without complications, says Dr. Khaitan, co-director of Emory's Bariatric Center, one of about a dozen medical centers in Georgia that performs weight-loss surgeries. "If you look at Roux-en-Y, the mortality rate is between 1 and 2 percent. Part of this is that [due to obesity] patients are prone to having heart attacks, pneumonia and blood clots. All of these things are related to surgery-related mortality." For the lap band procedure, she says, the mortality rate is lower.
The Starting Point
Research holds a number of other possibilities for weight reduction – including the potential identification of genes that control hunger and satiety and the development of less invasive surgical procedures that can be performed through a scope inserted down the throat.
The most important answer to obesity, however, lies in education and teaching people to eat healthily and be physically active – a process that will take time. "We didn't get here overnight and we can't solve the problem overnight, either," says Mara Galic, nutrition program coordinator at the Georgia Division of Public Health.
Already a number of efforts are addressing Georgia's obesity problem. In 2003 the Georgia Department of Human Resources was awarded a grant by the CDC to develop and implement a 10-year plan to address obesity and chronic disease in Georgia. A summary of the effort, Georgia's Nutrition and Physical Activity Plan, can be found at the Department's Web site, health.state.ga.us.
While the consumer will be the ultimate beneficiary, the initiative's target audience is the partners – including other state agencies, local public health departments and businesses, Galic says. "What we are trying to do is create systems change, policy change and environmental change so we create a culture where being physically active and eating healthy is the norm."
As part of the requirements for the CDC grant, the Georgia Department of Human Resources developed a work site intervention program targeting state employees working in the department. The intervention has several components to support physical activity and nutrition.
The nutrition component is focused largely on increasing fruit and vegetable consumption with fruit and vegetable recipes and discounted produce at an on-site produce store. The program promotes physical activity through buddy walking groups, daily employee-led exercise classes, motivational posters and signs prompting employees to use the stairs rather than elevators; a Web site where employees can log their steps and monitor their progress, and awards for meeting goals.
While the worksite intervention targets Georgia adults, many efforts will – and should be – aimed at children; habits they develop now could help prevent obesity for lifetime.
This year, for example, the department has partnered with the Georgia Action for Healthy Kids (part of an integrated, national-state effort that is addressing the epidemic of overweight, undernourished and sedentary youth by focusing on changes in the school environment) to support school districts in developing USDA-mandated local wellness policies.
Other efforts directed at children include the Childhood Obesity Initia-tive launched by the Philanthropic Collaborative for a Healthy Georgia, a forum for bringing foundations together to better understand and explore the health-related challenges facing the state.
But the real solution to obesity begins at home. "Parents need to take getting their children [fit and healthy] as a key issue for raising children – walk their children to school, send the kids outside instead of letting them sit and watch TV. We would like to see the entire family incorporate improved eating habits and more exercise time," Dr. Brown says.
"We often ask patients what is the earliest you remember being overweight," says Dr. Khaitan, whose center performs between 300 to 400 obesity surgeries annually. "Most can recall being overweight at 8 or 10 years old. If we can educate people and teach people how to eat healthy and how to live a healthier lifestyle at that age, they wouldn't have the problem in the first place, they could grow up to also be healthy adults."
Georgia's Fat Facts
59 percent of Georgia adults are overweight or obese.
56 percent of white non-Hispanics are overweight or obese. 67 percent of black non-Hispanics are overweight or obese.
69 percent of Hispanics are overweight or obese.
27 percent of low-income Georgia children between 2 and 5 years of age are overweight or at risk of becoming overweight.
Note: The CDC's Web site, www.cdc.gov, has an easy-to-use body mass index calculator
Source: CDC