Evander And Me
Legends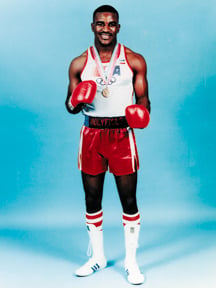 Evander Holyfield and I have much in common. We both started boxing at the old Atlanta Boys Club, now the Warren/Holyfield Boys & Girls Club. We both had the late Carter Morgan as our manager, trainer and coach. We both won a championship four times.
But there was one difference. Holyfield won the professional heavyweight championship of the world four times, and I won the city of Atlanta amateur title four times.
On my bid for a fifth consecutive crown, unlike Holyfield, I found out I was no prizefighter. I fought Ken King in the finals of the city boxing tournament and the bout went something like this: King would throw a left hook and I would block it with my chin. King would throw a right cross and I would block it with my jaw. I did go on to win the Georgia State Golden Gloves lightweight championship but I had sense enough to know I was no pro.
So, Holyfield became the world champ and I became a sportswriter.
Success did not come easy for the future champion. The youngest of nine children (four brothers and four sisters), Holyfield was born Oct. 19, 1962 in the mill town of Atmore, Ala. When he was eight years old his family moved to Atlanta's southside and Holyfield grew up at the Boys Club, where he was a benchwarmer on the 65-pound football team
Ten years later, as a junior at Fulton High School, he was still a benchwarmer. At 5' 4" and 115 pounds, he vied for the job of cornerback but his coach prevented him from being knocked into the cheap seats by keeping him on the bench. It was the best thing that ever happened to him because he gave up his dream of being a pro football player for the Atlanta Falcons.
Instead, he turned to boxing, where youngsters competed within the same weight class. He pestered coach Morgan every day at the Boys Club to let him try out for the boxing team. The coach finally yielded to Holyfield's persistence.
"If he can fight as well as he can badger me," Morgan said, "he will be a champion."
During his first three years in the ring, Holyfield never lost a fight. As an amateur, he compiled an impressive 169-11 record, winning a Silver Medal in the Pan-American Games, the 1984 National Golden Gloves title, a berth on the U.S. Olympic team and a Bronze Medal in the 1984 Olympics.
After the Olympics, Holyfield began his quest for the world championship. He spent six days a week in the gym, relentlessly punching the speed bag, skipping rope, shadow-boxing, sparring, lifting weights, running and swimming. He won his first pro fight on a six-round decision. It was the beginning of a string of 27 consecutive wins — 21 by knockouts.
Paul Schultz, vice-president in charge of operations for Boys & Girls Clubs of Metro Atlanta, attended Holyfield's first fight in 1986 in Atlanta. "He was supremely confident," Schultz recalls. "I had a front row seat. When he climbed into the ring, he gave me a 'thumbs up' and a wink of the eye and I knew he was going to win."
And win Holyfield did, a 15-round decision over Dwight Qawi for the World Boxing Association cruiserweight crown.
Holyfield continued to drive himself in the gym and with outside roadwork. He weighed 208 pounds; 38 pounds less than heavyweight champion James "Buster" Douglas when the two men met in Las Vegas in 1990 in a title fight. Holyfield knocked Douglas out in the third round.
But Holyfield didn't hold the title for long. In Riddick Bowe in 1992, he not only met a bigger opponent but one equal in talent. Bowe won a 12-round decision. The combatants fought two more times. Holyfield won the second match to regain the title but Bowe won the third.
Mike Tyson put his title on the line against Holyfield in 1996, a dreadful mistake. Holyfield slugged Tyson from bell to bell and finally stopped him in the 11th round. They fought again in a rematch, which ended when Tyson was disqualified in the third round for biting Holyfield's ears.
After a 21-month absence, Holyfield, now 44, kicked off his fifth quest for the heavyweight champion title Aug. 18, defeating Jeremy Bates by TKO in 10 rounds. At press time he was planning another fight in November.
When not in the ring, he splits his time between homes in Fayetteville and Houston, Texas.
He was inducted into the Atlanta City Sports Hall of Fame last June and he was already a member of the state of Georgia Sports Hall of Fame.