General Rodeheaver: A True Leader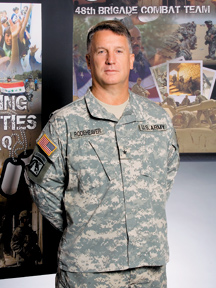 Maybe it was the image of a soldier being comforted by a commander, their foreheads touching, a meeting of the minds. Or maybe it was the bodies in the streets, or the Iraqi children or human forms silhouetted dramatically against a low hanging sun. It finally got to Brigadier General Stewart Rodeheaver, these images, projections of life and death, unrelenting, beautiful and terrible.
He dabbed at the corner of his eye, pulled himself together in a dining room 6,000 miles away from the checkpoints and battlefields, then stood up and told stories about soldiers and sheiks, about the small Bedouin boy who chose a pair of size 12 sneakers from hundreds of pairs of footwear, because they were the only shoes he'd ever own, and he wanted to grow into them.
That recollection made the general's voice choke. But he continued briefing the audience of media and well-wishers at the Atlanta Press Club's June luncheon that were convened to honor him and the men and women under his command – the 4,600 citizen soldiers of the Georgia Army National Guard's 48th Brigade Combat Team.
The brigade had been back in Georgia for a month after a yearlong deployment in Iraq. The slideshow, stunning images provided by Atlanta Journal-Constitution photographers who were embedded with the 48th, brought it all back again in color.
"Seeing those pictures, I started thinking about the sacrifice, the people we lost, the guys sleeping on the ground, wounded soldiers. It hurt hard. Every time I see something like that, it hurts hard," Rodeheaver says. "We left a piece of ourselves over there. Seeing those pictures, I was overwhelmed with compassion and sadness for the Iraqi friends we left, and thought to myself that we were not quite through with our mission.
"But that's the nature of it. You don't stay long enough to see the whole thing through. You do the best you can with the time you've got."
Rodeheaver never doubted his brigade's heart. He always knew that, when it was required, every one of his soldiers would strap on their gear, pick up their weapons and charge into whatever waited in the frowning desert heat or the perilous Iraqi night.
There were isolated moments when Rodeheaver had a palpable sense that significant passages of human history were being written by the teachers, carpenters, police officers, cashiers, fathers, mothers, sons and daughters who went to war with him; the moments when Rodeheaver and his soldiers bridged gaps between people, ideologies or communities without firing a single shot.
"We went in with the mandate that we were going to treat everybody with dignity and respect," Rodeheaver says. "We were going with the premise that we are here to rebuild and secure, not secure and rebuild.
"So, we didn't shoot first, we tried to work with people, because I really believe that you change the world on a person-to-person basis."
Rodeheaver always has been a consensus builder. He spent 30 years with Georgia Power, first in construction, then in community and economic development, based in Macon, bringing cities, counties and business interests together to work through development and planning issues.
As a general, he did those things in Iraq also. He sat with tribal leaders, preached the gospel of democracy, debate and dialogue, facilitated the construction of water treatment plants, schools, medical centers and other infrastructure.
Of course, the 48th also did warrior's work, completing more than 12,000 combat patrols, capturing and detaining almost 500 suspected terrorists; discovering weapons caches and hundreds of improvised explosive devices (IEDs); training more than 3,000 Iraqi soldiers, and conducting the largest air mobile operation by any Army National Guard unit in history.
That air mobile operation relied heavily on Rodeheaver's knowledge of power plant design and construction. Insurgents had been using the partially completed Russian facility on the Euphrates River as a launching point for IED and sniper attacks. Rodeheaver determined that the enemy had to be hiding in the unused water intake tunnels.
Lt. Col. Bruce Chick, commander of the brigade's Aviation Element, planned the complex nighttime delivery of an entire battalion (about 600 soldiers) on the plant site. The mission also exemplified Rodeheaver's effects-based leadership style. "He tells you the outcome he wants, then asks his staff officers how to achieve it," says Chick, who has known Rodeheaver for 24 years. "His level of commitment and confidence in his subordinate commanders is unquestioned. He's a master tactician who trusts his officers' expertise. He's a team builder."
Thick Red Line
During the course of a year in Iraq, the brigade lost 26 lives, which gets to the glaring differences between doing community development in Georgia and doing it in a war zone. There's the shooting, the bombs, the dying, potential life-altering tragedy at every intersection. That is the thick red line.
"We lost some great guys," says Rodeheaver. "Just … great guys. Every one of them wanted to be there. I had soldiers who were wounded, and when I asked them what I could do for them, they'd say 'Get me back to my unit as fast as possible,' soldiers who lost arms and legs who told me that if they couldn't be an infantry soldier, they could be a damn good administrative soldier.
"You become not just a family, but blood brothers. You go through this life-changing event together, depending on each other. Every morning you wake up and hand your partner your life, hoping to get it back at the end of the day. It's … tough."
Rodeheaver always tried to maintain balance, tried to see the world diplomatically through two pairs of eyes, his own and those of the Iraqi people who, at first, only saw a heavily armed American occupying force. This was not your typical development authority planning session.
The general and his brigade expended a lot of energy building relationships and trust, not unlike Rodeheaver's mission for all those years with Georgia Power.
"I've been in county commission meetings in South Georgia where the talk is about water, electricity and jobs. The Iraqi people were saying the same things," says Rodeheaver, who retired from Georgia Power in August to pursue military career options (he's up for a second star, and figures he'll be stationed in Washington, D.C., or Atlanta). "Of course, in South Georgia they're not likely to pull a big knife or a gun on you."
Rodeheaver grew up in Forsyth, a few miles north of Macon, hunting and fishing in rural central Georgia. Always an athlete, he's been a boxer, competed in rodeo, even played semi-pro football – at 5-10, 230 pounds he was a hustling, stocky linebacker with great field vision for the Macon Chiefs.
He was also a successful entrepreneur, who created a series of outdoor products (scents, bug repellent, bow sights). He had to close down the company to go to war, but he's been meaning to talk about possibly revving it back up again with his business partner.
Rodeheaver joined the National Guard when he was 18, and had no expectations of a long military career. But within three years he'd graduated from Officers Candidate School. In 2004 he received his star as a brigadier general.
"From the beginning, I always hunted the jobs that would put me with the soldiers. I did not want a job writing reports, sitting in an office," Rodeheaver says. "I wanted to be out in the woods when they were in the woods, or in the desert when they were in the desert."
Rodeheaver trained with the Georgia Guard in 1991, for Operation Desert Storm, but hostilities ended before the unit finished its desert training in California. By fall 2004, there was no doubt that this time Georgia's Guardsmen would get the call.
In Iraq, the brigade would have a three-pronged mission: Secure South Baghdad, support and help create a Democratic form of government, train Iraqi soldiers. Including the Iraqi army, Rodeheaver had about 10,000 soldiers in his command.
They arrived in Iraq in May 2005, and Rodeheaver was barely on the ground when his vehicle was hit by an IED. The next day it happened again. The day after that, a rocket bounced off the hood of his truck. "At that point, I knew it was going to be a long year," he says.
The Georgia Power Plan
Within the Triangle of Death, Rodeheaver had Georgia Power's "Economic Development Triangle," a comprehensive guide for building communities and planning for growth. Kerry Campbell, Georgia Power's corporate manager of community and economic development, had it translated into Arabic for his old friend; and Rodeheaver used the guide in his dealings with Iraqi local leaders.
One important message Rodeheaver stressed to the Iraqis was the lesson of inclusion. "You can't build communities by leaving a significant amount of people out of the process," he says. "If the Shia want to build a community in a certain way and they don't consult the Sunnis, they build enemies.
"In Iraq, if you do it that way, people will shoot at you. Over here when you leave out a group of people, they just vote against you. So we tried to settle those differences, and I used community development tools from Georgia Power to show that there is a method for planning and building that doesn't require shooting at each other."
Rodeheaver always chose negotiation over combat whenever possible. It's a conciliatory attitude that seems to have disintegrated with the departure of the 48th, which left south Baghdad in October 2005, redeploying to a base farther south, from which the brigade conducted its new mission, theatre security, that lasted until May of this year. The 48th lost 26 soldiers during its year in Iraq. The younger, more aggressive active army unit (101st Airborne) that took over in south Baghdad lost twice as many soldiers in half the time. "Because," Rodeheaver says, "they chose to fight first, instead of working with the people first."
Rodeheaver won't be hypercritical of the active army units in Baghdad, but he can't help pointing out that the 48th had two main advantages – maturity and secondary skills.
The average age of Georgia's 48th is 36. Active army soldiers are usually between 18 and 25, and have spent most of their adult lives learning about combat. Georgia's Guardsmen have spent most of their lives working civilian jobs, raising families, settling down. Rodeheaver, who is 53, says his age and life experience helped create inroads with Iraqi tribal leaders.
"There was one in Mahmudiyah who was about 65 years old. Before we arrived he was sitting down with a 30-year-old active duty officer, trying to negotiate, and he just couldn't relate," Rodeheaver says. "He said, 'I have sons older than 30.' But we were able to sit down and talk as peers, talk about our grown children. The Iraqis were more comfortable dealing with us because we're older and we showed them respect."
The Guard – so-called weekend warriors who left their everyday lives to fight a war – brought well-honed professional skills to an area that badly needed them, says Lt. Col. John King, the Doraville police chief who commanded the battalion in Mahmudiyah, and who has known Rodeheaver for 22 years. "The Iraqis could smell someone faking it a mile away. You can't go in there and dazzle them with hand waving and gestures. They believe you when you roll up your sleeves."
The 48th did plenty of that. When a water treatment facility needed to be built – or a power station, bridge, playground, school or medical center – Rodeheaver had no end of talent at his disposal: plumbers, electricians, carpenters who did the job in days, rather than months.
Additionally, Rodeheaver and his commanders built relationships between tribes that allowed Iraqi contractors to safely complete projects in places where they'd previously been dodging bullets. The 48th provided more than 1,900 jobs for local citizens, established 22 polling sites in the Triangle of Death, where 62,000 citizens voted, and spent more than $19 million on Iraqi community projects.
Foundation of Trust
Early on, Rodeheaver decided to make a bold statement on the streets of Mahmudiyah, so he asked King to find out who was in charge. "We were not very popular at the time, but he was determined to go out and meet the Sunni sheiks when nobody was engaging the Sunni tribes," King says. "He's a risk taker, and he's not shy about going out into the field. He's not a garrison commander."
Soon, the general was strolling through the market in his protective gear, a 21st century knight meeting with sheiks in the coffee shops, talking with street vendors, building trust. "It was like walking into the lion's den," Rodeheaver says. "But the more we spoke with them, the more we were accepted. They'd say, 'We don't have enough electricity to run the hospital.' So we'd fix that. The next time, they looked forward to seeing us."
Rodeheaver combines an officer's no-nonsense style with uncommon people skills and information-age sensibilities. Messages flew back and forth between families and soldiers who had their own laptops and access to Internet trailers. The general got plenty of complaints from wives and mothers about Army chow and living conditions on the bases.
"I'd get a note from a mother complaining she hadn't heard from her son in 30 days, so I'd find the guy, put a hand on his shoulder and say, 'Do me a favor and call your mama,'" Rodeheaver says. "The soldier's reaction was usually shock."
Rodeheaver also worked to win over the media. "He realized how important it was to have us there with him," says Moni Basu, an AJC reporter who covered the 48th in Iraq. "Because he knows that we were the eyes and ears for the families back home. It was a learning experience, on both sides. We had our moments, when I was called into the general's office and he made his point. But we had pretty good access."
Dale Russell, an investigative TV reporter for WAGA-Atlanta who spent almost two weeks with the 48th in the days leading up to the October elections, was told, "Go where you want to go, anywhere you want, interview anyone, have at it," Russell says. "The way I read it was, here's a guy who is comfortable with what his men and women were doing and saying. You don't open yourself up to the media in that fashion unless you really trust your troops."
Basu was consistently impressed with Rodeheaver's political savvy. In fact, the rumor among soldiers and families of the 48th was that the general had political aspirations. "None whatsoever," insists Rodeheaver, who says his three years on the staff of then-U.S. Sen. Mack Mattingly put him off politics for good. "He was a great guy and it was great experience, but I found out I have no interest in politics."
Local Iraqi leaders who couldn't pronounce "Rodeheaver" started calling him "governor." The soldiers started calling him governor behind his back, and the rumor spread on the bases in Iraq and in the blogosphere. "He performed very well in that setting," Basu says. "It was fascinating to see this native Georgian who had never been a politician before act as a sort of governor or mayor, speaking with local councils and sheiks. When it came down to it, he was very diplomatic."
The 48th made international headlines for an extracurricular mission of mercy. Members of the brigade were searching a home for weapons last December when they found the ailing Baby Noor. The soldiers spirited the infant girl to Atlanta, where she received surgery to treat a dangerous birth defect.
"We had a number of atypical missions like that one," Rodeheaver says. "Times when we were looking for criminals and we found family members in dire need of medical assistance.
"We'd go into places where the people were drinking water that came off their roofs; they hadn't had clean drinking water for months. So we supplied water, or we got them medical attention at one of our clinics or the hospitals in Baghdad, or we brought in our veterinarians to treat their animals. We'd ask what their biggest problems were, and we tried to fix them."
For a short time in a simmering country – an eternity for soldiers, no doubt, but short in the grand universal scheme – a general's diplomacy and a brigade's humanity made a difference. Most definitely, they fought and secured and did the things warriors have been doing for millennia. But the difficult task – the thing Rodeheaver seems most proud of – was the building, the creating, the winning of hearts and minds. That's the part he feels is unfinished, the part that takes time.
"It doesn't just happen, building a community isn't done overnight," Rodeheaver says. "You can't go over there with a dictator's wand and say, today we're fighting, and tomorrow we'll be a community. It just doesn't happen that way. It never does."