Carpet Maker To The World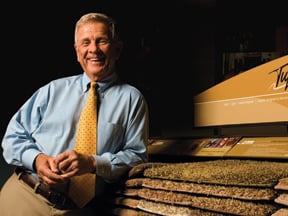 Your mother always warned you not to leave any footprints on the carpet. She never said anything about carpet leaving its footprint on you. But it already has, in so many ways.
There's the economic footprint Georgia's enormous carpet industry is leaving on the state, especially the Northwest region, and the aesthetic footprint it leaves on the nation and the world:
The carpet and flooring industry employs more than 45,000 workers in Georgia with a payroll topping $4 billion – the largest of any manufacturing sector in the state.
The world's four largest carpet companies, and seven of the 14 largest, are located in Georgia (Shaw Industries, Mohawk Industries, Beaulieu of America, Interface, Milliken, J&J Industries, Collins & Aikman Floorcoverings).
More than 80 percent of the U.S. carpet market – which supplies 45 percent of the world's carpet – is controlled by mills located within a 65-mile radius of Dalton. That equals about $10 billion in business activity within a golden tufted circle.
"Imagine, this all started as an outgrowth of the tufted bedspread business. Guess we've come a long way since then," quips Bob Shaw, CEO of Shaw Industries, the world's largest carpet manufacturer, headquartered in Dalton. "The tufted carpet industry, which started right here, is one of the few industries created wholly in this country."
Then there's the messy environmental footprint the carpet industry, like nearly every other industry, leaves on the environment – a footprint that Georgia's carpet makers are working diligently to reduce.
"When we issued our first sustainability report in 2000 we defined our environmental footprint from 1990. By 2002, when we published our third report, we had reduced that footprint by 80 percent," claims Werner Braun, president of the Dalton-based Carpet and Rug Institute, the industry's national trade association.
"This industry is the only one I know of in the United States that meets the Kyoto Protocol. We have less carbon dioxide emissions today than we had in 1990 and we're producing 40 percent more product."
About 5 billion pounds of carpet gets shoved into landfills each year, but because of the commitment of industry leaders like Shaw, Interface founder/chairman Ray Anderson, and their fellow carpet makers, hundreds of millions of pounds of carpet are being diverted from landfills and recycled into carpet products. In the process, a broad new reclamation industry is emerging.
"We're enabling creation of the infrastructure, the technology, the products, the marketing, the economic models that will power new businesses," says Bob Peoples, executive director of CARE (Carpet America Recovery Effort), the three-year-old joint industry-government program designed to increase recycling and reuse of post-consumer carpet. "The concept of recycling material has been around for a long time, but I never anticipated that one of the side benefits would be the building of a new industry."
In a sense, history is repeating itself. Just as handmade tufted bedspreads sold on Georgia mountain roadsides gave rise to a multibillion-dollar carpet industry powered by entrepreneurs like Bob Shaw, the reclamation of wasted carpet is helping to grow a new generation of entrepreneurs, like Atlanta-based NYCORE, which makes durable building products from recycled carpet material – tile backerboards, stormboards and synthetic slate roofing shingles.
NYCORE has a plant in Minnesota and recently opened one in Cobb County with plans for a third in the Northeast. It sells about 45 million units of 100 percent recyclable product a year.
"We're committed to being a green business, but to be crude, the green we are most concerned about is profit," says CEO Steve Steele. "We found a way to turn a profit and create entirely sustainable, durable products. We're diverting millions of pounds of carpet from landfills into our process."
Steele's goal is to open plants across the country, close to his sources, which means the new Georgia plant should stay busy, because no state makes more carpet or creates more carpet waste. For entrepreneurs like Steele, yesterday's garbage is tomorrow's money.
Roadside Capitalism
The ancestral roots of Georgia's tufted carpet industry began to grow at the end of the 19th century when a young Dalton woman, Catherine Evans Whitener, started making and selling bedspreads. Inserting threaded loops of yarn into blankets, she revived the handcraft of tufting and it spread like mad across North-west Georgia.
"That was the genesis of the carpet industry, which would eventually dwarf the old bedspread industry, leap several quantum leaps ahead in fact," says Randy Patton, a history professor at Kennesaw State University and the author of a number of books and articles about Georgia's carpet industry history.
"You can trace a logical line of progression from Mrs. Whitener and those other women and what they did by hand to the mechanized industry of today."
By the 1920s and 1930s the hills were alive with roadside capitalists as thousands of men and women engaged in a thriving homespun industry. In the 1930s, mechanics in the region adapted industrial-grade Singer sewing machines to steer the bedspread industry into mass production. The industry thrived thanks to an existing textile infrastructure – plenty of yarn, lots of mechanical and managerial know-how.
By the 1950s, firms like Cobble Brothers from Chattanooga and Cabin Crafts in Dalton had developed larger tufting machines for bedspreads and scatter rugs and, finally, room-sized carpeting. The traditional weaving of carpet gave way to the faster tufting technology.
Meanwhile, the development of new fibers, like nylon and polyester, accelerated the growth of the carpet industry. These yarns were durable, similar to wool but more economical, allowing early entrepreneurs to offer a luxurious product for half the price of a similar woven wool product. In 1950, about 10 percent of all carpet and rug products were tufted. The rest were woven. More than 90 percent of today's carpet is tufted using the process that evolved from the bedspread industry.
"The advances in production technology and the development of synthetic yarns took the industry to the next level," Shaw says. "That's what really jump started everything."
The specialized dyeing and finishing companies that initially cropped up to serve the old bedspread industry started providing service to local carpet makers. "These companies just evolved with the carpet industry," Patton says. The gold rush was on. According to Patton, the number of competitors in the carpet industry grew from about 90 in 1958 to more than 400 in 20 years, with most of those firms located in Georgia.
By the 1980s the number of carpet companies, including service industries, began shrinking in an age of vertical integration. It was an era when Shaw's firm's revenues grew from a few hundred million dollars to a couple of billion. "We went in two directions," Shaw says. "It was backward and forward integration."
Shaw went backward, purchasing suppliers to reduce dependency, and forward, adding or buying finishing facilities and distributing its own product. Top to bottom self-sufficiency.
Traditional carpet companies also started diversifying in other ways, adding hard flooring – wood, ceramic, laminate, etc. Mohawk especially branched out and is now the world's largest flooring company, while most years Shaw is the top carpet seller.
"Mohawk is an interesting story," says industry observer Dave Foster, the host of "Floor Radio," a weekday morning talk show, and co-manager of Floordaily.net, a carpet-industry news site. "When I first went on the air 14 years ago, they had about $200 million in sales. It's over $6 billion now, because they lined up an investment company, went out and started buying people like crazy, made like 30 acquisitions. The rest is history."
Industry observers credit much of Calhoun-based Mohawk's success to Jeff Lorberbaum, whose parents founded Aladdin Mills in Dalton in 1957. Aladdin merged with Mohawk in 1994 and Lorberbaum became president and CEO in 2001. "The growth of his company in the past five years is nothing short of phenomenal," says industry consultant Tom Rennie. "Jeff's strength is in managing that growth, assimilating these new companies into the overall plan quickly, easily and profitably."
Last spring, Mohawk found itself in the middle of a monumental case before the U.S. Supreme Court that focused on one of the carpet industry's most telling changes of the past few decades – the subject of immigrant workforce. A class action was brought against the firm, alleging the hiring and concealment of illegal immigrants in order to suppress legal workers' wages. The company steadfastly denies the charges. At issue was whether Mohawk was in violation of federal Racketeer Influenced and Corrupt Organization (RICO) laws. In June, the Supreme Court ruled in Mohawk's favor.
"The allegations are unfounded," Lorberbaum said during his quarterly conference call in late April. "We are confident of our position as the case goes forward."
The Dalton area's Hispanic workforce has been praised for solving a troublesome labor shortage. According to Patton, as the industry entered a new millennium, Hispanic immigrants were estimated at one quarter to one half of the local mill workforce.
Local leadership has been lauded for creating a welcoming atmosphere for the newcomers. Dealing with the rapid influx of Spanish speaking students in the Dalton school system, local attorney Erwin Mitchell, with help from Bob Shaw, established the Georgia Project, a pioneer program to promote bilingual education.
"Thank goodness that when we needed to fill these jobs, we had people come in to keep the carpet investment here," says Dalton/Whitfield Chamber of Commerce President and CEO George Woodward. "In general, these are people with strong family values – red, white and blue values; people who are buying homes, setting roots and becoming part of the community."
Rising Stars
With giant tufting machines rolling out miles of carpet made from affordable synthetic yarns, major players emerged and grew in and around Dalton/Whitfield County, Gordon, Catoosa, Murray and Bartow counties.
In 1954, Shaheen Shaheen, the son of Palestinian immigrants and his wife Piera Barbaglia, born in Iowa and raised in Italy, started World Carpets. Foreshadowing a trend, World Carpets became the one of the first companies to integrate its business, from manufacturing to distribution, launching the carpet industry's first company trucking division. The company has since merged with Mohawk.
In the early 1950s Rollins Jolly and Tom Jones joined forces to create J&J Industries, now one of the world's largest privately held broadloom manufacturers, exclusively producing commercial carpets. J&J has been a pioneer of the industry's environmental sustainability movement, using recycled materials and minimizing its impact on air, water and land. Last year the work on the J&J Wetlands Conservancy, a 20-acre site adjacent to its headquarters, was completed. The company has donated the natural wetlands to the city of Dalton.
While Shaheen, Jolly and Jones were establishing themselves as new giants of the industry, Clarence Shaw was running Star Dye, a company he founded to dye and finish bedspreads, robes and small rugs. When he died in 1958, management of the company fell to his sons, J.C. and Robert.
"I never really worked with my father, and actually came back to Dalton to close out his business," Bob Shaw says today. "I decided there was a better living to be made in the emerging carpet industry."
The brothers established Star Finishing Company and later bought Philadelphia Carpet Company, which then became Shaw Industries in 1971. From the outset the company was designed, in Bob Shaw's words, "to grow itself rather than sell itself," using the bulk of those early proceeds to reinvest in new technology, new divisions, and products.
Shaw ignited an intense consolidation movement in the late 1980s with the purchase of large competitors, and by 1992 Shaw was the carpet king. Turnabout is fair play, and in 2000 the company was bought for $2 billion by Berkshire Hathaway in 2000 and by 2004, Shaw's annual revenues were well over $5 billion.
Newer carpet giants have since emerged in Northwest Georgia. For example, Beaulieu of America was founded in 1978 by Belgian-born Carl Bouckaert, son-in-law of Roger De Clerck, owner of Beaulieu Belgium, Europe's largest carpet business. Within a few years, Beaulieu of America was the third largest broadloom-carpet manufacturer in the U.S.
Dalton also became host to a cousin of the carpet industry. A thriving synthetic turf industry has taken shape in Northwest Georgia. But Ron Van Gelderen, who heads the Synthetic Turf Council, (his industry's version of the Carpet and Rug Institute), is quick to point out, "This is not part of the carpet industry, it's completely separate." Synthetic turf, says the former CRI president, "isn't a floor covering, it's a sophisticated system."
Early versions of fake grass, in domed and open-air sports stadiums, used to be referred to "carpet" by the athletes who played upon it. Today it's more like a manmade organism, with ad-vanced underlay, cushioning and drainage systems. AstroTurf, the granddaddy of fake grasses, has been reacquired numerous times and now is headquartered in Dalton. Other major turf players in Georgia include Challenger Industries and Grass-Tex.
Covering The Earth
Not all of Georgia's carpet industry is in Dalton. Two of the world's largest companies, Interface and Milliken, are located in Troup County, often considered the Mecca of the industry's environmental sustainability movement because that's where Ray Anderson found religion.
A native of West Point, Anderson founded Interface (today the world's largest manufacturer of commercial, tiled carpeting) in 1973. The business was booming by 1994 when, says Anderson, "Our customers asked what we were doing about the environment and I had no answer. We didn't have an environmental vision. I'd never given any thought to what we were taking from Earth or doing to the Earth."
So he read entrepreneur Paul Hawken's seminal work, The Ecology of Commerce and became an instant convert, like Scrooge after being visited by three ghosts. Twelve years later, Anderson claims, "there isn't a single company on Earth that has made the progress we've made."
Anderson has committed Interface to erasing its environmental footprint by 2020 and existing without using a drop of oil, the traditional lifeblood of the industry's synthetic materials. He's bent on 100 percent recyclable products. He has a plant that uses methane gas to power facilities; the company has reduced water usage down to a relative trickle, and harmful emissions are way down. Anderson credits the good will of the marketplace for allowing it to happen while sustaining his company's bottom line.
"A narrow slice of humanity, some wonderful people – architects, interior designers and such – wanted to do the right things for the environment," Anderson says. "So here we are showing progress, eliminating waste, reducing greenhouse gases, becoming energy efficient, and those same people are embracing us. We want to be first to the top of the sustainability mountain, but we don't want to be the last. There's plenty of room up there."
Anderson takes his message on the road throughout the year, speaking to hundreds of trade groups, spreading the word like an apostle. But the sustainability movement is pretty crowded. Milliken has long been among the leaders in the effort. Shaw and Mohawk have developed their own innovative sustainable products and methods.
Shaw has been using a non-PVC carpet backing since 1999 and makes a completely recyclable carpet tile product; last year the company bought a Honeywell plant in Augusta to reclaim used carpet yarn. Mohawk, one of the largest recyclers in history, annually takes about 200 million pounds of plastic drink bottles and turns it into carpet yarn. But Frank Endrenyi, Mohawk's VP of technology and sustainable development, adds a sobering spin to the sustainability subject.
"In all of our discussions about the water and energy we've saved, the reduction of emissions and the diversion of carpet from landfills, the one thing that gets overlooked is the one thing that has the greatest impact on sustainability," Endrenyi says. "What is the most sustainable product in the world? It's the product that never has to be made again, something that lasts and lasts."