Atlanta Gallery Association
Organizations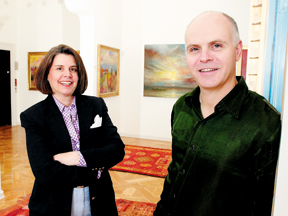 When a group of intown gallery owners first dreamed up the idea for the Atlanta Gallery Association 15 years ago, the city was considered – even by many local collectors – as second-tier, with far fewer artists and works of the caliber found in places like New York and San Francisco.
Today, thanks to its annual art exhibition programs such as ATLart and Arthouse, the association is helping the city raise its profile in the art world and promote the full range of visual arts within the metro area.
"What we want to do is to tell the city of Atlanta about all that is available out there to take advantage of in the visual arts," says association president Susan Gibbs, who owns Twin House Gallery. "And not just in [professional] galleries – also museums, the not-for-profit art scene, and college and university galleries."
Made up of 33 galleries largely in the city's Buckhead, Midtown and Castleberry Hill neighborhoods, as well as Decatur, the association extends membership to galleries that devote at least 80 percent of their space to original, one-of-a-kind work by artists from Atlanta or across the country.
In January, the group celebrated the third anniversary of its signature event ATLart, a 19-day exhibition held at 36 galleries and six museums around Atlanta. The shows highlight works that can be found in member galleries year-round – ranging from early 18th to 21st century American and European paintings and fine art prints to modern and contemporary paintings, sculptures, photography and more.
With the event, the association hopes to "light a creative spark" for visitors each year. "People who come go back and may not necessarily create art, but they find what's creative in them," Gibbs adds. "They go back and make furniture, or draw, or write – it's amazing what individuals can produce when they use their creative talents."
This July, the association will host what it calls "Introductions '06," a weekend-long exhibition that takes place in all 33 member galleries, specifically for showing the work of new artists to the gallery-going public. And, organizers hope, to attract visitors who perhaps would not have taken in a gallery opening in the past.
"I would like for us to become more firmly ensconced in people's minds, as something that is vibrant and serious and they can enjoy and participate in, and that enriches their lives," says Timothy Tew, owner of Tew Galleries and a past president of the association. "All these assets are right here in Atlanta, you don't have to go look for them elsewhere – they're right at hand."