West Central Georgia Forging Ahead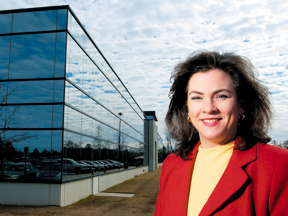 In these still hard-to-predict economic times, most Georgia forecasters are more hopeful than positive that better days are ahead. Becca Hardin has no doubts.
"We had a great year last year and this year will be even busier and better," says Hardin, a leader of economic development efforts in the Columbus area, the powerhouse for the 16-county West Central Georgia region. State analysts agree, saying the region will be Georgia's hottest growth spot in both population and new jobs for 2006 – and likely for most of the next decade.
With new companies coming to town and existing ones expanding, Columbus is experiencing growth not seen in many areas of the state. But what's coming, courtesy of the U.S. Army, will be much, much bigger.
Columbus is home to Fort Benning, the military training facility covering more than 181,000 acres in Muscogee and Chattahoochee counties in Georgia and Russell County in Alabama. With some 44,000 military and civilian employees, Fort Benning is already the area's largest employer with an annual economic impact of more than $2 billion. As a result of the Pentagon's plan to close U.S. bases and cut back on troops based in Europe, Fort Benning will be growing – big time.
And as Fort Benning grows, so will the Columbus area, which is expected to see a population increase of almost 30,000 over the next four to six years. That total comes from the more than 10,300 military personnel, civilian employees and contractors who, with their 19,600 family members, will be coming to the area because of the fort's expansion. To serve all those new people, officials estimate some 4,000 new jobs will be created.
That population jump "will be like adding a city the size of LaGrange," according to a report from the Fort Benning Futures Partnership, a civic group helping plan for the future growth.
Further brightening the economic picture is a construction boom that includes a massive program to restore or replace military housing. According to the Futures Partnership, on-base construction alone will total some $3 billion over the next 10 years.
Fort Benning's growth is not the only good news for Columbus and the Valley Partnership, a joint development authority serving Columbus' home county of Muscogee, plus Chattahoochee, Harris, Marion, Talbot and Taylor counties, and the cities of Manchester and West Point.
"2005 was one of the best years we've had in a long, long time, with almost 4,000 new jobs and $250 million in capital investment," says Hardin, executive vice president of economic development for the Greater Columbus Chamber of Commerce and the Valley Partnership.
The biggest boost came from Aflac, the giant supplemental insurance provider headquartered in Columbus. The company announced plans in November for a $100 million expansion that will add 2,000 jobs over the next six years.
Hardin expects more good news in 2006. "We have active projects in every partner area," she says. "We've been developing our product and now we're ready to do the marketing and land some deals."
But, while Columbus' boom is expected to benefit its nearby neighbors, it will not be equally shared among all the 16 counties in the West Central Georgia region. The more urban areas like LaGrange-Troup County and Americus-Sumter County see positive signs for growth, but some of the more rural locales are still struggling.
LaGrange-Troup has had its own battles trying to replace jobs lost when a once-thriving textile industry almost disappeared. Jane Fryer, president of the LaGrange-Troup County Chamber of Commerce, admits it has been difficult in recent years to find a lot of positive things to say about the local economy, but says she is now "optimistic things are starting to improve."
Fryer and other local officials have worked hard to attract new industry, such as ae group ag of Germany, which opened a plant in February to manufacture parts for the automotive and aerospace industries. The new facility is expected to bring a total of 300 new jobs and $50 million in investment to the area in the next five years.
"It looks like growth in manufacturing will continue," Fryer says, "and residential growth is very strong. We're also planning a new 1,800-acre industrial area, there are two new shopping areas planned and downtown LaGrange is really blossoming."
LaGrange has been on a building and renovating spree in recent years, and construction will keep going strong through 2006. The new Troup County government complex opened last fall and a 10-screen movie theater is scheduled to open this fall, along with a new 350-car parking deck. Plans are also being finalized for a new history museum, the Museum on Main.
"We've completed most of our infrastructure work so this year we're focusing on recruiting new businesses," says Kim Bartlett, executive director of the Downtown LaGrange Development Authority. "With much of our construction and beautification projects complete or nearing completion, we're starting to get a lot of interest in our downtown area."
In Sumter County, "Everything is looking good for 2006," says David Garriga, president of the Americus/Sumter County Chamber of Commerce. "Our manufacturing is strong and solid, our new tech companies are expanding, retail is growing. We had 17 new small businesses open last year. Downtown Americus is vibrant and downtown property is hot. We're fortunate to have a very diverse economic base."
For 2006, Garriga says he's seeing "much more confidence in the economy. All in all, I don't see much negative this year."
After seeing her community go through some difficult years because of plant closings, Betsy Hueber, president of the Thomaston-Upson County Chamber of Commerce, says she's excited about 2006. "Last year was a good year and 2006 looks great," she says. "Our building permits are up, business licenses are up, the retail sector is strong, a number of existing industries are increasing employment … we have a lot of good things going."
Hueber says two major projects announced in 2005 are scheduled to be completed this year. The Bank of Upson's $5 million expansion in Thomaston is due to be finished by the third quarter and Upson Regional Medical Center's $16 million expansion and renovation should be completed by the third or fourth quarter.
Hueber is also looking for big things from small business. In November 2005, Upson County became Georgia's 12th "Entrepreneur Friendly" Community, a designation given to locales that have developed programs and an environment to help small business and entrepreneurs thrive. "With the competition to attract new industry becoming tougher, we've developed an ambitious program to grow our own businesses," Hueber says.
Unfortunately, not all counties in West Central Georgia started 2006 on a high note. Meriwether County was hit with bad news in January, when Newell Rubbermaid's Goody Products, the county's largest private employer, announced it would be closing its plant in July. The plastics products manufacturer had operated in the county for more than four decades.
"The closing is hard but not unexpected," says Kip Purvis, president of the Meriwether County Industrial Development Authority. "With more and more of this type work relocating offshore, it has become increasingly tough to compete." Once employing as many as 1,500, the Goody plant was down to around 200 at the time the closing was announced.
The county did get some good news in January with the opening of West Georgia Technical College's new workforce development center in Greenville. "We're excited about the center," Purvis says. "It should help us in meeting the challenge of creating new jobs."
"We're an emerging community," Purvis says. "Sadly, we're a rural community still desperate for jobs, but we are starting to see signs of growth working its way toward us from Metro Atlanta, Columbus and other areas. It's a slow process, but there are positive signs."
Planning and revitalization are on the agenda in 2006 for economic development officials in Heard County and its county seat, Franklin. Julie Pope, president of the Heard County Chamber of Commerce and executive director of the county's development authority, says the groundwork is now being put in place for hoped-for future growth."
Phase 1 of our downtown Franklin redevelopment should be completed this summer and we're now planning for the second phase," she says. Phase 1 includes transforming a small open space in the town center into a mini-park with a gazebo, benches and veterans memorial. The next phase will include street and sidewalk improvements.
"We're excited our small downtown will soon be a more beautiful area and will attract both new businesses and people," Pope says.
Tourism is important to most of West Central Georgia, and the area's biggest attraction has a major expansion coming in 2006. Ground was broken last September on The Lodge and Spa at Callaway Gardens, a facility that will provide the Harris County resort's most luxurious lodging and services – as well as 278 jobs – when it opens this fall.