Optimism and Recovery: Central Georgia Welcomes New Jobs, New Opportunity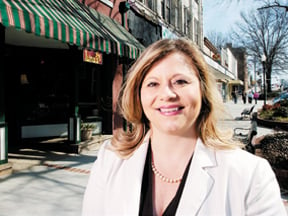 There's economic activity throughout Georgia's central region, with new jobs, new initiatives and a renewed determination.
In Bibb County, the Bass Pro Shops 500,000-square-foot distribution center is set to open early this year; an attached 100,000-square-foot retail operation is in development.
Bass is adding 400 new jobs to the community, says Patrick Topping, senior vice president of the Macon Economic Development Commission. The announcement spurred the development of a more than 200-acre retail park. "Over a period of two to five years, you will see a lot of retail in that area," he says.
This is good news for a county that has had its share of plant closings. Brown & Williamson, the area's largest employer, is due to shut its facility by mid-2006, putting more than 2,000 people out of work. Keebler has announced the closing of its Macon plant in the fall, a loss of 400 jobs; and First Data credit card company is closing its Macon facility, affecting 300 people.
"This Bass Pro Shop, while it certainly won't replace good high-paying manufacturing jobs, will provide good opportunities for a lot of good people and provide more sales tax revenue for our community," Topping says.
Macon can also look forward to a new 214,000-square-foot Sara Lee Food & Beverage distribution facility, which will employ up to 140 people and bring $24 million in new investment, according to the Georgia Department of Economic Development.
In Baldwin County, more than 400 jobs have been created since July, says Angie Gheesling, executive director of the Development Authority of the City of Milledgeville and Baldwin County. Companies including Rheem Manufacturing, Vought Aircraft and Vernay Manufacturing are expanding. Rath Refractories, Inc. bought the county's existing 41,000-square-foot spec building and was scheduled to begin operations in March.
The development authority has partnered with neighboring Wilkinson County to create a joint development authority to focus on developing the area where U.S. 441 and the Fall Line Freeway intersect.
Last year the downtown area saw completion of a $1.6 million streetscape project, which added greenspace and improved parking access and pedestrian areas. This year Gheesling plans to create a resource center for prospective entrepreneurs offering "one-stop service providing the ABC's for business ownership."
Ben Hill County's chief accomplishment in 2005 was reinstating its development authority after a 15-year hiatus, says Larry Davis, chair of the county Board of Commissioners and the development authority. The authority assisted Belle Plantation, a company which manufactures items with peanut flour. About 15-25 jobs were created.
"One of our main goals is helping small businesses who need alternative financing to help them get things off the ground," Davis says.
Tower Aerospace, based in a Calgary, Alberta, Canada, is opening a facility in Dodge County, employing 50 people, says F.J. "Josh" Fenn, president and CEO of the Eastman-Dodge County Area Chamber of Commerce. A Tower sales office was due to open in February, with the facility opening this summer.
Smurfit-Stone Container, the county's largest manufacturer, has announced a $1.6 million, 100,000-square-foot expansion. Georgia Aviation Technical College has completed its expansion, which includes two hangar buildings and, in partnership with the Heart of Georgia Regional Airport, a terminal building. The expansion helps further the county's growth in aerospace, says Fenn. "We're a very diverse economy," he adds.
Dooly County is building a two-acre lake in its southwest corner. Hydrology studies were recently completed, and the geology and endangered species studies will be under way soon, says Bob Jeter, executive director of the Dooly Economic Development Authority. The lake would be used for irrigation, recreation, fire protection and flood protection, he says; the project should be completed in about five years. "We're trying to keep everything on the fast track."
Houston County is on the fast track in aerospace, aided by the federal Base Realignment Closure Commission's decision to keep local economic powerhouse Robins Air Force Base open, says Frank Field, president of the Warner Robins Area Chamber of Commerce. "Not only did we retain the vast majority of what we have but we gained some positions and shifted some functions," he says.
The base, which employs 27,000 military and civilians, wrote $4.1 billion in contracts in the fiscal year that ended in September 2005, Field says.
In March 2006, the area's second Wal-Mart Supercenter will open near Houston County's aviation museum. Currently, business and government leaders are looking to develop the area, which does not yet have much infrastructure. Wal-Mart "will transform that whole area," he says, "and create a ripple effect" of development.
Last year, the Irwin County Detention Center opened with 440 inmates and 90 employees, says Hazel McCranie, president of the Ocilla-Irwin Chamber of Commerce. The facility is a boon to the community, with inmates doing community service, she says.
"This year is going to be our year," McCranie says, adding that six projects between $6 million and $8 million are in the works. Cargo South trailer manufacturing is expanding, as is Precision Homes, which will add almost 400 new jobs to the area.
Tracy Trovillo, executive director of the Development Authority of Jasper County, says 44 percent of the county's existing industries plan expansions; to assist them, Jasper acquired $676,000 in SPLOST funding for economic development over a six-year period.
Jasper, Newton, Morgan and Walton Counties have formed a Four County Development Authority, and last year began to build a road into the 1,500-acre Stanton Springs Technology Park, a mixed-use business facility.
Much of the economic development in Jones County in 2005 was residential, says William Matthews, executive director of the Jones County Development Authority. As a "bedroom community," he says, Jones County does not have much industry. But this year, plans are under way to create a business park. "We've picked out a couple locations and are trying to see whether we need to go with a partnership or develop privately."
Lamar County is reinvigorating its development authority. Without an executive director for four years, the volunteer board recently hired Missy Kendrick. One of her first tasks was instituting quarterly industry roundtables. "This is going to put everyone in touch with one another so we can identify common goals or problems and address them as a community," she says.
Last year was a "roller coaster" for economic development in Laurens County, says Willie Paulk, president of Dublin-Laurens Chamber of Commerce and Development Authority. Rockwell Automation announced that 200 jobs would be sent to China over a period of three years, beginning in 2006. "We're devastated by the loss of jobs because, as a small community, we rally around our small businesses and industries," she says.
But 175 jobs were created by El Dorado Stone, a California-based veneer stone manufacturer, which opened in 2005. This year, the development authority wants to build a new spec building, since El Dorado Stone bought the existing one. "We do have available properties we're marketing now to attract new industries," Paulk says.
The Forsyth-Monroe Chamber of Commerce and Development Authority of Monroe County sold its spec building, creating 10 jobs and bringing $538,000 to the economy, says Pam Christopher, president and CEO. Southern Design and Automation and Balkcom Cabinet and Millwork announced they will invest $300,000 each to open facilities. Choo-Choo Build It Mart will break ground on a facility in early 2006, bringing 35 jobs and $5 million to the county, says Christopher.
In Montgomery County, 2005 saw the opening of a 10-employee office for Oceanic Freight Forwarding Co. Patriot Gas opened a $950,000 facility and created nine jobs last year, according to Johnny Clifton, executive director of the Montgomery County Development Authority.
The county was recognized as the first regional entrepreneur-friendly community in the state, Clifton says. Three years ago, Montgomery, Tattnall and Toombs counties started an entrepreneur's support program and have added 90 jobs. "When you look at these rural communities, 90 percent of the jobs were started by entrepreneurs," Clifton says. "They grow and they stay here."
Morgan County saw two significant developments in 2005: the opening of Seachem, an international fish food manufacturer, which built a corporate headquarters and created 50 jobs; and the groundbreaking on a sterilization plant for C.R. Bard medical devices. That $30 million project should be operational by November, says Ralph Vaughn, president of the Madison-Morgan County Chamber of Commerce.
Putnam County has been focused on retail, says Roddie Anne Blackwell, project manager for the Putnam Development Authority. The Village at Harmony Crossing in Eatonville opened last year, and 90 percent of the 75,000 square feet of retail and restaurant space center is leased, says Lowell White, developer.
In 2006, "we're working really hard on the downtown area," Blackwell says. The development authority last year purchased for $155,000 an unoccupied large retail space downtown, renovated it and turned it into three storefronts. "We feel really good we'll have somebody in those in the next few months," she adds