New Projects, New Prosperity: East Central Georgia Flexes Its Economic Muscle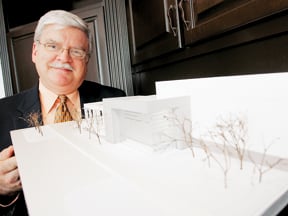 Even though many communities in East Central Georgia are small, that doesn't keep them from thinking big.
Andy Riley worked two years to land a huge project for Swainsboro. In late January, Riley – president of the Swainsboro-Emanuel County Joint Development Authority – announced that the newly created National Nanotechnology Manufacturing Center will make its home in Emanuel County's Pathway Technology Park.
The first-of-its-kind center is the result of a partnership among the development authority, the U.S. Army's Picatinny Arsenal, Picatinny, N.J., and Georgia nanoFAB, Cartersville. Georgia Tech Research Institute, Atlanta, is the primary research partner. The public-private partnership will manufacture nano- and micro-scale products for military and commercial use.
R&F Marketing located in Emanuel County last year, to assemble and distribute home furnishings. American Door & Drawer added 15 employees to its manufacturing operation. Emanuel Medical Center's private practice expansion will bring 120 medical jobs. And the 75 employees at the new Outland Industries are busy sewing protective vests for U.S. Marines.
Warren County welcomed plastics manufacturer Amcor, Inc. and its 20 jobs. And Martin-Marietta will expand its Warrenton quarry this year, says O.B. McCorkle, Warren County Chamber of Commerce president. Last year, the county completed development of its first industrial park, a 100-acre site for small- to medium-size businesses. Warren County secured $9 million in federal funding to build a frontage road along Interstate 20 between exits 160 and 165, "opening up a lot of land for development," McCorkle says.
This year marks the second year of First Saturdays in Warrenton, where downtown takes on a festival-like atmosphere the first Saturday of every month. Two new murals are planned this year toward McCorkle's goal of placing 10 murals throughout downtown in an effort to create an outdoor museum atmosphere.
Paula Harrington of Jenkins County saw Jockey International expand its Millen underwear plant last year: "They used to actually cut the materials here, and they started back doing it here, so they increased in jobs by 75 to 100."
Jenkins County purchased property – and hired an engineer to lay it out – to make way for new industry. Next, Harrington says, the county will apply for infrastructure funding. The county secured a $400,000 grant to spiff up downtown Millen, and Harrington – executive director of the Jenkins County Development Authority and Chamber of Commerce – plans to apply for a OneGeorgia grant to build a train viewing platform in the busy railroad town.
In Wilkes County, Glit/Microtron – a division of Katy Industries, Inc. of Middlebury, Conn. – took over the old Washington Manufacturing Building for its scrubbing pads operation, which employs about 20 people, a number that will increase to 50.
While Commission Chairman Sam Moore is glad about that, he's sad that his county will lose 100 jobs when a fiberglass plant that's been operating in the county for three decades closes in July. Wilkes County will gain a few service sector jobs when both Taco Bell and KFC open this year, and Moore has seen tourism – the county is replete with both Revolutionary and Civil War history – pick up since the 19th century Fitzpatrick Hotel reopened in 2004.
Washington County leased its 100,800-square-foot speculative building in 2005. Thomson Plastics, Inc., maker of injection molded items, will employ 30 to 40 people initially, then move up to 100 within two years. Production was scheduled to begin in February, reports Theo McDonald, president of the Washington County Chamber of Commerce.
The county has another vacant building ready for occupancy since Lowe's Building Products distribution center moved to Florida. On the downside, Lapp Insulator, a mainstay in Washington County since the 1960s, moved its manufacturing operation offshore, cutting its Washington workforce from 150 to only eight.
The McDuffie County Development Authority is renovating a speculative building – the old Thomson Co. sewing mill. When it's finished, says Don Powers of Forward McDuffie, the county will have 144,000 square feet available for mixed-use industrial/commercial/ office/retail.
Right next door to that building, Pelzer Acoustic Products started operations last year. A spin-off of HP Pelzer, a German firm with a factory in Thomson, Pelzer Acoustic supplies raw material to its parent company. Yarn maker Shaw Industries is in the final stages of a $30 million expansion, which will double its extrusion capacity and add 70 jobs this year.
Thomson Plastics, which makes molded plastic parts for the golf cart, lawn mower and vending machine industries, is at full capacity, Powers says. "It's anticipated that at the end of a couple of years they'll have up to 300 employees in Thomson; they're currently at 240."
In Candler County, Economic Development Director Chuck Clark is in the process of purchasing land to add space to Metter I-16 Industrial Park. Candler has two new restaurants and is researching a Georgia products store.
Peggy Chapman, president of the Statesboro-Bulloch County Chamber of Commerce, saw glass manufacturer Viracon complete a $12 million, 60,000-square-foot expansion last year, adding 75 new jobs. And Briggs & Stratton will complete a 125,000-square-foot expansion this year, adding 75 to 100 new jobs. Phase II of the county's Gateway Regional Industrial Park will add 300 acres, with water and sewage being installed this year.
Commissioner Charles William Ware still hopes Georgia-Pacific will locate a plant in Taliaferro County. At the outset of 2006, Ware was giving the forest products company time to settle in with its new parent company before calling to see if he could re-start the talks. Taliaferro also is a partner in a regional industrial site in Warren County. 
Richmond County, home to the thriving Medical College of Georgia complex, reported one of its best years ever last year. "During the 30 years that the Development Authority of Richmond County has been in business," says Executive Director Walter Sprouse, "we've brought in $950 million in new investment – and we did $227 million of it last year," bringing in 1,561 new jobs. The Village at Riverwatch, a retail development, created 800 new jobs, and NBTY, manufacturer of nutritional supplements, brought 400 jobs.
Just north of Richmond County, Columbia County experienced a commercial and retail boom during 2005, says Zack Daffin, development authority executive director. Daffin saw completion of a Target/Kohl's center last year and says developers have announced they will double the facility's size.
On the industrial side, Columbia County announced that Uniparts will locate within its borders. "They are the world's largest supplier of linkage parts for the tractor industry," Daffin says. The Uniparts building is under construction in the county's new industrial park, Horizon North. Firstco, also in Horizon North, is a tire and wheel assembler for John Deere.
Johnson County received a $350,000 Employment Incentive Program grant to fund a workforce development center at the county's new industrial park. A $400,000 Transportation Enhancement Grant will support a streetscape project to complete the courthouse plaza and sidewalks in downtown Wrightsville, says Chris Pritchard, the county's first economic development professional, hired last year.
The Johnson County Historical Society received a grant from the Georgia Department of Natural Resources to replace the roof on its home, the Grice Inn, once a boarding house for students of the Nannie Lou Warthen College in Wrightsville. Sawhorse Industries opened a new main office and distribution center in Wrightsville.
Jefferson County Development Authority Executive Director Tom Jordan and Chamber of Commerce Executive Director Lil Agel are strategizing about the county's best use of $3.4 million in Special Purpose Local Option Sales Tax funds approved by voters last year. "Right now," Jordan says, "we're in the planning stage to develop a new industrial site in the north part of the county and expand infrastructure for that site and others in Lewisville and Wadley."
The two also hope to construct a speculative building. The Lewisville Airport expanded its runway to 5,000 feet last year, and a new terminal will be complete this year. Agel says the cities of Lewisville and Wadley have applied for funds to clean up some brownfield sites in the county.
Lincoln County Development Authority Executive Director Alana Burke says residential growth exploded last year: "We have eight new subdivisions going up with total development of 2,500 acres and 1,073 new lots. Most of these are lakefront properties." Burke continues to work on financing for a lake resort at Clarks Hill Reservoir, a project she says will create 250 new jobs.
Glascock County re-formed its Industrial Development Authority last year, and the county enjoyed its first annual WinterFest in November. This year, Glascock will kick off its 150th anniversary celebration.
Treutlen County continues to improve water and sewage in its industrial park and is discussing broadband Internet service for the county. "Our long-term goals," says Andy Thompson of the development authority, "are to promote our ready access to Interstate 16 and close proximity to the port in Savannah."
Burke County Development Authority executive director Jerry Long expects expansions at three existing industries this year, and he hopes to start working on a new speculative building for the Waynesboro/Burke County Industrial Park.