Lighting Up The Gridiron
Morris Harrison sparked victories for Tech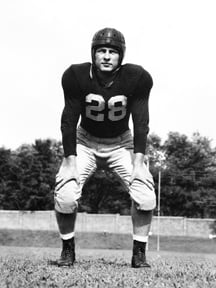 Morris Edwin Harrison, the former Georgia Tech fullback, not only lit up Grant Field (now Bobby Dodd Stadium) he lit up half the world. And at age 79, he's still at it.
A professional engineer, Harrison has made life brighter across America and in far-flung spots such as Belgium, Shanghai and Singapore.
Not that his firm has neglected Atlanta and the state of Georgia. Harrison did all the electrical work for Peachtree Center, from the Merchandise Mart to the Hyatt Regency and everything in between.
It didn't hurt that he was a teammate of Peachtree Center developer John Portman – the two played football together at Atlanta's Tech High School. But Harrison got Portman's jobs based on his ability, not friendship. He is a past Atlanta Electrical Industry Man of The Year and a former Independent Electrical Contractor Man of The Year.
Peachtree Center and Portman aside, it was Harrison's electrical work that brightened Olympic Village when Atlanta hosted the Olympic Games, the Georgia state capitol and city and county schools throughout Georgia.
The Embarcadero Center in San Francisco, the Shandong Building Complex in Jimang, China, the Landmark Center in Jakarta, Indonesia were all Harrison projects. If he isn't on a job site, most any day – or night – you can find Harrison at his desk in Veridian Office Park in Norcross. He is president and COO of MEHA Engineering, Inc.
Now about his football career. Since his pre-teen years he had been looking forward to playing football at the University of Georgia. But Harrison's mother had other ideas. She wanted him to be an engineer and enrolled him at Georgia Tech. It was a lucky break for the Yellow Jackets.
Although he had no scholarship and trouble getting a uniform, he eventually helped spark Tech to a victory over Kansas in the 1949 Orange Bowl.He played both ways, fullback on offense and linebacker on defense. His 85-yard touchdown run against Citadel is the third longest TD run in Tech history and his rushing average as a sophomore was 13.0. You want a first down? Give the ball to Harrison.
When Harrison read an ad in The Technique, Tech's student newspaper, calling for volunteers to try out for the football team, he went to the athletics office where he was met by an assistant football coach. "We don't have any more uniforms," the Tech aide said. "Come back next year."
About that time, Coach Bill Alexander walked in. "Weren't you the reserve fullback and blocking back at Tech High," Coach Alex asked.
"Yes, sir," Harrison replied.
"Give that boy a uniform," Coach Alex said, "and let's see what he can do."
When practice started, the new head coach, Bobby Dodd put Harrison on offense, and he pulverized the middle of the Tech B team. Then Dodd moved Harrison to linebacker and Harrison tackled with such force that Dodd heard the leather poppin' all the way up in his watchtower. Harrison not only got a game uniform, he got a scholarship.
Harrison was born in Forsyth County and grew up in Atlanta's Grant Park. He spent his youth swimming in the Grant Park pool and playing six-man football for Hoke Smith Junior High School.
Scholastically, he was an A student at Tech High and got his mechanical engineering degree at Tech in two years. He was ready to enter the workforce, but Coach Dodd convinced him to get his electrical engineering degree and play two more years of football.
"I have been lucky all my life," Harrison said. "Lucky that Coach Alex got me a uniform and lucky that I listened to Coach Dodd and went for my EE degree."
He served four years in the U.S. Air Force, two between Tech High and Georgia Tech and two after his double degree graduation from Tech.Harrison officiated football for 30 years, 25 in the Southeastern Conference. He was the SEC's chief referee for two years. In 2000, he received the George Gardner Memorial Award for long and meritorious service to college football. He's also former president of the Touchdown Club of Atlanta.
Gene Asher is a veteran sportswriter and businessman.