How Does Your Garden Grow?
Botanical Gardens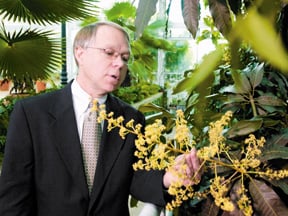 Any way you turn, the view in Jeff Lewis's office is magnificent. As director of the State Botanical Garden of Georgia, a 313-acre preserve located in Athens about three miles from the University of Georgia campus, A. Jefferson Lewis heads an organization whose mission is as much about education as beauty. But that doesn't mean beauty takes a back seat.
It's hard to miss the orchid in full bloom making its temporary home on Lewis' table – the plants make periodic appearances before returning to their home in the greenhouse – or the two striking watercolors on the wall, each depicting a rare and endangered Georgia plant (the yellow lady slipper and the pitcher plant). And a glance outside the window shows one of the garden's natural areas, left uncultivated by design – a stretch of hardwoods whose green canopies allow a fleeting glimpse of the Middle Oconee River.
It's an amazing transformation for a swath of land where cotton once grew, and it's easy to see why Athens Banner-Herald readers voted the garden one of the city's top attractions. A planned $2-million Flower Garden addition, on which work will begin this summer, should add to its appeal.
At the garden complex there are five miles of nature trails, popular with hikers. And there are the gardens themselves, organized according to themes such as the Heritage Garden, home to plants that played a key role in Georgia's history (heirloom annuals, perennials and roses; fruit trees; and yes, cotton, tobacco and peanuts) and the Shade Garden, which hosts azaleas, camellias, dogwoods and an assortment of shade-loving plants.
Collections of rhododendrons, dahlias, roses, native azaleas, annuals, perennials and herbs all have their place in the sun (or shade). There's even a bog garden, which nurtures a stand of carnivorous pitcher plants – always a big hit with kids, says Volunteer Coordinator Andrea Fisher.
The garden's mission, however, goes beyond being a popular attraction. As befits its history – the preserve was set aside by the University of Georgia in 1968 "to foster appreciation, understanding, and stewardship of plants and nature through collections and displays, horticultural gardens, educational programs, and research" – the garden is a living classroom. Teachers throughout the state come for training workshops in environmental education; schoolchildren visit on field trips; and UGA students engaged in horticulture, botany, ecology and landscape architecture use the garden as a field laboratory.
The university contributes about 66 percent of the garden's annual operating budget of $1.2 million; the remainder comes from facility rentals, proceeds from the gift shop and unrestricted gifts. Major gifts from individuals, foundations and corporations go toward the endowment (currently $3.5 million) or special projects such as the new Flower Garden.
About 27 full-time employees, complemented by a varying number of student and part-time workers, make up the garden's staff. And although Lewis notes the garden itself is not a field of study at UGA, "education is at the root of everything we do," he says. "We're engaged on many levels with many audiences, not all of which come to be educated. But hopefully through osmosis they will be exposed to our concepts."
Plant Protection
Chief among those concepts is conservation of rare, threatened and endangered species, the standout here being the pitcher plant. Native to the Southeastern United States, pitcher plants require a bog habitat to survive, and Georgia's bogs are rapidly disappearing due to development, fire suppression and chemical runoff.
In an effort to preserve the state's bio-heritage, the garden helped form the Georgia Endangered Plant Stewardship Network, a program which neatly combines the garden's pursuit of education with its deep knowledge of native plants. Just teaching citizens about one plant, says Lewis, can lead to a broad knowledge of conservation.
Basically, the program recruits teachers to learn skills such as plant propagation and develop a curriculum to take back to their schools. The star attraction is the pitcher plant, which is easy to propagate (though not so easy to house in a bog garden.) "Teachers and students seem to respond to the idea that that they are dealing with an endangered species, not some off-the-rack garden plant anyone might grow,"
Lewis says. "Through the program, teachers are certified to get certain endangered plants, such as the pitcher plant. And to grow it, you have to have a bog garden, so that's another teaching tool – that certain plants require certain habitats and if the habitat disappears the plant will too, and so will the animal that might eat the plant. It's a chain reaction."
Lewis is passionate about protecting rare and endangered plants, and the garden works both internationally and close to home to further conservation efforts and research. "Our in-house research is fairly modest, but we support other efforts," he says. "What we do is centered largely around rare and endangered plants in the Southeast."
The garden helped organize the Georgia Plant Conservation Alliance, an umbrella group of state and federal agencies, nongovernmental organizations and other botanical gardens dedicated to conservation. The garden itself formed a network of volunteers dubbed "botanical guardians" who locate and look after small areas of rare plants, including working with private landowners to ensure the areas aren't harmed. The organization also works with utility companies to protect rare plants in rights of way. "
A lot of [rare and endangered plants] that exist in small populations in diverse areas across the state are easily destroyed intentionally or unintentionally," Lewis says. "We can't drive to Valdosta to look at a group of plants several times a year, but someone who lives there can … . Many landowners are willing to help if they know what the plant represents and what's at stake."
There are more distant efforts, too: A partnership with a botanical garden in Argentina focuses on cultivating medicinal plants to stop them from being over-harvested in the wild, for example. A project with a nature preserve in Ecuador involves teacher training and curriculum creation. And the garden works with UGA at its research station in Costa Rica to develop collections of indigenous agricultural and medicinal plants for students to examine.
What's at stake, Lewis says, could be the next breakthrough medicine or a new source of food – and that's true whether one looks around in the world or right here in Georgia. "There are plants that have become extinct in Georgia since the Europeans arrived. A relatively small percentage of the plants in the world have been described and named," he says. "We're losing things before we ever know we've lost them – that is the real tragedy. Who knows what cure might be out there, or what food source?"
Fresh Flowers And Bugs
About 150,000 people visit the garden annually, and Lewis estimates that it hosts about 50 education events each year, ranging from a one-hour lecture to a one-day seminar to week-long summer camps for kids. Most programs are aimed at the K-5 crowd – "it's unusual in the spring and fall not to see at least one bus here with students," Lewis says. Teacher training workshops, featuring science curricula, are also part of the offerings.
Some programs, such as Insectival, a "creepy, crawly family festival" with beetle and roach races, gourmet insect cuisine, puppet shows and an insect ramble, appeal to almost all ages. "Insectival attracts about 1,000 people," says Development Director Andrea Parris. "It's a lot of fun – kids get to hold tarantulas, and we have entomologists from the university here." She admits, however, that the bug saute (a chef prepares edible insects, "mainly grasshoppers," she says) is more popular with parents than kids.
Now the outdoor classroom is about to add a showy new wing: the Flower Garden, which (true to form) Lewis notes will be beautiful and educational. Located on a hillside next to the Heritage Garden, the Flower Garden will feature a series of plazas and terraces offering varying views of the blooms. Among the showstoppers will be a profusion of blossoms in a wildflower meadow; an iris garden, designed as a maze; a cutting garden; a "secret garden" with shade-tolerant plants; a fragrance garden and a "gray garden," devoted to entirely to shades of gray.
Plans for the future include a Children's Garden and a behind-the-scenes service complex with greenhouses, which Lewis says is badly needed. Even as it grows, however, the garden intends to have no more than one-fourth to one-third of its land in cultivation, befitting its dedication to the natural environment.