Coming On Strong
Metro Atlanta gets a major-league attraction and more jobs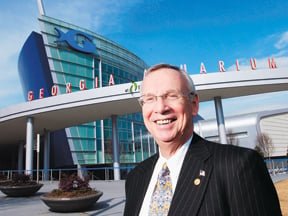 The mood in Metro Atlanta is upbeat despite the grim news that Delta Air Lines has declared bankruptcy and General Motors and Ford are closing their assembly plants. Much of the credit for Atlanta's jubilation can be attributed to continued job growth and a large tank full of fish.
"The 1996 Olympics used to be considered Atlanta's high point," says A.J. Robinson, president of Central Atlanta Progress. "From now on, history books will define everything as 'before the Georgia Aquarium' and 'after the Georgia Aquarium.'"
In the short time since the world's largest aquarium opened in November, more than a million have toured the facility. Attendance this year is expected to top 3 million, a figure that delights Spurgeon Richardson, president of the Atlanta Convention and Visitors Bureau. "We're getting more buzz now than since the Olympics," Richardson says. "Last year was one of the best we've had in four or five years. Now 2006 is shaping up to be even better. It's the tenth anniversary of the Olympics and the Olympic Museum is going to create a lot of interest when it opens in July."
In 2005, Metro Atlanta had a net gain of 30,000 to 35,000 new jobs compared to 28,000 in 2004 and a loss of 22,000 jobs in 2003, says Sam Williams, president of the Metro Atlanta Chamber of Commerce. This year will mark the biggest public works investment in the Southeast with $3.5 billion sewer system improvements and a $6 billion airport project, he says. Meanwhile, a boom in condo and apartment construction is changing the face of Midtown and Buckhead as well as Marietta, College Park and Vinings.
The Atlanta Regional Commission says the percentage of metro area residents over 60 is projected to triple over the next two decades. This trend will affect the way we design our communities, the ARC says, as the region adjusts to the challenge of creating age-friendly communities.
At Hartsfield-Jackson International Airport, the news is good despite Delta's woes. With 85.5 million passengers and 980,000 flight operations in 2005, Hartsfield-Jackson is the busiest airport in the history of aviation, says Felicia Browder, media relations manager for the airport. It is Georgia's largest employment center with 55,000 direct employees and a $19 billion annual economic impact; it had 2005 revenues of $289.2 million. The fifth runway will open in May.
Buckhead Coalition President Sam Massell says there are 21 major developments under way on Peachtree.
DeKalb County benefited from billions of dollars in investments in colleges and universities and the Centers for Disease Control last year, says Maria Mullins, director of the Office of Economic Development.
"Emory is planning a new research hospital, Children's Healthcare is in the process of a billion dollars worth of expansions and possibly investing $200 million to $300 million in a new hospital," she says. "We're seeing projects at Oglethorpe University, Georgia Perimeter College and DeKalb Tech. DeKalb Medical Center is becoming a magnet for physicians around the country looking to relocate."
In Gwinnett County, the tourism sector is one of the fastest growing in terms of jobs, says Alfie Meek, director of the county's Department of Financial Services Forecasting and Research Division; manufacturing has posted an increase in jobs for the first time in a long time, and construction remains strong. "When you add 25,000 people to the county every year and issue 7,000 to 8,000 building permits, you're going to have a booming housing industry."
Gwinnett County Chamber of Commerce President Jim Maran notes the diversity within the county's economy. "There is tremendous growth in Asian, Indian, Hispanic and Korean businesses, and we are taking steps to make sure we bring these people into the chamber as members of our boards of directors and various committees."
In Cobb County, quality of life issues are front and center, says Don Beaver, vice president for development at the Cobb County Chamber of Commerce. "Cobb's business community in partnership with our local governments have laid out a road map that will address quality of life [issues] such as housing, health care, infrastructure needs, entertainment and the arts. We will have over 2 million square feet of new infrastructure started this year at a cost of a billion dollars. There's not a single community that isn't addressing redevelopment in a proactive manner."
The Development Authority of Cherokee County reports a boom in expansion of existing businesses in addition to three relocations. PlayNation, Incorporated, the largest playground manufacturer in the Southeast; Transtechnik, a high tech manufacturer; and Builder Ready Products, Inc., a manufacturer and distributor of materials for residential and commercial building exteriors, have all moved to Cherokee, according to Misti Martin, executive director of the authority.
Carroll County is encouraging entrepreneurship, says Slater Barr, chief executive officer of Carroll Tomorrow. With existing industries such as Tanner Medical Center and Southwire providing jobs, Barr predicts a good year. "Carroll County is seeing growth across the board with a new Wal-Mart facility, new theaters and the influx of chain restaurants. In the works is Maple Street Commons, the county's first mixed-use development project that offers single-family and multi-family housing along with retail outlets."
The Newnan-Coweta County Chamber of Commerce has launched a community think tank to explore opportunities for new industry and ways to help existing businesses. "In Coweta," says Chamber President Candace LaForge, "our residents know we have to grow, but they want to grow in harmony with the historical character of the area."
Controlled growth is also the story in Spalding County. "We want to actively recruit the kinds of businesses we want to come into Griffin," says Vicki Hyatt, economic development specialist for Griffin-Spalding Chamber of Commerce. "We not only want to bring in outside business, but to help businesses we already have to expand and diversify and to foster an environment for entrepreneurs. We've always been known as a mill town. We're trying to change that perception and redefine ourselves."
The big 2006 project in Pickens County is the development of a 58-acre technology park adjoining the Pickens County Airport. "We have a 5,000-foot runway at the airport, which is one of the longer ones in North Georgia, but we hope to expand that to accommodate some larger planes," says Larry Toney,  economic development director for the county.
The Federal Aviation Administration has identified Paulding County as a prime location for a general aviation airport and approved a site, says Craig Burnsed, past chairman of the chamber of commerce's board of directors. "We are in the process of acquiring the land now," Burnsed says. "Paulding doesn't have an Interstate highway, so we have to develop some method of transportation for goods and people and the presidents and CEOs and directors of companies coming in and out."
In Forsyth County, some 300 new jobs were added with the expansion of Scientific Games, a company that produces scratch-off tickets for the Georgia Lottery, and the relocation of Steyr Co., a firearms manufacturer. Forsyth's status as the fastest growing county in the nation means leaders have to address transportation and controlled growth, says Brian Dill, vice president of economic development for the Cumming-Forsyth Chamber of Commerce. "We need medical and pharmaceutical companies and computer technology firms to help carry the tax burden. Right now it's tilted toward residential."
Last year, the residents of Butts County proved that grassroots campaigns really do work. Relying on donations ranging from a dollar to $45,000, the county raised $500,000 for a satellite Griffin Technical College."
We're also involved in the renovation of Indian Springs State Park," says Melinda Atha, director of the Butts County Chamber of Commerce. "The Historical Society completed renovation of the 183-year-old Indian Springs Hotel and we're doing a lot of revitalization of the town."
In Newton County, says Danny Stone, director of economic development for the Covington-Newton Chamber, Komatsu Forklift USA, Inc. expanded its headquarters by 50,000 square feet and added a dozen new jobs. General Mills added 33 jobs.
In Barrow County, a Chico's distribution center will add 200 new jobs, and there's a Home Depot under construction. With the population expected to increase from 58,000 to 75,000 by 2010, the housing market will continue to grow, Chamber President Carolyn Delamont says. "In the past few years many of the houses were starter homes," she says, "but now we're seeing larger, more expensive houses being built in upscale communities. Chateau Elan has had a big impact on the residential area."
"We were a sleeping giant last year," says Nancy Kinsey, director of the Development Authority of Walton County. "In 2005 we announced the arrival of a $37 million, 1.3 million square-feet Solo Cup Co. distribution center in Social Circle that will provide 150 jobs. Wal-Mart is doubling the size of its refrigerated warehouse to a million square feet. That will bring the total number