Cafe Society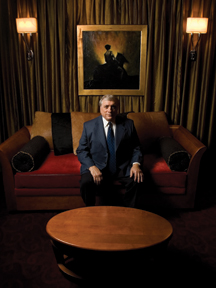 In the 1996 movie Big Night, a pair of Italian immigrant brothers struggles to save their unpopular restaurant. Ambitious, perfectionist chef Secundo believes that "To eat good food is to be close to God." Business manager Primo begs him to rethink the strategy that "people will learn" to appreciate Secundo's extraordinary culinary skill.
"This is a restaurant!" Primo thunders. "Not a cooking school!" The competition, a bouncy trattoria, is a cultural caricature, but packed every night. Its proprietor tells them, "A guy works all day, he don't want to look at his plate and ask, 'What's this?' He wants to look at his plate, see a steak, and say, 'I like steak!'"
For the high-minded restaurateur, those characters aren't fictional – they're the all-too-real competing concerns of art, commerce and compromise. Aim too high, and you risk launching a concept over the heads of the customers you must bring in to survive. Aim too low, and you'll earn the scorn of the critics you need to send the most monied, discriminating and well-traveled diners your way. Straddle the two goals, and risk selling your soul to the mediocre and middlebrow.
Buckhead Life Group CEO Pano Karatassos remembers Atlanta before his signature restaurants, which include Pricci, Bluepointe and Kyma, became critical and popular successes. When he first arrived on the scene, he says, "There weren't even a million people [in Atlanta]. There were some good restaurants, like the Midnight Sun, Nikolai's Roof, the Coach & Six, Chateau Fleur de Lis, the Ambassador. We brought in the neighborhood, high-end, upscale, American bistro, with long white aprons. You could get sweetbreads for an appetizer, and you could get onion rings. Chateaubriand but also a fried lobster tail. It was a broad mix that appealed to a broad group of people."
Chef Guenter Seeger, now of Seeger's, arrived 20 years ago to become chef at the Buckhead Ritz-Carlton dining room. He eventually won its first Mobil five-star award – the first for any Atlanta restaurant. "It was a completely different town then," he says. "There was a tremendous amount of fast food and chains." His first job was to "raise quality levels, and not just what was on the plate. We had to raise purveyors." He did just that, helping to form and promote the Georgia Organic Farmers organization, which in turn supplies many other restaurants, in Atlanta and around the country.
Restaurants the two men run tacitly underscore just how far our town has traveled: Kyma, Karatossos' tribute to his homeland, is a gleaming white marble pantheon, with a columned entryway leading to a pristine, iced display of fresh fish, flown in from around the world. It takes an entire genre – whoever heard of an upscale Greek restaurant? – and turns it on its head.
At Seeger's, a $600,000 Johnson Studio renovation means the restaurant, which was already intimate with only 75 seats, is now a VIP club for 32, with nearly every table a biosphere for two, outfitted with Reidel crystal, Garnier Thiebaut linens of Egyptian cotton and floral arrangements (from Bernadette's Gavrden) that are as contemplative as the paintings on the walls. Filmy white sheers and brown velvet drapes contribute to the drama and seclusion; diners lounge in plush settees and wing chairs. However, dropping his seating to half puts enormous financial pressure on this chef: "The business part of it is a tough cookie to eat," Seeger admits.
Scaling Up
Seeger's-style "upscaling" is going on all over town. The restaurant business is notoriously volatile and labor-intensive. However, despite an uncertain economy and a national trend toward more budget-conscious, family-friendly dining, Atlanta's best restaurants are reaching to the heavens with their concepts, interior design, food – and prices.
Consistently rated number one in restaurant bible Zagat by diners, Bacchanalia recently opened a new, more upscale version called Quinones, downstairs from the popular gourmet haven, with a tasting menu fixed price of $95 per person. Reopening after the renovation, Seeger's, the critical favorite, with Mobil five-star, AAA five-diamond and Relais Gourmand rankings among its many awards, raised prices $40 per person for the six-course tasting menu, from $90 to $128.
Table 1280, the Woodruff Arts Center's new restaurant, is a far more sophisticated destination than its predecessors, Chefs Cafe and Pentimento. Inside, it features sleek design by architect Renzo Piano, edgy works by artists Alyson Shotz and Spencer Finch, a $50 "seafood plateau" starter, and entrees from $18-$33. Elegant Restaurant Eugene takes the Southern idiom to new heights, offering $55, $65 and $75 tasting menus studded with foie gras, cod cheeks and Benson Farms country ham. At the Ritz-Carlton Buckhead, new chef Arnaud Berthelier hopes to continue the five-star tradition Seeger began, after working with such international luminaries as Alain Ducasse. His tasting menu is $108, with an additional $70 for matching wines.
Says eminence gris Karatassos: "All this competition is just going to make everybody better. I remember when people said we made people better."
He's right, of course: The trend is the extension of an ongoing Atlanta evolution. Like Seeger, Joel Antunes left the Ritz's chef spot to open his own place, the critically acclaimed, multimillion-dollar Joel in 2001. Still, the chef must be money-minded: "I think we offer a very good value at Joel, with $39 for three courses, and wine at $3 or $4," Antunes says. "I'm very happy to be in Atlanta. We'll be doing 48,000 to 50,000 covers [meals] this year. The design is nice, clean, but not always full," he allows. "If I were doing it again, I would open a smaller place, but the same concept."
Two years ago, Charlie and Nan Niyomkul decided to open a new restaurant around the corner from their well-loved establishment, Tamarind – already the most upscale Thai restaurant in the city – with an even more opulent sister, Nan. "We wanted to educate our friends [about Thai food]. That's why we created Nan. I think our guests deserve it. When we opened Tamarind, it had that New York feeling," says Charlie Niyomkul, who had a restaurant in New York before moving to Atlanta to be nearer his son, who was in art school here. "Everybody thought no one would come here. Now we are a landmark. We're doing very well – more than my expectation. Up 14 to 15 percent from the first year, 6 to 7 percent each year."
In Atlanta for the next five years, there's plenty of room for more upscale restaurants. There will be many more hotels and better transportation. We're getting to be big – we're going to be more like San Francisco and New York," Niyomkul adds.
Bob Amick – notable for founding one of Atlanta's first fine dining companies, the humble, homey Peasant Group – has most recently focused on such enterprises as his upcoming Trois, the follow-up to Two Urban Licks, an intown eatery with Todd Murphy paintings and the flash of a Vegas floorshow. Pano Karatossos' ever-more-upscale Buckhead Life Group restaurant empire continues expanding: Chops' new bar has a baby grand and private dining.
The trend is also reaching into other parts of the state: In Savannah, the Gottlieb scions have returned downtown, where the family's century-old Jewish bakery and deli sold pastrami on rye and chocolate chewies, with a gourmet destination befitting the next generation's prestigious cooking school and restaurant background. Opened within the last year, the nearby Mansion on Forsyth Park and Bluffton, S.C.'s Inn at Palmetto Bluff, are heating up the competition with similar ambitions, if not yet the critical acclaim. Now run by its staff, Elizabeth's on 37th sails on, unperturbed by such upstarts, fueled by the recipes of founding chef Elizabeth Terry, one of the first Southern chefs to achieve national stature. "
I feel we hit the market at exact right time," says Gottlieb's partner Michael Gottlieb. "We're trying to educate and push the trend, and for years here the only [upscale] restaurant was 45 South. We're very happy with how we've been perceived by Savannah. I feel our biggest competition is Atlanta. We're not just city-based any more. We have some people who just drive down from Atlanta for dinner, and then turn around and go home."
In fact, there's some indication that Atlanta's restaurant scene may be playing New York to the rest of the Southeast. The Niyomkuls plan to open another Nan in Jacksonville, Fla., in 2007. A recent Atlanta Journal-Constitution story traces a mini-boom of upscale restaurants in Orlando to Atlanta chefs and restaurateurs (including Amick and Karatassos). In it, Esquire magazine critic John Mariani says, "I couldn't imagine not ranking Atlanta among the top 10 restaurant cities in America."
A Coming-Out Party
According to restaurant consultant Clark Wolf, Atlanta's fine-dining growth spurt is equivalent to a coming-out party, with the city entering the cafe society of New York, San Francisco, Chicago and Boston. He acknowledges that many restaurants nationwide are tightening their belts, but says, "Trends conflict simultaneously. It's like having mixed emotions. Hotels and resorts have gone as family-friendly as they can go, and there's some adult pullback."
At the same time, he notes that fuel prices and wariness are encouraging more people to stay in their home states – with the disposable incomes they were once spending on travel. And restaurants, he notes, are places where almost anyone can experience a taste of world-class prestige – if only for an hour or two.
Wolf says Atlanta's chefs are no longer just competing against each other – they're now pitting themselves against star chefs in other cities.
The increasing success of Atlanta's best restaurants is due in part to Atlantans' "wanting something on a world level, and also a willingness to eat more of their costs," he says. "The public accepts that the best foods cost more now, and there's more interest in pure, wholesome and what's sometimes called organic food, as well as just an interest in food and wine in general."
If Atlanta menu prices sound high, consider what's happening in New York, where you might wait weeks for a reservation at the hottest restaurants, including Masa (where a couple can expect to spend nearly $1,000 for the chef's tasting of renowned and exquisite sushi and sake) and Per Se, chef Thomas Keller's sister restaurant to his Napa Valley destination, The French Laundry. Generally considered the best restaurant in the country, the French Laundry's prix fixe is the same as Per Se: $210 per person, before tax or wine – at lunch or dinner.
Atlanta's lower real estate and cost-of-living indices translate into lower prices, but that doesn't mean there isn't a bit of cultural conflict about paying them. As one Metro Atlanta diner frankly explained, it's not just a matter of being able to afford such prices, as she certainly could, but a certain Southern sense of propriety. As she puts it: "I'm just too Baptist to pay that much for food."
To some extent, Wolf agrees that New York prices are divorced from logic or reason. "Per Se is for bragging rights," he says. "All of these guys" – meaning world-class chefs – "talk to each other. They know they're competing to be the best."
However, Seeger, chef and proprietor of Seeger's, says that, like many of his colleagues' less ambitious restaurants, his operation is lean, the margins low and the risk of failure real. His recent renovation came after the restaurant had arrived at a crossroads in the changing restaurant terrain: "There were two ways of thinking," he says. "I could have made a very nice bistro out of Seeger's. Or I could go completely the other way."
Choosing the road less traveled transformed the restaurant into the smallest such restaurant of its kind, using only "30 percent of the 4,500 square feet we have here" as dining space, following the "raw model of that world-class European restaurant."
Asked if he was spurred to the decision by his competitors in New York and Europe, he responds, "I'm competing only with myself." Seeger has tortuously parsed his make-or-breakeven point down to the dollar: For each person who sits down at a table at his restaurant, it's "$3 per person for the flowers," he says. "It's $4 per person for the linens. That's $7 gone and nothing has happened yet."
Seeger's ingredients, silverware, crystal, service and artwork are all so selective and pricey that he puts his breakeven point at $200 – per diner. That puts his six-course chef's tasting fee of $128 into perspective. He says his customers expect the best, and occasionally he will include a menu item as an additional option – such as a recent superlative Japanese beef tenderloin, which he offered at $40 per four-ounce cut, in addition to the prix fixe. The fact that diners want such extras "sometimes surprises even me," he says.
Still, for all his honors – and Seeger is arguably Atlanta's most highly regarded chef by the world's critics – no restaurant inspires more passion, positive and negative, among local diners. As Seeger himself notes with chagrin, Zagat's reader-driven reviews give his food "the same rating as Souper Jenny," the Buckhead takeout maven.
Often criticized for "chilly" service, Seeger produces a 37-page service manual for the wait staff, which he wrote, titled "Seeger's Bible." Its exacting specifications direct the staff's motions from the moment guests enter the door, including what to do when they leave the table to go to the rest room. The kitchen is to be informed of every move. "
Here, we don't put things under a heat lamp to wait," Seeger says. "Sometimes we have to replate it. I've replated entire courses three times," or re-served them, to accommodate lengthy bathroom breaks, he says.
A Culinary Mosaic
Atlanta's fame as a restaurant town rests on a mosaic of chefs and entrepreneurs. But many, including Wolf, the consultant, and former Seeger acolyte Shaun Doty, now chef at Table 1280, pinpoint its keystone as Guenter Seeger. "There's only one place for the truly world-class diner in Atlanta," Wolf says, "and that's Seeger's."
"Other chefs around the country are going to say, 'He's the man,'" Doty says. "Go into Mr. Seeger's walk-in [refrigerator], and it's going to blow your mind. He's uncompromising. You're not going to find that even at Daniel [Boulud's] in New York.
"It's OK to get what you want, but why not let the guy be a genius, and experience the meal through the eyes of someone who's considered the best?" Doty says. "Everybody in this city should eat there once a year. I don't think it's much to ask. Seeger's venue is that important to Atlanta."
Wolf agrees. "If you care about your real estate values," he says, "you should support Seeger's."
Seeger's, however, is just doing "OK," says the chef. "We're not always full," he shrugs. "We need the city to support what we're doing."
Only one thing is certain, he says: "This restaurant is never going to make me rich."
Full Picture Caption:
"The Godfather: Buckhead Life Group CEO Pano Karatassos, who counts among his successes Pricci, Bluepointe and Kyma, is among the restaurateurs credited with revolutionizing Atlanta's dining scene"