Bike Athens
Organizations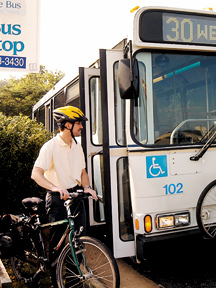 The first thing that's important to know about Bike Athens, says the group's co-chair Mark Dodson, is that its name is actually something of a misnomer. "We're really about more than just bikes," he says. "Our mission is really about promoting all different types of alternative transportation."
Founded by a group of University of Georgia students in the early 1990s, the organization that was originally called the Athens/Clarke Safe Cycling Association (its name was changed in 1998) has grown into an advocacy nonprofit that encourages cycling, walking and other transit alternatives both for their health benefits and to help relieve the burden of automobile traffic on the city."
Our focus is really to try to get people engaged and to point these things out," Dodson adds, pointing to the group's successful advocacy for last year's conversion of the downtown stretch of Lumpkin Street from two lanes to three, with new bicycle lanes and a center turn lane for cars."
What's really good there now is that you don't have the volume of fast traffic trying to pass each other, and creating the problem for pedestrians and bikers that existed before," Dodson adds. "Traffic calming is such a big issue, because people often drive really fast through places you think they wouldn't."
To spread the word about alternative modes of transit, Bike Athens has developed a range of programs including Tour De Sprawl, an annual 15-mile tour – both on bikes and aboard buses – through many of the city's examples of smart-growth projects and initiatives that illustrate how to build in environmentally sensitive ways, with educational presentations at a number of stops along the tour.
The group also repairs and reconditions nearly 60 donated bicycles each year through its Bike Recycling program, which it operates as a joint venture with Athens-based social support agencies such as Catholic Social Services and Community Connection, as a way to provide bicycles to those in need who are underserved by public transit.
Encouraging citizens in this bustling college town of just over 103,000 to use alternative means of transportation hasn't always been an easy sell, but the effort has slowly but surely gained steam in recent years, Dodson says. "
There's certainly a lot more in the way of bike facilities in place now in 2006 than there was five years ago," he says. "Now, we have a mayor and a [county] commission in place that are much more receptive to this sort of thing.
"We want to push to get projects done and increase transit routes – our focus is really to try to get people engaged and to point these things out," Dodson says.