Better Times: In Southwest Georgia, The Mood Is Upbeat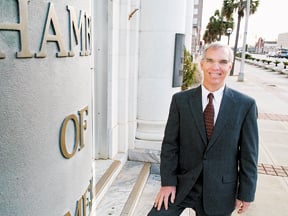 Tim Martin well remembers the sigh of relief he breathed when word came down late last year that the Marine Corps Logistics Base in Dougherty County had escaped closure.
"It was relief and glee both, and optimism looking to the future," says Martin, president and CEO of the Albany Chamber of Commerce.
While tears were being shed in other Georgia communities that weren't so lucky, the military facility and its 3,000 jobs not only survived, but the decision left open the possibility that other base closings might mean the transfer of new programs here.
For now the base will continue its mission to rebuild and repair ground-combat and combat-support equipment including re-armoring the Humvees headed for Iraq. Albany, Dougherty and the surrounding counties will continue to benefit from the jobs and money that the base pumps into the local economies.
Throughout Southwest Georgia economic development leaders are feeling upbeat and maybe just a little bit lucky. Even among the poorer counties there's a feeling that better times are here and that there may just be something for everyone.
Martin says Albany is enjoying a surge in its economic development. Employment is growing and unemployment tends to be below the state average of 4.9 percent both here and across the region. One big area of improvement is tourism and conventions. The opening of the Flint RiverQuarium with its 175,000-gallon, 22-foot deep Blue Hole Spring has drawn visitors from throughout the region. The revitalized downtown area is home to a new Hilton Garden Inn next to the Civic Center. The hotel has opened up new business for the city by pushing the number of available rooms to 2,000.
Local officials hope to continue the push to make the area attractive to visitors with more than $108 million generated over six years by a recently approved Special Purpose Local Option Sales Tax (SPLOST). With these funds, the Albany Museum of Art will relocate downtown, while the RiverQuarium will get an elevated walkway extending over the roof of the facility and into a scenic overlook at the river. The local zoo, the Radium Springs resort and area parks will see improvements as well.
A growing economy continues to draw the steady traffic of commuters from surrounding counties heading to the Albany area for work. With a population of less than 100,000, the county is home to more than 60,000 jobs. Many of those employees are from nearby Worth County, where Alex McCoy, executive director of the Worth County Economic Development authority, says 39 percent of the population goes to Albany to work.
For those who remain behind, a variety of new openings and expansions is providing work. Banks Lumber Co., for example, is opening up a new facility to manufacture trusses in the industrial park in Sylvester, providing at least 50 new jobs. Midwest Fasteners has moved a small distribution center from Florida to the county, while Automated Irrigation Controls and Southland Technologies also expanded. In addition, Antique Heart Pine Flooring has proven to be one of the county's most successful businesses. It outgrew its 20,000-square-foot facility and had to relocate to a new 80,000-square-foot home. The company salvages lumber from old buildings and resells it as flooring.
Like its larger neighbor, Worth is looking to tourism as a boost for its economy. The difference is that visitors come here looking for a more natural form of sightseeing. The area boasts 22 quail hunting plantations that attract hunters from throughout the country, McCoy says.
Just 18 miles from Albany, the city of Dawson is also trying to capitalize on what Terrell County Chamber of Commerce Director Gina Hobbs calls "heritage-based tourism." The city's large historic district, which features the state's tallest and oldest courthouse, has become an attraction. Hunters are discovering the county's plantations as well.
Dawson also scored a victory when Tyson Foods, Inc. invested more than $18 million dollars in a local chicken processing plant. Following a month-long renovation effort, the facility reopened as the exclusive chicken provider for Wendy's restaurants in the Southeast.
Agribusiness is big in Southwest Georgia, a fact reflected in the recent opening of Tifton Quality Peanuts in Tift County. This international firm's new plant provides 65 new jobs and contracts with more than 140 growers in 14 countries.
In many smaller counties, residents leave each day for a larger employment center such as Valdosta. Straddling I-75 this city of 124,000 has been experiencing significant expansion of local business and industry to meet the needs of all those commuters.
The Lowe's distribution center just underwent a $23 million expansion that added 659,000 square feet to its existing 775,000 square foot space. FedEx also upgraded its local facility here.
"We like to spend a significant part of our time helping existing industries to expand," says Ken Garren, retiring executive director of the Valdosta-Lowndes County Industrial Authority.
Of course, sometimes it's just not possible to keep every company in town. Valdosta learned that when a local boat manufacturing firm left town in a company reorganization. With 350 jobs disappearing, the authority agreed to purchase the 210,000-square-foot facility. Soon it was able to snag Regal Marine, which was relocating from Florida, and then, as part of a secondary lease, aided a management buyout of the Robalo Boats brand from the exiting company. The result: 300 jobs kept.
Nearby Brooks County has seen a steady influx of new business and industry. So much so, in fact, that the county's industrial parks are full. "
One of the main things that has been just a crowning event for us is acquiring 250 acres for a new industrial park that also includes about 80 acres with rail," says Fred Lamb, director of the Quitman Brooks County Economic Development Authority.
The rising tide of jobs and growth is reflected in a 400 percent increase in housing starts in the county in the last two years. That has given local officials reason to hope that the area is on the verge of a genuine renaissance in development that extends far beyond the usual factories and mills. "
In the past our economic development strategy was almost strictly industrial recruitment which is still very important, but now just a part," says Myrna Ballard, executive director of the Valdosta Chamber of Commerce. "Tourism and the arts are also playing a large role for us."
One particularly big attraction for Valdosta is Wild Adventures, the popular theme park offering rides, animals and shows. What started as a petting zoo a decade ago attracted 1.5 million visitors last year. Fully a quarter of all hotel bookings in the city were a result of the park, Ballard says.
Other communities also are recording significant success in attracting new industry. Farther north on I-75, the city of Ashburn in Turner County has snagged business for its newly minted industrial park. Shelley Zorn, president and economic developer for the Ashburn-Turner County Chamber of Commerce, says Hawaiian Fiberglass Pools is bringing up to 60 jobs, while McElroy Metals will hire up to 75 employees for its new metal building components business.
Retail is also a growth industry for communities such as Bainbridge where a new Wal-Mart Supercenter and a Home Depot have come online and are spurring other retail development in their wake. Smaller businesses are occupying new retail office parks in close proximity to these developments, says Bainbridge-Decatur County Chamber of Commerce President Cile Warr.
Another major component of any economic development effort these days is folks whose working days are long behind them. Several cities in Southwest Georgia are seeking to become a haven for retirees migrating from other parts of the country. National media such as U.S. News & World Report and Consumer Reports recently proclaimed Thomasville one of the nation's best places to retire. "
A big part of our economic development is the recruitment of retirees into the community and that has been very successful," says Don Sims, president of the Thomasville-Thomas County Chamber of Commerce.
Other counties are busy trying to jump on the bandwagon. Lowndes joined with Brooks and Lanier to set up a retiree attraction program dubbed Triple Crown Hometowns Retirement Development Partnership. After marketing are attractions on a national basis, the effort can account for relocating at least 80 retiree households to the area. '
Retirees bring considerable assets to the community says the program's coordinator, Alison Stokes.
"They're professional and educated and tend to become active wherever they live and they really give back to the community," she explains. Residents age 55 and over in the Valdosta metro area already account for nearly 19 percent of the population and that proportion will continue to rise in coming years, Stokes adds.
Southwest Georgia sees itself as far more than just the farms and mills that long dominated the local landscape. Today, anything is possible. Even a bit of Hollywood in unlikely places.
Take Colquitt. A town of just 2,000, it now boasts a 22,000-square-foot movie soundstage in the local industrial park. Thanks to the efforts of veteran Broadway and Hollywood actor Ralph Wilcox, the facility may just serve as just another kind of catalyst for development.
When film companies aren't using the sound stage, college theater classes and film festivals are planned, says Veryl Garland Cockey, president of the Colquitt-Miller County Chamber of Commerce.