2006 Economic Yearbook
Winning The Race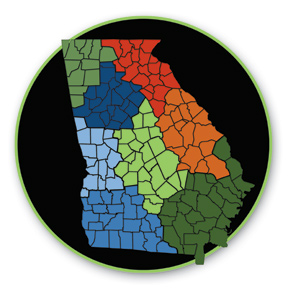 Performing more like a marathoner than a sprinter, Georgia's economy moved ahead this past year at a steady pace, drawing on strengths, forming productive partnerships and taking advantage of opportunities.
There was bad news, to be sure – most notably Delta Air Lines' bankruptcy and announcements that both Ford and GM are closing their Atlanta area assembly plants.
But there was, throughout all eight regions of the state, considerable good news in the form of business relocations or expansions, construction booms and boomlets, job growth, surges in tourism and influxes of well-heeled retirees. The good news tended to be less dramatic, but the cumulative effect has more than countered the not-so-good news.
Metro Atlanta, reveling in the splendid new Georgia Aquarium, had its best year in four or five years. Northwest Georgia is hitting its stride as a tourism destination; and Northeast Georgia is enjoying national recognition for its livability.
West Central Georgia is preparing to reap the benefits of an expanded Fort Benning, and East Central Georgia is awash in new industrial construction and renovations. Central Georgia is adding new jobs to replace some lost in plant closings and recognizing entrepreneur-friendly communities.
Southwest Georgia has its share of good tourism news, and the prosperity generated by Southeast Georgia's bustling ports is spreading throughout the region.Writers Don O'Briant, Ray Glier, Karen Kennedy, Bobby Nesbitt, Carol Carter, Melanie Lasoff Levs, Randy Southerland and Katheryn Hayes Tucker talked to local businesspeople, civic leaders and economic development specialists throughout the state to compile this 2006 yearbook. The accompanying tables provide information on population, employment and personal income.
The Simon W. Selig Center for Economic Growth at the University of Georgia's Terry College of Business provided the statistical information for the tables. The project was carried out by Beata C. Kochut, research coordinator.
Total population estimates are based on data through 2003 from the U.S. Bureau of Economic Analysis. Employment estimates are based on information through March 2005 from the Georgia Department of Labor and the Bureau of Labor Statistics. Data for per capita personal income were derived from data through 2003 issued by the U.S. Bureau of Economic analysis. – Susan Percy, Editor
Coming On Strong: Metro Atlanta Gets A Major League Attraction And More Jobs
By Don O'Briant
Modern Sport, Heritage Tourism: Northwest Georgia Charts A Course
By Ray Glier
Balancing Growth And Charm: Northeast Georgia Adds Houses And Jobs
By Karen Kennedy
Forging Ahead: West Central Georgia's Outlook Is Bright
Optimism And Recovery: Central Georgia Welcomes New Jobs, New Opportunity
By Melanie Lasoff Levs
New Projects, New Prosperity: East Central Georgia Flexes Its Economic Muscle
By Carol Carter
Better Times: In Southwest Georgia The Mood Is Upbeat by Randy Southerland
Right Time, Right Place: In Coastal Georgia, Prosperity Is Gradually Moving Inland