Unwrecking Tech
Homer Rice breathed new life into Tech athletics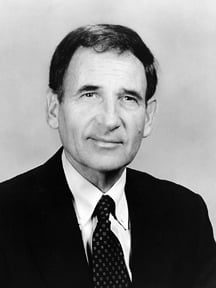 Homer Cranston Rice may be the only Georgia Tech athletics director ever to serve time in jail.
When he began his coaching career at Wartburg (Tenn.) Central High School in 1950, there was an acute shortage of team equipment. There were no shoulder pads, no headgear and no pants. And more important, no money to buy them.
So the ingenuous, inventive new coach remembered that Petros Prison, the state's penal farm near Wartburg, at one time had a football team. Paying a visit to the warden, Rice explained his dilemma and asked if he had any old football equipment. The warden agreed to let Rice borrow the equipment in exchange for coaching the prison team.
That's how Rice became coach of the high school team and the prison team. Both enjoyed unbeaten seasons.
Looking back, Rice said the prison job was the best coaching position he ever had. He had all home games and no problems from alumni. When alums returned, Rice simply inserted them back into the lineup. When he heard the sheriff's siren he found himself thinking, "I hope they pick up a tight end or a speedy running back."
That was the start of one of the most brilliant athletics careers in the annals of sport. In his 55 years in athletics (27 in coaching), Rice has done it all and has won practically every collegiate and high school award that ever existed.
As a high school quarterback, he was one of the most sought-after athletes in the Southeast, and as a coach he won nine Coach of the Year awards. In 1961 he was named the Winningest Football Coach in America.
His career as a college coach includes stops at Kentucky, Oklahoma, Cincinnati and Rice. In 1976 he won the Master of the Passing Game award. He coached four All-American quarterbacks, accumulated five national passing titles and invented the triple option offense. He helped Texas coach Darrell Royal put in the triple option, an added dimension to Georgia Tech's old belly series of the '50s, and Royal used it to upset Notre Dame for the national championship in 1968.
After successfully directing the athletics program at the University of North Carolina, Rice took on the near impossible challenge of resuscitating the Georgia Tech athletics program which had not only fallen on bad times but was flat on its back. Championships in major and minor sports were nonexistent and athletics facilities were among the poorest in America. It was 1980. Rice spearheaded a fund raising campaign that turned Tech's sports facilities into as fine a complex as any in the NCAA.
Under Rice's leadership, Tech produced a national football championship, a Final Four and Sweet Sixteen men's basketball teams, a NWIT women's basketball title, two College World Series appearances in baseball and three Olympic Gold Medalists in track.
Rice also founded the Student-Athlete Total Person Leadership Program, which he directs as an adjunct professor. The course has been modeled by more than 200 universities throughout the country. He's a member of the Georgia Tech Sports Hall of Fame, and Tech's athletic office is home to the Homer Rice Sports and Conference Center.
As an aside, Rice won a Golden Gloves boxing championship, coached a National Football League team, the Cincinnati Bengals, served his country in combat during World War II and wrote seven books, including Leadership Fitness.
You might say Rice has done everything but sing and play in the band – except that he's done that, too. He was trumpet soloist in two big bands and back in the 1950s he sang with Billy Sunday.
Rice's colleagues in the National Association of Collegiate Directors of Athletics established the Homer Rice Award to honor the athletics director who most contributes exemplary service to college athletics.
Rice was born in Bellevue, Ky., son of a Methodist minister and a second grade school teacher. He grew up in Fort Thomas, Ky., where he played his high school football and, among other schools, received a scholarship to Georgia Tech. But World War II delayed his becoming a Yellow Jacket and in 1944 he entered the U.S. Navy, serving in the South Pacific. After the war he attended and received a Ph.D. from Kentucky's Centre College.
At 78, Rice remains an adjunct professor at Tech. Is he ready to retire? " … Not as long as I feel well and can make a contribution," he says.
Gene Asher is a veteran sportswriter and businessman.