March Madness
Savannah's Casey twins could add up to double trouble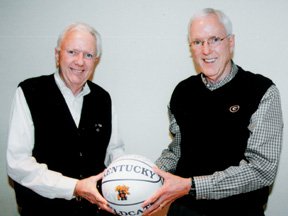 When Kentucky played the University of Georgia basketball team in 1959, there was only one way to stop Bulldog sophomore Pat Casey – grab him by his shorts and not let go.
And that's exactly what the Wildcats did. The referees rarely picked up on it and the Wildcats went on to rout the Bulldogs, 102-50. Years later, Kentucky Coach Rick Petino sent Casey an autographed basketball, inscribed with this note: "Come back to see us. The next time we won't hold your shorts."
Casey has the ball displayed in his rec room, along with other assorted trophies and awards he won during his three seasons at Georgia and three seasons at Benedictine School of Savannah.
Benedictine's opponents encountered a case of double trouble. Not only did Pat murder the opposition in the first half, but in many games his identical twin brother, Gene, clobbered them in the second half.
Although Gene was a solid performer, it was Pat who was the standout. And in many games the opposition would double cover Gene thinking they were double covering Pat. Before foes figured out who was who, Benedictine was off and running and on its way to the Region 2-AAA championship.
But college scouts knew who was who and Pat was showered with offers. Harbin (Red) Lawson, Pat's coach at Georgia, is deceased but Pat's Benedictine coach, Howie Leon, is still living in Savannah and had this to say about the Caseys: "It has been 45 years since they played for me but the main thing I never will forget is that they took their school books on every out of town game. I particularly remember them when they rode the Nancy Hanks [train] to Atlanta for the state tournament. Before the conductor yelled, 'All Aboard!' the Caseys were deep into their studies and never let up until we got to the Union Station in Atlanta.
"As far as their basketball prowess, if I were to pick players for a professional basketball team, the first one I would choose would be Pat Casey. He had great peripheral vision. He could look one way and pass off or shoot the other way. For three years he was our team leader. He had the best hook shot in the region, probably the entire state. In three years, he never made a bad pass. He set up the plays. He was deadly from the corners, unerring at the foul line. He made 90 percent of his free throws. No wonder he was All-State and the center of attention of college scouts. "Gene was a great rebounder. He was not our leading scorer – Pat was – but he hit in the clutch."
As good as the Caseys were at basketball, they were equally successful in business. Pat retired as a senior vice-president of BellSouth and Gene as a senior vice-president of Bank South.
Today, the Caseys are 65 years old. Pat and his wife of 43 years, Daphne, live in Dunwoody and Gene and his wife of 41 years, Betty, live in Alpharetta. The brothers return to Savannah every year for St. Patrick's Day to place flowers on their father's grave and march in the St. Patrick's Day parade as their father did for 65 consecutive years.
The Caseys were born in Savannah, the son of Eugene Patrick Casey, for whom they are named, and Thelma Nichols Casey. Both parents were raised in orphans' homes and the boys and their sister, Catherine, grew up at a near poverty level. Their dad was a stage manager at the city auditorium and their mother was a switchboard operator at Levy's Department Store. The brothers each had paper routes, which helped put food on the table and provided money for an occasional movie.
By the time they reached Benedictine – both received scholarships – Pat was 6 feet 4 inches tall and Gene 6 feet 3 inches. Both made the varsity basketball team as freshmen. Both Caseys were officers in the Cadet Corps and honor students; Pat was salutatorian of his graduating class.
Pat was the first person in the Casey family to attend college. At Georgia, he was a member of Phi Kappa Phi honorary scholastic society and named to "Who's Who in American Colleges and Universities."
Pat served two years in the U.S. Army and 28 years in the Army Reserve before retiring as a Colonel. He serves on the Board of Benedictine School and recently received the Benedictine Medal for "loyalty, humility and dedication."