Going To The Hogs
How turning down Tech created a powerhouse in Arkansas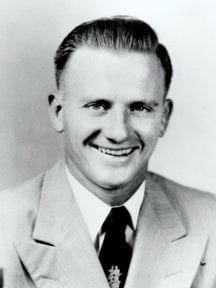 Ironically, it was the immortal Georgia Tech Coach Bobby Dodd who convinced Frank Broyles to stay on as head football coach at Arkansas when he had two chances to return to Tech as head man.
Wealthy Tech alumni first approached Broyles at Dodd's retirement in 1966 and once again when Bud Carson retired in 1971. This time the Jackets came with an open checkbook and an offer of everything but the college itself.
"Coach Dodd told me I was already in the process of building strong relationships throughout the state of Arkansas and that I should think hard before throwing away that power base," Broyles recalls.
Ultimately, he said "no" to his alma mater and the rest is history. In the 23 years before Broyles became athletics director at the University of Arkansas, the school had never won a national title and owned only 22 Southwest Conference titles – in sports other than football.
During his 32 years as AD, the Razorbacks have won 40 national titles, 57 SWC Crowns and 40 Southeastern Conference championships. Broyles himself was head coach when the Razorbacks won the 1964 national football championship.
Broyles had a 144-58-5 won-lost-tied record as head football coach from 1958-76. He won seven Southwest Conference titles and made 10 major bowl appearances. Broyles developed more than 40 head football coaches. Former Broyles assistants have won five Super Bowls, five national collegiate titles, more than 40 conference crowns and more than 2,000 games.
The Broyles Award is presented annually to the nation's top Division 1-A assistant coaches. The 1999 Broyles award winner was former Tech coach Ralph Fridgen; the 2003 recipient was Georgia's Brian VanGorder.
Broyles rules supreme in Arkansas because he has built a network of fans and donors as well as political bigwigs and littlewigs who support him unconditionally.
Says Vince Dooley, who was denied a contract extension at the University of Georgia as AD, "Frank built a power base at Arkansas that few if any in our business ever had. I had a pretty good run here at Georgia – 40 years. But I do not think anybody has had the run or likely will have what Frank has had at Arkansas. He is in a class by himself."
Broyles came out of Decatur High School as the state's number one quarterback. Sought after by most every school in the Southeast, he chose Tech – which had offered him football, baseball and basketball scholarships – and never looked back.
He quarterbacked the Jackets to four bowl appearances, and was a three-time All-Southeastern Conference and 1944 SEC "Player of The Year." His 1945 Orange Bowl record for most yards passing (304) stood for 55 years.
At age 80, he is going strong, overcoming prostate cancer and heart problems and chairing Arkansas's 21st century fund-raising campaign – with a goal of $900 million.
Following are a few scenes from Broyles' personal highlight reel:
Fondest Playing Memory: The 1946 Tech-Navy game. Navy was leading 20-14, and ready to score again with the ball on Tech's five yard line and only three minutes left to play. George Mathews caught a Navy fumble in mid-air, never broke stride and raced 95 yards for a Tech touchdown. Tech scored again and won the game, 28-20.
Fondest Coaching Memory: Upsetting Texas in 1960, 24-23, at Texas. "When we arrived home, 3,000 students carried players and coaches on their shoulders around the campus. That opened the door for recruiting, and started us on the trail to a national championship."
Best Game Day Coach: Bobby Dodd. "He could perform miracles, calling the right plays at the right time. There was a mystique about him. He was 20 years ahead of his time."
Best Motivator: The late, legendary Paul "Bear" Bryant. "He was the motivator of the century. He could make average players play like they were All-Americans."
Hardest-Won Achievement: "Learning to think like Coach Dodd. Coach Dodd knew I was not a great athlete but he taught me to listen to him and eventually how to think like him."
Greatest Joy: "Being with my six children and 14 grandchildren."
Gene Asher is a veteran sportswriter and businessman